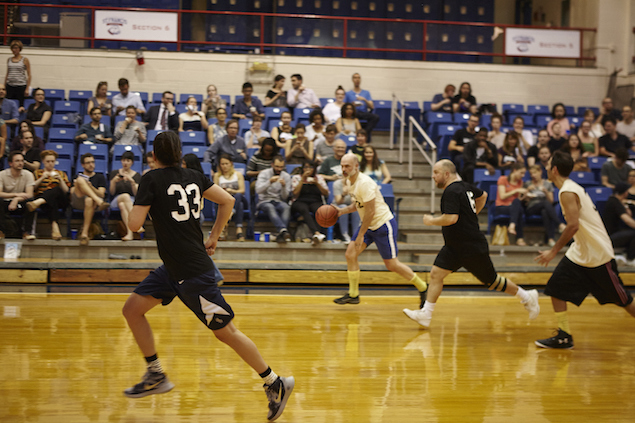 On June 15, I went to what may or may not have been the first basketball game in my life, and let me just say: more people should really be getting excited about this sports thing!
Keep your multi-millionaires performing almost superhuman acts of physicality and agility. Mascots? Sound effects? Big crowds? Spare me. I would definitely become a basketball fan if every single game were played by literary professionals.
The Other NBA is an annual fundraiser organized by the National Book Foundation. They present the National Book Awards (hence the NBA joke). You've definitely seen the stickers on books you've been meaning to read.
But by far their biggest and most important accomplishment is this basketball game. Picture an inexplicably humid college auditorium, and a bunch of authors you recognize and respect are practicing free throws. Did you also just orgasm reading that?
Is that The Tiger Wife author Téa Obreht sinking layups? YOU BET IT IS. Esteemed British author of High Dive, Jonathan Lee, in the stands? FUCK YES. Did I just meet 2014 National Book Award for Fiction Winner Phil Klay? YOU BET YOUR ASS I DID. Even Matt Ringler, who sometimes writes for the Observer, was playing! I really can't describe how great this basketball game is. The Other NBA is sponsored by Out of Print (makers of fantastically hipster t-shirts) and Litsy, and all the proceeds go to BookUp, a reading program for underserved youth. So even if you're not a fan of basketball, everyone is a fan of t-shirts and helping underserved youth.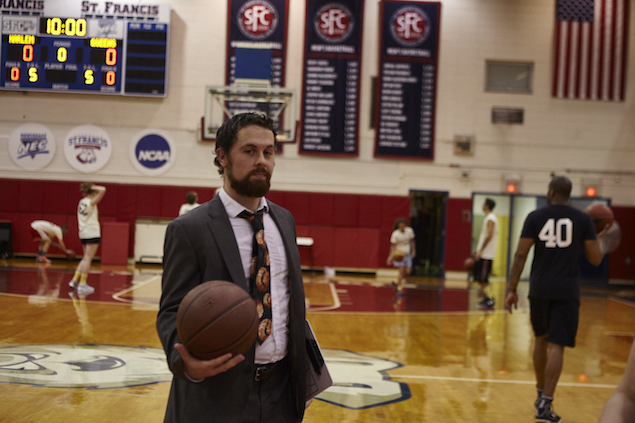 Benjamin Samuel from the National Book Foundation gave me a rundown of the actual basketball playing, because, to be fair, for long stretches of time I was in the lobby eating French fries.
"Both teams fought hard, and I'm so grateful to everyone who participated. The Publishers, who I heard some folks calling 'The Redeem Team,' were really looking for a win this year, and they were leading at halftime. But in the second half, the writers turned the page, revised their strategy, and came out on top. The real victory, however, goes to our BookUp students."

I did take this picture though.
This is an annual event, and the National Book foundation should take note on who to invite. Jason Diamond, the game's announcer, told me who his literary dream team would be, and they sound like they'd be undefeated:
Philip Roth because he seems like he'd be annoying like a Joakim Noah type. 
Franz Kafka because he seems like he'd be good at getting into opponents heads. 
Zadie Smith because I feel like she'd have a good outside shot. I picture her as the Russell Westbrook of the team.
Roberto Bolano because I imagine he could be our Matthew Dellavedova. Getting the dirty work done. I also think he'd be a good defensive guard for some reason. 
Judy Blume because I just think it'd be funny to see Judy Blume take over as the leader of a basketball team, trash talking other players, and then dunking on an opponent and saying, 'Are you there, God? It's me, Judy Blume.'