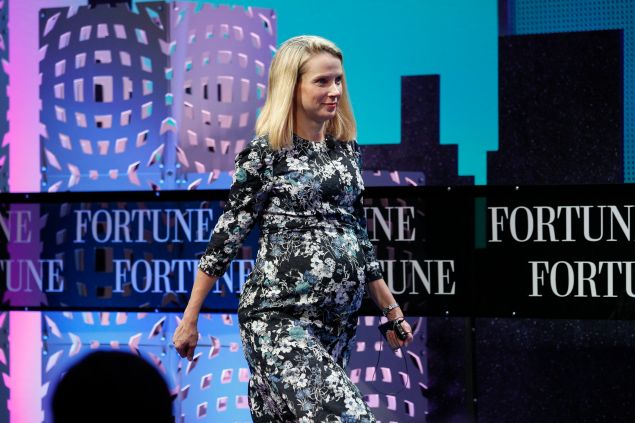 When Yahoo CEO Marissa Mayer announced that she was pregnant with twins in September 2015, she stressed that she would be "taking limited time away and working throughout" her pregnancy. If arguably the most powerful and recognizable woman in tech feels it necessary to immediately follow her joyous news with a disclaimer, what hope is there for other tech mothers who hope to balance professional and family life?
Maternity leave is a problem in all fields—only 12 percent of U.S. private sector workers have access to paid family leave through their employers, according to the Department of Labor. For those in the tech field, family planning and pregnancy comes with its own set of challenges caused by the grueling U.S. startup culture and the field's massive gender gap. Women earn only 28 percent of computer science degrees, own only 5 percent of startups and hold only 11 percent of executive positions at Silicon Valley companies.
"I did research and most of the advice I found online said, 'Do not under any circumstances tell people you're pregnant if you're the CEO and fundraising. It's a death sentence.' "
In Silicon Valley and the other tech hubs throughout the U.S., it's expected that you'll work all day and night, especially if you're an early stage startup. With parental gender norms persisting in the male-heavy field, the culture doesn't allow women to take time off for pregnancy without the well-founded fear that they'll be perceived as weak, distracted and risks to their companies. What's more, the challenges women in tech face start well before they ever give birth. The fear and anxiety surrounding the daunting task of telling colleagues and investors can be crippling, and if you're fundraising, good luck. While there are laws prohibiting discrimination against pregnant women when hiring, they don't apply to investors, who have been known to pass up investments because the CEO is pregnant. The industry advice is, "Do not under any circumstances tell people you're pregnant if you're the CEO and fundraising. It's a death sentence," according to Arry Yu, founder of both gift crowdfunding site Giftstarter and MommyFounders, a community of mother entrepreneurs. In a recent Hacker News thread, several anonymous men were quick to admit they wouldn't invest in a pregnant CEO, but it's impossible to tell how often VCs actually pass for this reason. Daniel Bright, a New York City-based labor lawyer, told the Observer he's not aware of any statistics on the topic and that's it's very difficult to collect any accurate data on pregnancy discrimination in general.
"A lot of women who find themselves being discriminated against choose not to pursue a claim, because even good cases can be very tough to win, because the litigation process is difficult and emotionally draining, and because they're worried about finding another job and don't want to be seen as a complainer or trouble maker," he said.
Because of this fear, the issues women in tech face regarding pregnancy and raising children have mostly flown under the radar, and the prominent voices who have spoken out against discrimination can be counted on two hands. Pando Daily's Sarah Lacey and Honey CEO Rachel Kaplowitz are two, but one of the main advocates for leave has actually been Mark Zuckerberg. "It's a hard thing to get people to talk about—being pregnant in tech. I tried to find other founders who've been pregnant, and it was hard to get them to even just get coffee let alone talk to me about it. And they don't want to share their stories publicly," Yu said.
But the Observer talked to 12 women who have simultaneously navigated the tech field and pregnancy. One is an investor, many are founders and a few advocate for more awareness about the issues women in tech face. One was fired while on maternity leave, many have missed out on potential investments because of their baby bumps, and all of them have faced daunting stress and anxiety about being pregnant in tech.
---
Katerina Schneider, CEO and founder of Ritual
"My husband is an entrepreneur, and we started companies and were fundraising at the same time. He had a totally different experience and went straight into the office the day after the baby was born. I raised money from Upfront Ventures, Troy Carter, FF Angel, Rivet Ventures and others, but it sounds better outwardly than my actual experience. The first VC told me I shouldn't start my company because his wife stopped working when she gave birth and that I will too. It didn't feel great, and it was someone I really respected. I went on to raise the $1 million round, but it was really, really hard. Recently, we were a finalist at TechCrunch Disrupt in New York. I had to pump in between sessions, and it took them hours to find me a room. It was cold without a table or anything. I asked for another room, and they put me on top of a broken escalator. My milk got flagged at the airport, and we missed the flight, and I was trying to rehearse over a screaming baby. Compare my experience to that of the 18-year-old who won." 
Na'ama Moran, CEO and founder of Sourcery
"My investor called me to say he was happy for me but concerned I wouldn't be able to raise money while pregnant and questioned if I was the one to do it. I was concerned investors would have biases about it, and I brought it up with one of my board members. He said something I cherish: 'If they're going to have bias, these are not investors we want to have involved.' I think the only thing that will make this a nonissue is having more female CEOs. Life and work have to work hand in hand. What should be possible is for us to combine life and work in a way that doesn't distract—to work from home, bring the child from work, etc. I plan to bring my baby to work and turn the extra room into a nursery. One comment I saw about this on Hacker News said something like, 'If someone would tell me they're going to have a new hobby and invest half of their time in that new hobby, I would not invest in them.' If there's something we need to eradicate, it's that. Having a family is not a hobby."  
"One comment I saw about this on Hacker News said something like, 'If someone would tell me they're going to have a new hobby and invest half of their time in that new hobby, I would not invest in them.' If there's something we need to eradicate, it's that. Having a family is not a hobby."
Nirupama Mallavarupu, CEO, CTO and founder of MobileArq
"I got fired from Sun Microsystems while I was on my maternity leave. And later I found out that they fired a lot of women who were on maternity leave, but there was no way to prove this for us. In fact, we could not even communicate with anyone who left the company in those days because this was pre-Facebook and pre-LinkedIn." 
(Sun Microsystems was acquired in 2010 and therefore unavailable for comment.)
Arry Yu, founder of Giftstarter and MommyFounders
"When I became pregnant in June 2015, we were still in the startup hustle, and I wasn't trying to get pregnant. I was like, 'I'm screwed.' And then I got into the 500 Startups accelerator, and I was like, 'How can I do this?' I didn't want any opportunities from the accelerator to not be offered to me because I was the pregnant lady in the room. I did research, and most of the advice I found online said, 'Do not under any circumstances tell people you're pregnant if you're the CEO and fundraising. It's a death sentence.' So I tried to hide it until I couldn't anymore. I eventually told them, and they asked why I wasn't happy. I said I was scared that no one would talk to us or fund us if they knew. We did get some investors to join us, but they either knew me or had some history with me. We also got investments from two people I'd never met, but we only Skyped, and they couldn't see I was pregnant. Investor meetings where I was the only one in the room—and it could be any reason—but we didn't get interest from them. Then I had Joel, a big bearded, tattooed guy who works on products for us, join me, and those meetings went really well. They obviously didn't want to ask if I was pregnant, and they probably spent 20 to 30 percent of the time hearing me out, and the rest of the time they were focusing on Joel. We got second and third meetings. They said they'd talk more in the spring. Maybe they wanted to see how we did over the holidays? Or maybe they wanted to see how the pregnant CEO makes it through?" 
Hilla Ovil-Brenner, founder of Gling Media and Campus TLV for Moms
"I am a serial entrepreneur, now for the third time, and women's entrepreneurship is my mission. I founded WhiteSmoke, a technology company that is public today, and went out on a journey to raise funds for the company. The only problem was, I was nine-months pregnant, and most investors didn't really see that as a huge advantage. Some investors just said it out straight. Others asked personal questions. To be honest, I could sort of understand them. They assumed that once I gave birth, I would go on leave, and the company, which was just starting, would be left unmanaged. This was not the case, of course, and I was very adamant. I got the investments I needed and found myself on the way to the delivery room typing out emails to investors. There was no way I was going on leave."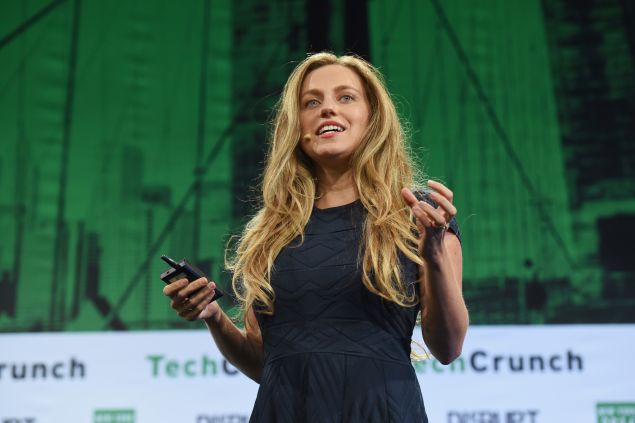 Jamie Kantrowitz, investor and co-founder of Women's Collective Giving
"I used to run a tech accelerator in LA, and then I worked in early stage funds. I saw hundreds of young companies, and during that process, I became a mother. Some people feel like like no matter how talented someone is, that if they were a mother or pregnant, there would be a resistance to funding them the same way there wouldn't be resistance to funding a younger, less-attached entrepreneur. I don't remember if I've ever taken a pitch from someone who was pregnant, but I certainly have people I've invested in who have since had babies. I think that any founder is afraid to tell their investor they're taking time off to do anything else, no matter how well established the relationship is. And I have definitely experienced female founders having the immediate reaction to tell me, 'Oh, I'm not taking that much time off,' or, 'I'm going to be able to work through it.' And the lucky thing with me being a mother is that I respond with, 'You don't have to say that to me.' I think there's an American cultural startup idea that you have to work 24 hours a day 365 days a year, and there are some people that still really prescribe to that. Whether you are having a baby or you're sick, and in particular yes, with people who I funded who had children, there is always this nervousness when it comes to the conversation." 
Sofya Polyakov, CEO and co-founder of The Noun Project
"Three years into my company, I became pregnant. I kept it to myself for three months, and I was really, really nervous to tell my investors—not because of anything they've said, just because women have a fear they'll be seen as not participating fully after having a baby. For sure I would've been even more nervous if we were fundraising. There are laws against discriminating against pregnant women when hiring, but that doesn't apply to investors. I told our lead investor Craig Shapiro first. He was incredibly supportive and helped me come up with a plan for what to do with taking time off. I shared with him my concern of talking to other investors, and he was encouraging and said, if anyone has a problem, to tell them to talk to him. I sent an email to the rest of the investors and had really positive feedback. I ended up having a pretty difficult pregnancy and had to be on bed rest and in the hospital for a while before my baby was born, and he was born prematurely, so I was away from the office for a lot longer than I anticipated. I took two months off and then went back part time. I feel like women feel they have to provide that explanation or drawn out reason why they can handle it, but it shouldn't be necessary. It's very difficult to focus on both, and I don't think it can be denied that it's different for fathers. Of course investors expect women to be putting in more work with the baby. Until men can grow boobs, that's just what happens." 
"They just feel this conflict of, 'Should I be doing this?' It's so frustrating because men just don't have that."
Natal Q*
"I have started a few companies. While co-founding one, I became pregnant. I told no one—not the VCs, not my male co-founder, not the colleagues I had recruited. My co-founder was a nice young man with a newborn infant and 2-year-old, and I was undergoing fertility treatments at the time we met. We started the company and were still working from home when I became pregnant. Then the company got office space and at 10 weeks, I had a miscarriage. I hemorrhaged so badly I lost literally 50 percent of my blood and had my life saved in a trauma center. Having not told my co-founder that I was pregnant and almost died from a miscarriage, I found myself unable to explain why I spent the first official month in the office excruciatingly exhausted from severe anemia. I was determined to be a mom, so I got pregnant again. Then two more men with young children joined the company, and they were always tired and cranky because of the late-night demands of parenting. I miscarried again at work and left early that day, still not telling anyone. I didn't want my priorities questioned because they would not have been for the men. I didn't want the VCs or my co-founders to close doors for me because of what might or might not happen in the future. I did my job and tried not to bring my emotions to work, but it's a startup—you're sitting within three feet of the same five men all day, and my co-founder was getting increasingly angry with me. I did fertility treatments again, and this time, I had the eggs extracted and fertilized, putting my mothership on hold so I could focus on the company. The week before we began a serious design scrub, my CEO fired me with no warning, saying, 'This wasn't the way I thought it would be with a co-founder. I feel like we should have more trust.' Turns out, he'd wanted to be bros with his co-founder. He pretty much proved that day that I had been 100 percent correct to withhold confidences from him." 
Nikki Ricks, founder of The Village
"When I first had my baby, I needed a place to work. I was researching coworking places and saw that there were a ton but none with child care. I started hosting pop-up coworking with child care but realized it was inconsistent and tough to launch my own. So I changed it to a model connecting existing daycares to existing coworking spaces nearby. This industry is so tough, and we're at this really tough standpoint for women. If they want to have a startup, do freelance or do something less traditional than a nine-to-five with benefits, it's tough to navigate, and there's not a lot of support. Outside of the coworking, I work with a lot of early businesses, many owned by moms. Motherhood always comes up. They just feel this conflict of, 'Should I be doing this?' It's so frustrating because men just don't have that. And I think they are getting more aware of those types of issues, but in general, no one is asking the man who is taking care of his kids, but women get that all the time. I do feel like we're coming into this age of having a lot of opportunities for ourselves, but I think women definitely get squeezed out when they take three months of maternity leave. But women just need to own it and do whatever they want, and I think they feel torn." 
Jessica Thiessen, "starting a family: will return to regularly scheduled programming circa 2017," reads her LinkedIn
"I got pregnant while in the middle of a job change, and exhausted by the unproductive job hunt and daunted by the reality of bringing a baby into the world, my husband and I just automatically made a plan to be able to weather the time on a single income because the mere stigma of being unhireable seemed insurmountable. We felt it wouldn't be possible to find a good job in my field within a realistic time frame, where I could actually contribute enough to build my career before the baby came. I struggled with intense nausea every day throughout the first trimester, which felt like a physical reiteration of this concern. By the time I hit the second trimester, I was frustrated and anxious to try and find work but then felt it was too late. We are now five weeks from our due date and have talked about just embracing the circumstances and having me stay home with the baby while we try to make him a sibling. It seems to make so much more sense to just go for it all at once than to try and go back to work only to have to stall the career again for a second baby. I can imagine finding part-time work that will allow me some flexibility to be home, but I find myself really battling the disappointment that my executive career just feels at odds with my idea of being a good mom." 
Erin Gore, co-founder of Weleet
"We launched when I was seven-months pregnant. We weren't going to compromise our family timeline, but it was like now we have one salary and a baby. You're not just playing with your own life. The other piece that Jen [Gore] was alluding to was that, as a person carrying the baby, in the startup world and corporate New York, there was a very different set of expectations on me. I think there was definitely the suspicion I wouldn't be as focused on my work. All soft terms, nothing specifically said, but I felt it quite heavily."
Jennifer Gore, co-founder of Weleet
"I feel like I got the easier end of the stick because I was obviously not the one pregnant. I tend to identify as his Baba because I identify differently on the gender spectrum, and I tend to get a different type of treatment, but I am obviously treated just like a woman. So I see things from both ends sometimes, so I felt, for me, it was almost beneficial to have a spouse who was pregnant, especially with a lot of investors who have children. I could go in and say, 'I have a child, and I'm building this business,' but I wasn't carrying. I will say now that Erin has gone back to work from maternity leave, our arrangement is that I take care of Nash during the day, and I feel more of those challenges. I had an investor meeting scheduled, and I said, 'Oh by the way, I'll have Nash with me,' and it'd be like, 'Oh, my schedule changed.' No one comes out and said it's because of the 6 month old." 
Names marked * have been changed.
All interviews have been edited and condensed.