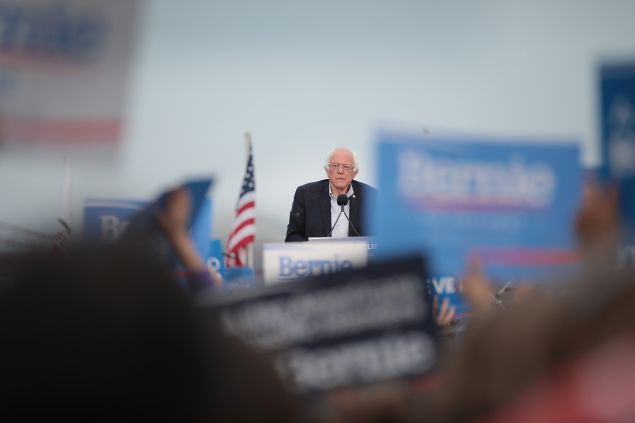 Even as Hillary Clinton declared victory in the Democratic primary tonight, Vermont Sen. Bernie Sanders refused to drop out of the contest—even as California, his last great hope for an improbable coup, tilted toward the former secretary of state.
With almost 40 percent of the vote in, Ms. Clinton seems poised for a landslide 20-plus point win in the Golden State primary. But speaking to supporters in Santa Monica, the self-described democratic socialist predicted "the gap will significantly diminish"—and refused to take advantage of an obvious opportunity to exit an increasingly hopeless fight.
"The struggle continues," a haggard-sounding Mr. Sanders told the raucous crowd, promising to carry on his campaign to the final Democratic primary in the nation's capital next Tuesday, and beyond. "We are going to fight hard to win the primary in Washington, D.C. and then we take our fight for social, economic, racial and environmental justice to Philadelphia, Pennsylvania!"
Mr. Sanders announced he had received a "gracious call" from Ms Clinton, and had congratulated her on her victories in New Jersey, New Mexico and South Dakota tonight—a revelation that provoked boos from his audience. He also acknowledged he had spoken on the phone with President Barack Obama, and had arranged a meeting with him on Thursday.
Tonight, Ms. Clinton claimed the majority of their party's superdelegates and pledged delegates—meaning she is the choice of both party insiders and of the electorate at large. Mr. Sanders has argued he could convince the superdelegates, who are unelected and support whatever candidate they desire at the convention, to defect from the ex-secretary of state.
But tonight he admitted his team faced "a very, very steep fight," and seemed to allow for possibly making some kind pact with the presumptive nominee, either before or during the convention.
"You all know it is more than Bernie. It is about all of us together," he said. "We know what our job is: to bring the American people together to ceeate a government that works for all of us, not just the one percent."
Many have speculated that Mr. Sanders, a career independent, has remained in the race to continue to push Ms. Clinton and the Democratic Party to the left. Democratic National Committee has already granted him unprecedented influence over the party platform for a losing presidential candidate.
The Brooklyn-born lawmaker revisited many of the defining themes of his campaign: shattering large financial institutions, wealth redistribution, campaign finance reform, environmentalism and racial equity. And he bitterly assailed Republican nominee Donald Trump, who made an open appeal to Sanders supporters in a speech tonight.
"The American people in my view will never support a candidate whose major theme is bigotry. Who insults Mexicans, who insults, who insults Muslims and women, and African-Americans," he said. "We will not allow Donald Trump to become president of the United States."
In spite of his losses, the candidate remained confident in the righteousness of his cause, and in the millenial voters drawn to his campaign.
"Our vision, a vision of social justice, economic justice, racial justice and environmental justice must be the future of America. Our vision will be the future of America," he declared.
Disclosure: Donald Trump is the father-in-law of Jared Kushner, the publisher of Observer Media.