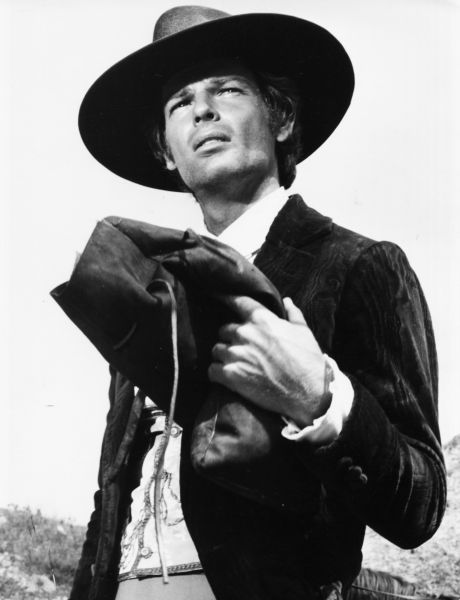 Sometimes, rock 'n roll is history's bitch. Other times, history is rock 'n roll's bitch.
For instance, in the shuffling churn of "Bo Diddley" you hear the hum of ancient West African kings, the rumble of the slaves' dancing in New Orleans' Congo Square and the buzz of Southern migrants in the slanting brick tenements of Chicago's South Side. On the other side of the coin, there's the paper-flower frippery of "Penny Lane," where you hear the sound of the Northern English working class using their own cultural identity to eclipse and re-shape the traditionally American character of rock 'n roll.
June 13 marks the 40th anniversary of the lonesome death of Dean Reed, the biggest rock star most people haven't heard of, and a beautiful example of the rock/history/bitchdom triad.
He was a tool of the oppressive regimes of Eastern Europe while simultaneously exploiting their hunger for everything and anything Western; simultaneously, he tried to use American folk and pop forms to sing about the dreams of the working man, even as he blurred the line between oppressed and oppressor.
Here is a very abbreviated version of the rather incredible Dean Reed story: Hailing from Colorado, in the late-1950s and early-1960s Reed attempted to make it in Hollywood as a middle-of-the-road pretty boy/he-man singer; coming off as a low-rent Ricky Nelson performing the faintest sort of wop-rock material, he never made it higher then No. 96 in the Billboard charts (he is so thinly-drawn that he makes Mike Love seem like Jim Morrison).
However, Reed's music caught on in South America, and by the late-1960s he had achieved major stardom in Chile and Argentina (in a land without Elvis, even a second-rate John Davidson can be king). In the far left politics of mid-1960s South America, he also found meaning and a life-mission. He was deported from Argentina after a change in government, and in the early-1970s, Reed (after some work in C-level spaghetti Westerns) settled in East Germany.
Rarely can we accurately say that someone was as big as the Beatles, but Dean Reed was, and he dominated Eastern European pop, TV and film for a decade and a half.
As someone uniquely willing to promote both the interests of the Honecker regime and a romantic caricature of the American mythos, Dean Reed hit paydirt. Within only a few years, Reed was the biggest pop star Eastern Europe had ever seen.
Acting as a stand in for Elvis, the Beatles and all other facets of sexy Western life, it is no exaggeration to say that Reed achieved the kind of fame and success that virtually no artist anywhere in the world could achieve.
For all intents and purposes, Reed had a monopoly; he was virtually the only representative of the American music dream in the cloistered East, where access to the rock 'n pop we took for granted was banned. The fact that to our eyes and ears he looks and sounds like an actor on Dragnet imitating Glen Campbell didn't matter; Reed not only personified one of the West's most remarkable and attractive exports—the slim, blonde rock 'n roll cowboy—but he also eagerly dedicated his cowboy heart to the Red East.
[youtube https://www.youtube.com/watch?v=xuYkdomXy6A&w=420&h=315]
Rarely can we accurately say that someone was as big as the Beatles, but Reed was, and he dominated Eastern European pop, TV and film for a decade and a half.
In 1986, Reed died under exceedingly mysterious circumstances, his body found floating in the lake behind his house outside East Berlin. Publicly, it was said he committed suicide, but many believed (and still believe) that more sinister forces were at work, and a lot of fingers pointed at either the Stasi (the East German secret police) or the CIA (rumors float around to this day that he was a spy for one side or the other, or both).
[youtube https://www.youtube.com/watch?v=fI0l-r0mlOE&w=420&h=315]
Reed's reign as Western King of the Iron Curtained East took place less than half a century ago, well within the lifetime of many of those who are reading this. Regardless of our desire to define history only by the span of our short lives, 40, 48, 50 years ago is merely a shadow of an eyelash; so very, very recently, one-half of the continent of Europe was free in their hearts and minds but not in their actions or their mobility.
Eastern Europe, shuttered and scared and scarred and reeling from having their ethnic, political and personal identities smashed by fascism, was elated at this glimpse of the mare-smooth, sun-bronzed man who represented the best the West had to offer, but carried no sword.
Dean Reed personified the freedom of The Song, the romance of the Plains, and the dreams of anyone who saw the shimmering lights of Hollywood reflecting in Reed's Eastwood eyes. In a world before the internet, in lands that were far, far from free, the men, women and children of pre-'89 Eastern Europe could barely have imagined what our lives were like, so they imagined Dean Reed.
The men, women and children of pre-'89 Eastern Europe could barely have imagined what our lives in America were like, so they imagined Dean Reed.
Imagine a time, so very, very recently, when that was necessary. Imagine a time when the gates to the West and all its songs, the silly and ecstatic songs you and I counted on to get us through every triumphant and tragic and trivial moment of our lives, were closed.
The mythic rock 'n roll dreams of an entire half-continent rested on one man's shoulders. In the light of this extraordinary responsibility, I can forgive Dean Reed his lack of talent, his lack of originality, his peculiar embrace of an oppressive regime that seemed antithetical to the dream of rock 'n roll.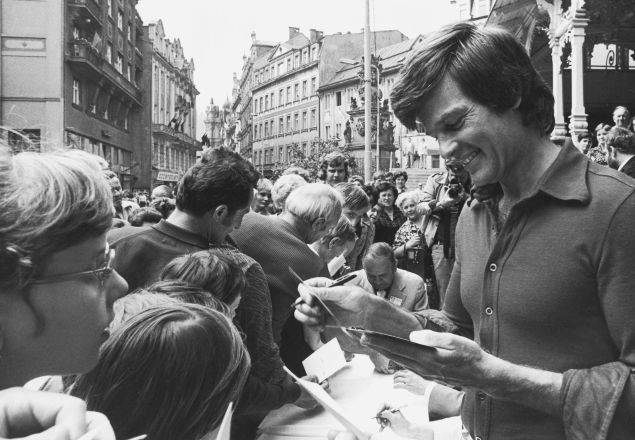 I honor Dean Read. I honor this mediocre superstar, perhaps the greatest example of a man in the right place at the right time. I also honor this man who loved Victor Jara, and thought he could keep a little of his spirit alive, even if his ideals and his ridiculous fame kept him from knowing who was the oppressor and who was the oppressed.
And I am reminded that rock 'n roll, just the idea of it, was so important to the people of Eastern Europe that they made this cardboard cowboy a star. Rock 'n roll—just the chalk outline around the shadow of the idea of rock 'n roll—meant so much to these people, these people of East Germany, the Soviet Union, Hungary, Czechoslovakia and Poland, that they embraced this ersatz Elvis as a savior.
And because I love rock 'n roll and I love how desperately these people, chained everywhere but in their imaginations and their hearts, loved rock 'n roll, I must love the one they loved.