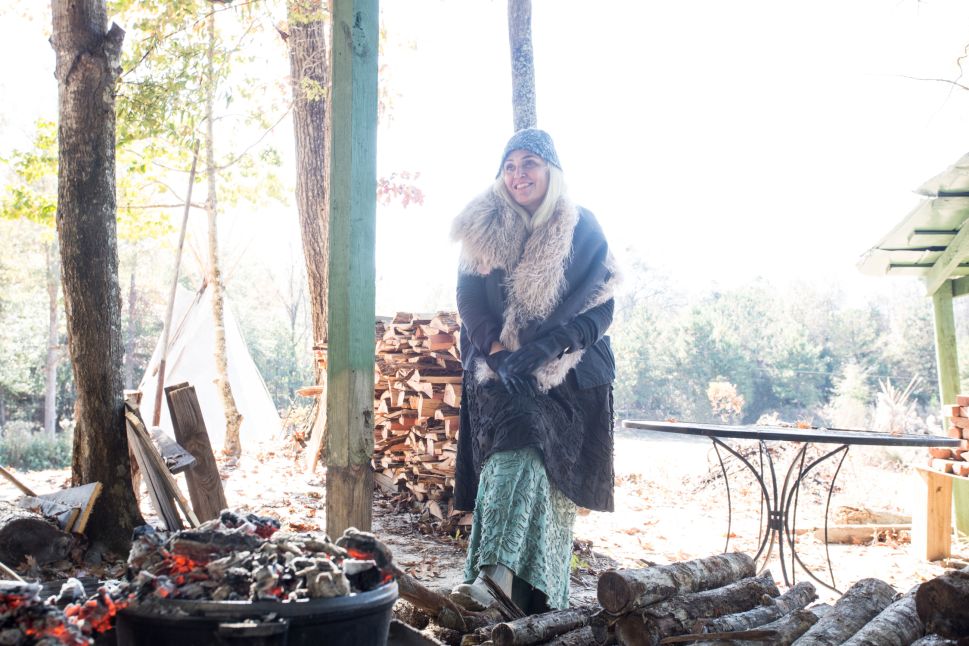 Natalie Chanin began making t-shirts that New Yorkers wanted to touch over 15 years ago. It started with a hastily refashioned tee for a swanky party. The rural Alabama girl thought it was unusual that the "fancy fashion city folk" handled her creation with wonder. This makeshift shirt opened an opportunity to connect with people from a different world. That's how the founder and creative director of Alabama Chanin describes the advent of her sustainable slow fashion brand in an episode of storytelling podcast The Moth entitled "200 One-of-a-Kind Shirts," recorded in April of 2014. She was moved to create more, and it was the quilting tradition of her grandmother's generation and the pastoral inspiration of her hometown that drew her back to Florence, Alabama to start her business.
Chanin appears to be the embodiment of her brand. She returned to New York City in April of this year to talk about 'slow fashion,' sustainable production and consumption with Patagonia's Director of Environmental Strategy, Jill Dumain. "I was at first taken aback by the crowd of people here," she says of the cavernous second floor space at Patagonia Soho, although the city is where Alabama Chanin got its start.
Where fast fashion reflects a trend-driven cycle that sees clothing discarded or forgotten after one season, slow fashion is revolutionizing the consumer market. The burgeoning interest in this change was reflected in the room, which was full of the future of the industry; many are educators and students from Parsons and FIT.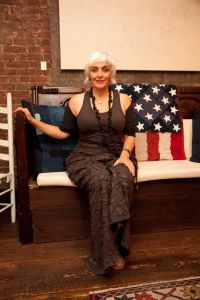 Alabama Chanin aims to make "garments that last forever" and don't necessarily cater to seasonal trends, but flow from season to season. This means a sustainable closet can be built over the course of time and pieces go together regardless of which collection they come from. She insists that figuring out how to build a sustainable closet can replace the satisfaction of retail therapy.
"Once you start figuring out that you can make an impact, it becomes as addictive as shopping fast fashion trends," Chanin said. Building their ethos and the vehicle to fulfill it was as painstaking a process as making each piece of clothing. Alabama Chanin is a for-profit company with a social mission that refuses to compromise on any front, from seed to shelf, and that includes style and design. While they have stubbornly established themselves as 100 percent American Grown, American Sewn, American Organic and homemade, their garments do not shy away from taking the spotlight. Chanin referred to an $8,000 coat as an example, a piece of elaborate skilled labor that took eight weeks to make. She has been called an elitist due to her pricey pieces, but refers to her late hours in the basement tearing up used fabric strips, and someone mistaking their headquarters for a used car lot, to counter this accusation. Their concept is value vs. cost, and if you can't afford to purchase their clothes, she says, you can make them yourself.
In fact, the Maker's Movement is one of the concepts that Chanin encourages. Many of her patterns are published in their book, which aimed to revive the culture and best practice techniques in stitching. When Chanin discovered that competitors and fast-fashion brands had started making knockoffs of her designs, she decided at the last minute to throw in their bestselling patterns to be included in the book. Their commitment to education and building a community resulted in the launch of The School of Making; they offer workshops, as in the one in collaboration with Patagonia. They recently produced a line made from repurposed Patagonia scarves.
Alabama Chanin's sense of responsibility is exhaustive. They recognize that they are a player in the consumer goods industry; they simultaneously have to balance keeping jobs for people and staying in business. They need to sell product, but don't want their consumers to accumulate stuff; they need to turn a profit, but they remain committed to an unbroken supply chain.
"It's important for young people to know, it wasn't just pictures in Vogue and checks in the bank. There's a long road in between."
At the same time, Chanin has felt a call to rebuild the Florence community. "We don't live there because we have to, we live there because we choose to." Fifty years ago, Florence was the t-shirt capital of the world. Making clothing is a part of the city's heritage and story, that she feels she has been able to bring back to life in the last ten years. "It's important for young people to know, it wasn't just pictures in Vogue and checks in the bank. There's a long road in between," Chanin said. She considers Alabama Chanin an unlikely success. The hurdles in making her startup work were endless; all the seams are hand-sewn by women in their own homes. As the CEO, Ms. Chanin is decidedly humble. "I'm only the spokesperson for the people that run the factory." In many ways, it isn't a matter of business, but matters of family. Her priorities are not only to commit to American-grown cotton, but also to connecting with farmers and spinners.
Ms. Chanin ended her Moth story by taking us back with her to her hometown: "I live at home. I live really close to nature, and I can sometimes feel it coming out of the edges, and up around, and into my life. But I guess I kind of like it that way." The pace of Florence is different than that of New York, but it appears to be in sync with a pastoral fantasy and inherent need we may have been missing.