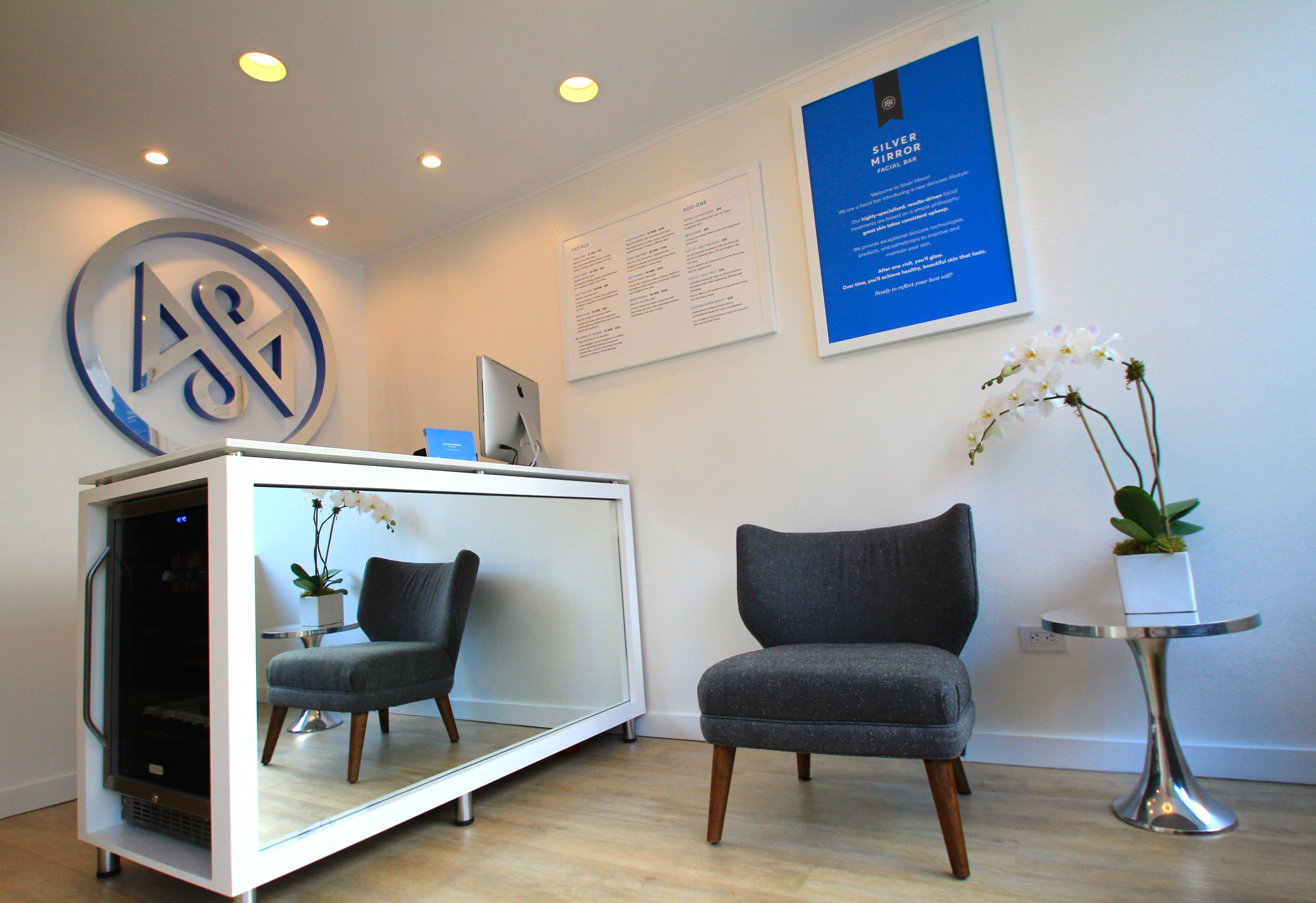 On May 25, Silver Mirror Facial Bar opened its doors on the Upper East Side without so much as an email blast. And while yet another highly specialized, quick-service beauty storefront in Manhattan doesn't seem like a novel concept, co-founders Cindy Kim and Matt Maroone are banking on it.
The two, who met at Wharton Business School, want to cut through the clutter by providing clients with a no frills, results-oriented space to get your skin treated. Don't expect to get your hands and feet massaged at Silver Mirror. This is a no-nonsense kind of destination.
"A lot of people are daunted by the skin care world. They don't understand their skin, they buy products that are not right. Dermatologists are expensive and time consuming. There's no place to turn," explained Kim. Having lived in Korea, she knows the importance of proper skin care. "When I lived in Korea, I used to get facials every week. It's kind of the M.O. for all Korean women. It's easy, affordable, and effective. It's not a luxury treatment. There's a purpose to the facial."
Kim is also the co-founder of Peach and Lily, the Korean beauty e-commerce site that curates k-beauty products and helped fuel America's obsession with Korean skin care. She joined the startup after dropping out of business school, but has since sold her shares.
Shortly after, Kim began talking to Maroone—the founder of Pickfit, an app that enlists friends to help you get dressed in the morning—about working together. They looked at facial bar concepts on the West Coast and saw a need to do it better, with New York being the obvious choice as they were both currently residents. Upon securing their 1,000 square foot location on Lexington Avenue, they employed Heitler Houstoun Architects—the team behind Dry Bar— to create a space that was both clean and approachable.
While Silver Mirror is not meant to be a Korean concept, Kim and Maroone recently returned from a trip to Korea researching products, and may be adding a few Korean-specific lines to their clinical skin care mix which already includes Sanitas, iS Clinical and Skinceuticals. They will also be developing their own line of branded products.
Count on some type of intensive exfoliation process when you sit down in one of Silver Mirror's six semi-private pods.
"Our concept is that you can't have an effective skin care treatment without a proper exfoliation on the face… It's crucial!" Kim exclaimed. From Microdermabrasion, Hydrodermabrasion, light chemical peels and even LED, Silver Mirror uses a variety of high-tech devices to make ensure the skin is effectively sloughed off. These add-ons are included in the price of a 30 to 50 minute service, ranging in price from $75 to $130. "We are packing our facials with devices," Kim added.
Beyond just the facial treatments, Silver Mirror wants to become a place where clients go to get their questions answered. Expect to be talked through your treatment by your esthetician. "We don't want you to be sleeping there for an hour and half," Kim explained, adding that treatments should be booked every two to four weeks. "It's like going to the gym. You have to keep working at it to see results. There's no miracle solution out there to have glowing skin."
Catering to New York City millennials, Silver Mirror will be open seven days a week from 8:00 am to 10:00 pm Monday through Saturday and from 10:00 am to 6:00 pm on Sunday. "Women in their late 20s… that's when they start thinking about skin care," Kim added. 
But Maroone wants to make sure they don't exclude men. "Men will be a sizable demographic for us. We talk to a lot of men and they are clueless about skin care," he interjected. "In terms of everyday daily maintenance there's not a lot of good advice out there. That applies to both men and women."
Kim sees her concept as promoting a skin care lifestyle. Each treatment will include a complimentary artisanal smoothie to optimize skin health as well as an in-depth consultation and post-treatment card with notes and recommendations from your esthetician. "Facials aren't a pampered luxury. They are something that should be part of your lifestyle in order to maintain and improve your skin."
Each season, Silver Mirror promote a specific treatment to benefit a chosen nonprofit. This season, try the "Summer of Women Facial" to benefit Women's World Banking.
Silver Mirror is located at 862 Lexington Avenue (between 64th and 65th).
Shiri Sarfati is a beauty and wellness expert. She is the Founder ofBeautySomething.com, a news media site focused on trending and shareable beauty stories. She is also the President of Markati Group LLC, a digital marketing agency. A native New Yorker, she now lives in Miami. Follow her on twitter @spaheiress