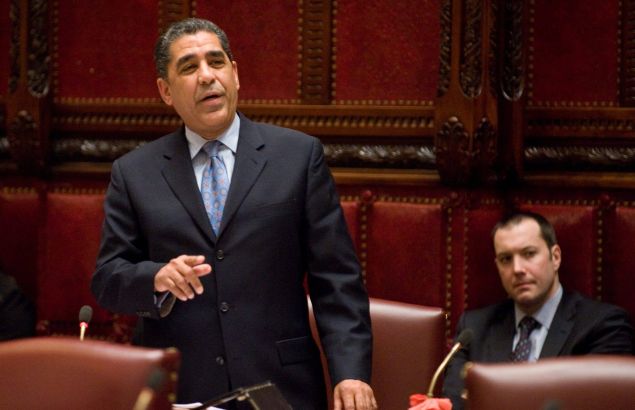 The candidates are still ostensibly waiting on the Board of Elections to tally the final votes, but—barring death or a bunch of lost ballot boxes surfacing in the Harlem River—State Senator Adriano Espaillat will all but certainly replace retiring Congressman Charles Rangel next January. His victory in the Democratic primary marks a major juncture in the history of New York politics: not only is Rangel ending his 46 year reign over the upper Manhattan-based district, but Espaillat will be the first non-black representative it has ever sent to Washington. It's a much different district than the one that voted Adam Clayton Powell Jr., Rangel's legendary predecessor, into office in 1946—today, 55 percent of its residents are Latino and just 26 percent are black.
Espaillat will become America's first Dominican-American congressman, so obviously he came out on top—and Rangel and his favored successor, Harlem Assemblyman Keith Wright, wound up on bottom. But here's a look at some of the other winners and losers.
WINNER: Washington Heights and Inwood
The predominantly Latino neighborhoods Espaillat has represented in the State Legislature for the past 20 years can finally look forward to the kind of treatment they complained Rangel never gave them. They loyally awarded their votes to the state senator when he sought to unseat Rangel in 2012 and 2014, and did it again this year.
Immigrants from the Dominican Republic, the biggest population in the two neighborhoods, are one of New York's fastest-growing communities. Their representatives sit in Albany and in City Hall. But they have not had one of their own as a champion in D.C.
Until now.
LOSER: Harlem
Anybody who knows New York politics knows that the real bases of black power in the five boroughs are Central Brooklyn and Southeast Queens. On the national level, the Congressional Black Caucus consists mostly of reps from the South and from the cities of the Midwest.
Yet Harlem has a special hold on the American imagination as the locus of black culture. That identity is woven into nearly every one of its streets and landmarks—the Apollo Theater, the Cotton Club, Sylvia's Restaurant, Marcus Garvey Park, Malcolm X Boulevard, James Baldwin Way. But the old African-American population has been fading for years thanks to influxes of Latinos and whites, just as its old prewar architecture is gradually yielding to new apartment complexes and condo buildings.
Change and transformation are the only constants in New York City. There was an era when upper Manhattan was mostly Jewish and Italian. Before that, it was English and Dutch. And before that, Lenape Indian. But it's impossible to watch Rangel, and the community he loved, receding into history without a certain sense of loss.
WINNER: Red Horse Strategies
Two years ago, the prominent consulting and canvassing firm's primary day operation for Espaillat fell short—almost 2,000 votes short (the candidate still hasn't paid them for their effort, but more on that later). That fall, though the company worked for several heavy favorites that won seats in Albany,  its clients in tight State Senate contests found themselves crying into the punch bowl at their election night parties. Earlier this year, it suffered another near miss, when its client Yuh-Line Niou failed to capture disgraced Assembly Speaker Sheldon Silver's old turf. It was getting to the point that, despite its reputation and prestige, Red Horse hadn't won a close race in New York City since 2013.
That changed this week, and Red Horse can now claim its ground game gave Espaillat's that 1,200-odd vote edge he needed.
LOSER: Organized Labor
The Transit Workers Union has shown an unflinching faith in Espaillat, endorsing him for Congress a third time this spring even after he struck out his first two at-bats. Most of the rest of New York's leading labor organizations, though, went with Wright: 32BJ SEIU, Teamsters Joint Council 16, the Retail, Wholesale and Department Store Union, the New York State United Teachers and its local affiliate the United Federation of Teachers, the Uniformed Firefighters Association, The New York District Council of Carpenters, Laborers Local 79, and a handful of others.
Two of the other hotshot city unions, 1199 SEIU and the Hotel Trades Council, erred on the side of "why risk ticking somebody off?"
WINNER: Everybody Espaillat Owes Money
Espaillat ended the last campaign season so far in debt—$100,000 deep, to be exact—he started a new campaign committee for this cycle instead of using his old one from 2012 and 2014. The Federal Election Commission has ordered the candidate's earlier account to refund $31,500 to 16 donors whose contributions exceeded the legal limit. Those owed reimbursement include former Gov. Eliot Spitzer, his late father Bernard Spitzer and Upper West Side developer Jona Rechnitz, the man at the center of the police department and fundraising scandals plaguing Mayor Bill de Blasio. The remainder of the $68,500 belongs to a number of consultants, including $22,000 to Red Horse Strategies.
Federal law doesn't require Espaillat to retire the debt unless he files to terminate the committee. But the election has put him in a better position to erase that red ink, and given new hope to people like Jon Reznick, who has been waiting on a payment of $1,295 for setting up Espaillat's 2014 campaign website.
"Maybe now he can raise enough money to pay the bills, if he tries his best," Reznick told the Observer.
LOSER: County Machines
Wright has served as chairman of the New York County Democratic Party since 2009. The Manhattan machine is a pale, pale, pale shadow of what it was in the Tammany era, but the boss losing his home borough is never a pretty sight, even if it is by fewer than 300 votes.
But the bigger embarrassment on primary night belonged to the Bronx Democratic establishment, which is nominally led by Assemblyman Marcos Crespo. The real boogie-down powerbroker is Assembly Speaker Carl Heastie, who was Bronx party head before his colleagues elected him one of Albany's three-men-in-a-room last year.
Heastie and his operation backed Espaillat in 2014, to no avail. In 2015, Wright abandoned his own bid to become Assembly speaker in exchange for the promise of Bronx County's backing in the congressional contest. But after Espaillat won the Bronx on Tuesday by 853 votes—roughly three quarters of his margin of victory—we have to wonder if Wright's got buyer's remorse.
What's it say about the Bronx gang if they can't win a rumble on their own turf?
WINNER: The Bronx
The County machine might have lost, but the fragments of the borough grafted onto the district in the 2012 redistricting probably won. Espaillat owes much of his success to the 78th Assembly District (the base of Assemblyman Jose Rivera, the former Bronx boss and one of his backers in the borough) and to the 81st Assembly District (home to Assemblyman Jeffrey Dinowitz, who fell in line with Heastie and co. in backing Wright this time around). If he wants to ward off a challenge from Wright or anybody else in 2018, Espaillat better honor his promise to open an office in the Bronx—and shower that section of his new turf with as much attention as possible.
LOSER: Ethnic Solidarity
Main theme of this race was race, just as it was in Espaillat's two previous challenges of Rangel. But the different demographic blocs actually did a pretty poor job of consolidating around a single candidate.
For instance, despite all the talk of Latino ascendance, East Harlem (a.k.a. Spanish Harlem, a.k.a. El Barrio, a.k.a. the 68th Assembly District) has repeatedly rejected Latino congressional candidates.When Rangel crushed Espaillat in there in 2014, some sought to explain it in identity terms: after all, Rangel had a Puerto Rican father and a Spanish surname.
But why then did Wright, with no known Latino roots and little connection to the neighborhood, beat his nearest competitor there (former Assemblyman Adam Clayton Powell IV) better than two-to-one this year? Even if you combined the votes of all four Latino candidates in the contest—Espaillat, the half-Hispanic Clayton Powell, Assemblyman Guillermo Linares, tax preparer Yohanny Caceres—Wright still have taken the neighborhood.
But black voters did an even worse job of uniting behind a single electoral avatar—and it cost them control of the seat. Add 2,116 votes African-American former Ambassador Suzan Johnson Cook drew to the 4,665 Clyde Williams pulled (most of them in Wright's base in Harlem) and you have more than five times Espaillat's margin of victory.
WINNER: Sugar Interests
What's sweeter than victory? A multi-billion-dollar sugar fortune propped up by taxpayer subsidies and federal price floors. Members of the Cuban-American Fanjul family, owners of Domino, Florida Crystals and half a dozen other sweetener brands, were the biggest donors to Espaillat's campaign. Much of the Fanjul operation is based in Espaillat's native Dominican Republic under the Central Romana brand. The U.S. government both underwrites much of the Fanjul Corp.'s American mills and plantations, and has placed Dominican sugarcane on its list of products created with forced and child labor—so the family is lucky to have a new friend in Congress with ties to the Caribbean nation.
LOSER: The Rev. Al Sharpton
On Saturday, Sharpton—apparently imagining himself a kingmaker—made the most explicitly racialized appeal of the campaign, with Rangel and former Mayor David Dinkins at his side. He referred to supporters of Espaillat as "outsiders" and claimed that they hoped to "suppress" and "control" black voters and Harlem. The controversial leader even made sneering references to "Negroes you ain't never seen before," apparently looking to dissuade blacks drawn to Williams' campaign.
That Rangel went to Sharpton for help electing his favored successor whiffed of desperation: the two have rarely been friendly over the years and a Sharpton protege, the Rev. Mike Walrond, unsuccessfully challenged Rangel in 2014.
But nothing was so desperate as Sharpton's backtracking the day after the vote. The civil rights leader vehemently denied ever officially supporting Wright—at a press conference organized by Wright's campaign no less—and called for ethnic "coming together" instead of "rancor and acrimony." Which looked like nothing so much as Sharpton making a frantic flying leap for a departing boat called Relevance.