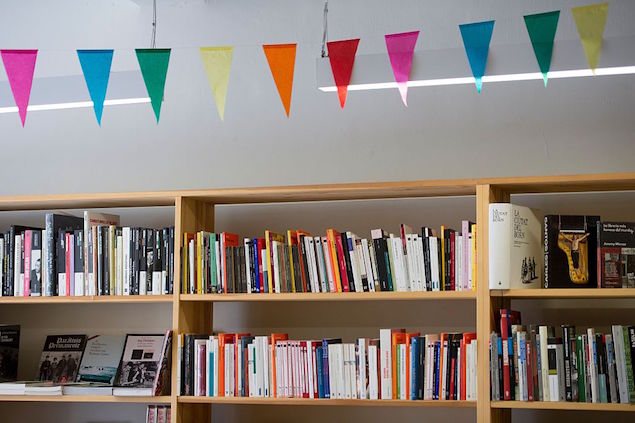 A book lover has tiny homes all over the world. It doesn't matter what language the pages are in, or whether the store is massive industrial endeavor with a built-in Starbucks, or a tiny basement corner with an a cat stalking across wooden shelves; a bookstore is a familiar haven to run your fingers across glossy paperback covers, remind yourself of forgotten, favorite titles, and duck into a bathroom without being bothered.
They're familiar ports where you can exchange small smiles with strangers. Yes, that smile says. People do still read. You and I are here. You and a bookstore stranger might have opposite lives, different tastes in food, in love, in books even, but you two both appreciate the aesthetic of this place and the tacit promise between the covers of each of the endless options: escape for a few hours. Bring someone else's voice into your head. Reading a book means the endless, monotonous drone of your own thoughts will get much needed company. A million think-pieces might declare the end of the written word, the death of the novel, the cremation of fiction, the memorial service for the brick-and-mortar bookstore, and yet, there are people like me. People like me scroll through pictures hashtagged #bookporn to calm themselves and will line their bookshelves with titles they haven't yet read but promises to one day, and read lists and lists of new books that they're going to buy someday, and call authors they've never met by their first names ("I think I know what J.K. is going for here," etc.) People like me need real bookstores.
For the 2.3 million people in Queens, there's only one. And Holly Nikodem, Vina Castillo, and Natalie Noba are trying to double that number.
I met Nikodem and Castillo at one of New York City's most famous bookstore: The Strand. It had been one of the first places I imagined as my own when I moved to this city. I had killed time there before a bad first dates, and after work at a job that might have otherwise brought me to tears if I couldn't escape into the back cover excerpt of a Neil Gaiman book.
Nikodem, Castillo, and Noboa, had all been booksellers together at a now-dead Barnes and Noble, one of three in Queens – massive stores evenly distributed across the borough. Last year, all three Queens locations of Barnes and Noble closed in quick succession as the company tightened operations.
"That's the story with any big box retailer and any independent retailer," Nikodem said. "The Midwest saw it happening with WalMart. WalMart came in, knocked out the Main Street mom-and-pops, and when WalMart couldn't support itself anymore and it left, small towns were left with literally nothing."
"Queens is huge, and you don't realize that until you try to get from point A to point B. It's really, really big," Nikodem laughed. "One tiny little store [The Astoria Bookshop] literally off to the edge of Queens actually can't support the whole borough."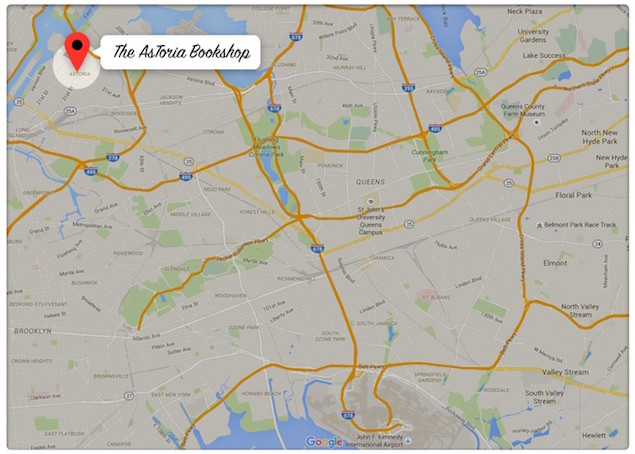 Queens does have small specialty bookstores, like Spanish language and used shops – just one misconception about their endeavor Nikodem and Castillo want clarified (for the record, they are not opening their store where the Barnes and Noble used to be), but Queens lack a second place like this: a big, general purpose bookstore where you can wander for hours and fantasize about the type of person you'd be if you could manage to read everything on your list.
And so, a Kickstarter project was born: the Queens Bookshop Initiative, seeking to raise $70,000 to build a new bookstore from the ground up, run by three women who understand the inexplicable yearning a reader has for a physical community, not just an Amazon checkout basket.
As of June 1, the Kickstarter has raised over $24,000 with 21 days remaining to reach their goal.
What would make their bookstore special? "I'm obsessed with podcasts," Castillo said, "I can't wait to have one in the store. So if we have signings with authors, I want them to stick around so we can do a podcast episode."
Nikodem fantasized about a specific moment, once their bookstore had already become a part of the community. "I'm most excited for one of our regulars to bring an out-of-town friend into the store, and say, 'Hey I want you to meet my friend. They're visiting me and I had to bring them here.'"
"Also, I want a shop pet," she added. "I want a shop cat. Its name will be Pages. I'm very excited to meet Pages when all of this happens."
To learn more about the Queens Bookshop Initiative or donate, check out their Kickstarter here.