In honor of the last day of Pride Weekend, yesterday a Meatpacking District art installation made a bold statement about the restrictions placed on blood donations by gay men, reports New York 1.
The work, located right outside the Apple Store on 14th Street, consisted of two garbage dumpsters filled with bags of fake blood; one dumpster is labeled, "Gay blood donations accepted here," and the other is stamped with the number 617,000—the estimated number of pints of blood lost each year due to FDA regulations that prohibit blood donation by sexually active gay men. In large pink letters each bag of blood is labeled "Type Gay."
The Food and Drug Administration had prohibited men who have sex with other men from donating blood beginning in 1983, but just last year health officials lessened the ban, allowing gay and bisexual men who have been celibate for at least a full year to donate blood or organs—an amendment that actor Alan Cumming has ridiculed in the video below.
Although the restrictions extend to female partners of bisexual men, they do not apply to women who have sex with other women. Opponents to the restrictions argue that safe sex practices and exposure to HIV risk should be the focus of legislation surrounding blood donation rather than sexual orientation.
The dumpsters were designed by the health-focused advertising agency FCB Health as part of the ongoing 'Blood Equality' awareness campaign that the company launched in conjunction with Gay Men's Health Crisis. 
According to the 'Blood Equality' website, the campaign "challenges the stigma of the FDA's discriminatory blood donation policy toward gay and bisexual men, raising the voices of the LGBT community and their supporters to advocate for a rational, science-based policy." Mike Devlin, EVP creative director at FCB, told the Observer that after one development team at FCB stepped forward on the issue, the whole company, whose marketing is health-centric, "put its back behind" the project.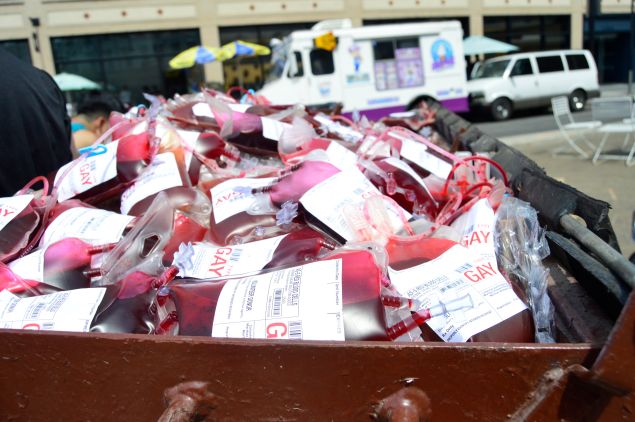 The "Blood Equality" campaign has been in effect for about a year, though Devlin says that it will not end until the issue is resolved. The group has already presented a PSA video and plans to gather a gallery of posters with slogans like "My blood is type A, not type gay," and which explain that "blood is blood." The posters display the faces of advocates who have uploaded their photos, and FCB plans to share the gallery with the FDA to reveal the number of people affected by the policy.
Devlin told New York 1 that all donated blood is screened, regardless of who has donated it. "The fact that gay men are still barred from actually participating in something that is very much a human thing—to donate blood to friends and family—it doesn't make sense."
Questions surrounding blood donation surged once again after the Orlando shooting, when loved ones of victims wanted to donate blood but many were turned away.