The most thrilling sequence in the 2014 film The Imitation Game occurs when mathematician Alan Turing (played by Benedict Cumberbatch) finally cracks the German code that has stumped his team for years.
Watching someone plug number sequences into a computer doesn't sound like it would make for great drama (and the booming score certainly helps). But this scene is one of many ways in which the Alfred P. Sloan Foundation has introduced science and math concepts to a wider audience.
Founded in 1934 by Alfred P. Sloan Jr, then president and CEO of General Motors, the organization gives grants to support research and education programs related to science and technology.
That outreach has been most visible through the Public Understanding of Science, Technology & Economics program, in which Sloan funds media projects which bring to the masses through television, theater and film.
"If you're gonna connect with the public you have to be where the public is," Doron Weber, director of the Public Understanding Program, told the Observer during an interview in his wood-paneled Rockefeller Center office. "Science and technology are human activities—we don't need to be intimidated or confused by them, we need to grapple with them for better or worse."
The Sloan Foundation gets involved from the very beginning of the creative process, especially with movies. Weber consults with film schools to find new directors, and also works with the Tribeca and Sundance Film Festivals to develop screenplays. He then provides input on the projects throughout production, post production and distribution.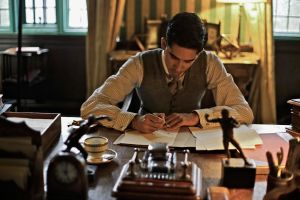 Sloan-produced films like The Imitation Game (which won the Oscar for Best Adapted Screenplay) and The Man Who Knew Infinity, a biography of Indian mathematician Srinavasa Ramanujan which starred Dev Patel and Jeremy Irons, don't tell conventional Hollywood stories. Weber said that the foundation's main objective was to show that math and science, presented accurately, have a place in Hollywood. 
"They have to fit a strategic goal and be very high quality," Weber said. "The filmmakers have to give us faith that they can deliver the goods."
Sloan has also supported many television programs on PBS, including several American Experience and NOVA documentaries along with the drama series Mercy Street, which takes place in a battlefield hospital during the Civil War.
In addition, the foundation has brought scientific wisdom to the Great White Way through Broadway plays that tackle math and science topics, like the Tony and Pulitzer Prize-winning drama Proof (which was adapted into a film starring Gwyneth Paltrow) and the Tony-nominated play Constellations with Jake Gyllenhaal.
Another Sloan-funded drama, Photograph 51, recently had a successful run in London—the story of Rosalind Franklin, who assisted James Watson and Francis Crick with their discovery of DNA, starred Nicole Kidman. Weber said Kidman is committed to star in the play on Broadway in the near future, though producers have not been able to secure a theater yet.
"It's a brilliant play with a terrific actress," Weber said. "It's quality and substantive."
Sloan's upcoming projects include the book and movie Hidden Figures, about the black female NASA engineers who helped John Glenn orbit the Earth—the film, to be released in January, will star Janelle Monae, Taraji P. Henson and Octavia Spencer.
The foundation is also exploring new technologies—it has begun soliciting grants for projects that involve gaming and virtual reality.
Outside of the Public Understanding program, Weber runs Sloan's Universal Access to Knowledge project, which is Wikipedia's largest funder. Because of this, he is a visiting member of the online encyclopedia's board.
"It's the dream of the World Wide Web—open and altruistic, and people are collaborating," Weber said. "It shows the kinds of things you do on the web if you get the community to buy in."
Through his philanthropic work at Sloan and beyond, Weber hopes to bridge the gap between science and the arts.
"Culture is a survival tool," he said. "We need to open up the dialogue and integrate science and technology into a broader understanding of the world."