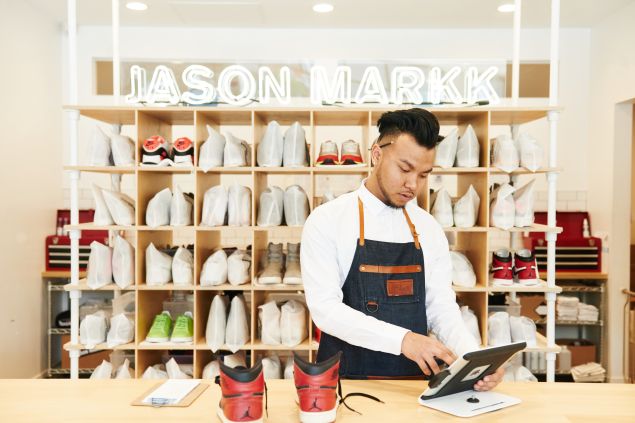 When it comes to cleaning Yeezys, Jordans, Stan Smiths and Air Force 1's, New Yorkers have been in a bit of a no man's land. Sure, you could take your priceless sneaks to the corner shoemaker, but what if they ruin a pivotal piece of your sneaker collection?
Now you don't have to take that risk, as Jason Markk is opening a pop-up shop in New York, just in time for the start of summer. The shoe hospital of sorts will be opening up shop within the Footaction boutique, at 22 East 14 Street, from June 25 to 30.
Customers can drop their dirty, damaged or just plain fatigued sneakers for a slew of basic (but necessary) services. That will include the Classic Clean ($10), Purp Special ($38), Lace Cleaning ($5), Repel ($8) and Deoderizing ($5). Turnaround time for the services at this pop-up shop will be about two days, but there will also be complimentary "quick cleans," which are exactly what they sound like. This is the first time Jason Markk is offering their drop-off services outside of their Los Angeles flagship.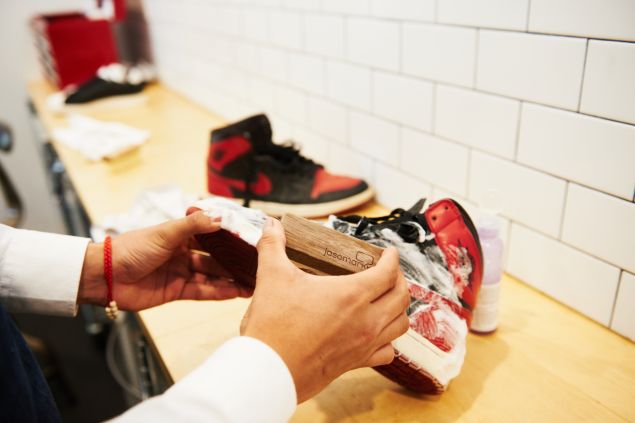 Markk got his start after he developed a shoe cleaner in 2007 that was much more advanced than a simple spritz of Windex. His Premium Shoe Cleaner was concocted from a delicate solution that wouldn't harm sneakers, but would effectively remove grime. From there he branched out into cleaning wipes and a repellant that keeps stains and water at bay, followed by a handful of other cleaning supplies for your sneaks. Finally in 2014 he answered the prayers of sneakerheads everywhere by introducing a drop-off service in Los Angeles' Little Tokyo neighborhood, effectively creating the city's first dedicated shoe hospital.
To date, Jason Markk's technicians have fixed over 15,000 pairs of shoes. So surely your most prized kicks will be safe in the hands of these shoe experts.