Welcome to our TV Fashion column, where TV Ate My Wardrobe's Emma Fraser discusses the trends in television apparel. This week: Why the characters in Mr. Robot, Preacher, and UnREAL look so good throwing shade. 
Summer is here and it is time to look to TV for accessory inspiration; sunglasses are a functional item that also have a habit of making you look hotter (see every Fug Girls post on this matter for supporting evidence). They can also tell us a lot about character as beyond protecting your eyes there is an element of emotional concealment, as well as a cool and glamorous factor.
AMC's Preacher is only two episodes in, but it is clear that Tulip is a TV style icon we need; a bold floral jacket and variety of crop tops show that despite the familial roots she has in this town she is destined for bigger things and is well traveled. There's toughness to her demeanor and yet her costuming has flashes of femininity mixed in with leather, jeans and boots. When it comes to her frame of choice Tulip opts for a somewhat unusual combination of plastic and metal perfectly encapsulating her sense of fashion outside the norms. Sunglasses are part of her ensemble – so much so they appear on the Tulip Pop! vinyl figure – and in the pilot as she sits in church watching Jesse preach she sits apart with another shade wearer sitting behind her; vampire Cassidy's punk look includes this accessory and it makes sense considering what the sun can do to him.
I haven't read the comics Preacher is based on and watched the pilot knowing next to nothing, but from all that I have read since it would appear this adaptation is playing loose with the source material on a number of things including the frequency with which Cassidy wears his sunglasses and how damaged his eyes are. It is noticeable that on occasion he wears them indoors when it isn't bright, but it also makes sense from a TV aesthetic point of view that he takes them off. Sunglasses act as a barrier and while this can offer up plenty of intrigue adding to an air of mystery it can also keep a character at an unnecessary distance.
Both Cassidy and Tulip represent temptation to Jesse and his new Preacher calling from behind their frames; he has a past with Tulip and she wants him for 'one last job' and Cassidy is ready to tear up the joint while he hides out from those sent to kill him. Can Jesse resist either persuasive figure and embrace his new gift all while evading the other two shaded and potentially immortal figures who seek to take Jesse's new powers back?
UnREAL returned this week and Rachel's new job role comes with more responsibility and the kind of executive schmoozing that requires an oversized pair of shades the following day. More opportunity for getting fucked and fucked up with "Money, Dick, Power" permanently etched on both Rachel and Quinn's wrists. Hotel bathrobes and oversized sunglasses make for the perfect morning after attire and for now Rachel has replaced her signature hoodie/tee/Lindsay Weir-esque army jacket for a wardrobe emulating Quinn mixed in with some post party hotel hanging out decadence. How long Rachel will keep it together is unclear, but I have a feeling we will be seeing a lot more of her shades as the season progresses.
In other summer show sunglasses news Darlene from Mr. Robot can be seen in the season 2 promo wearing the Wildfox heart-shaped glasses she last wore in the season 1 finale. Darlene's whole aesthetic is very 90s Courtney Love and this is very on trend as we cycle back through the fashions of this decade. Novelty shapes like hearts and stars can give off a completely different style vibe depending on the wearer; on Taylor Swift they are ultra girly cute whereas on Darlene they complement her grunge.
A recent notable TV character who brings out the shady in shades is Patty Hewes from Damages and there is nothing more unnerving than Glenn Close standing on the edge of jetty contemplating her next move in custom Oliver Peoples translucent round frames. Sunglasses help things remain emotionally ambiguous and no matter how reminiscent they are of John Lennon's signature style, Patty is without a hint of giving peace a chance.
Different types of sunglasses play into certain kinds of stereotypes with law enforcement leaning into the iconic aviator trend. Kevin Garvey on The Leftovers has ditched his police uniform for tees and jeans, but the aviators made the move from Mapleton to Jarden, Texas and I expect they will do the same when the Garvey clan head to the yet to be officially confirmed Australia in the third and final season. Kevin had a lot of reasons to try and block out the world in season 2; what else are you meant to do when someone who you saw kill themselves is following you around?
Also suffering while working as a cop is Beth on Orphan Black and Ray-Ban Aviators are her glasses of choice switching out the more traditional metal frame Kevin favors for black plastic rims. Beth is trying to conceal a lot including her drug usage and sunglasses are very good at hiding certain eye related signs while also acting as a hangover beacon.
Sticking to the Ray-Ban trend and my current sunglasses goal comes courtesy of You're the Worst and Gretchen's yellow round Wayfarer frames that she has worn throughout seasons 1 and 2. These are perfect for hangovers and day drinking; two things we have seen Gretchen partake in. Gretchen's style is effortlessly cool and it makes sense for her to go for a slightly different Wayfarer shape than the traditional option. An urge to dim the light doesn't just come at the hands of a post drinking binge and Gretchen's sunglasses also act as a way to pretend everything is fine while simultaneously pushing Jimmy further away during her depression spiral; Gretchen is not one for showing vulnerability and the eyes are the window to pain (and soul).
From contemporary L.A. to 1960s New York/California and Ray-Ban have both periods covered on the sun shielding spectacle wearing front with Don Draper sporting a pair of Caravan Aviators for driving in as well as other brands such as Olympians by Bausch + Lomb and Randolph's for ignoring looking at an eclipse warnings. Gold frames are a must here and while there are a variety of brands Don doesn't tend to stray too far from one style. Mixing business and pleasure is the Don Draper way and sunglasses nod to entertaining the client or for when Don takes one of his Californian sojourns and lets his Dick Whitman out for a spin. Concealing and revealing all at once; perfect for brooding dudes with secrets.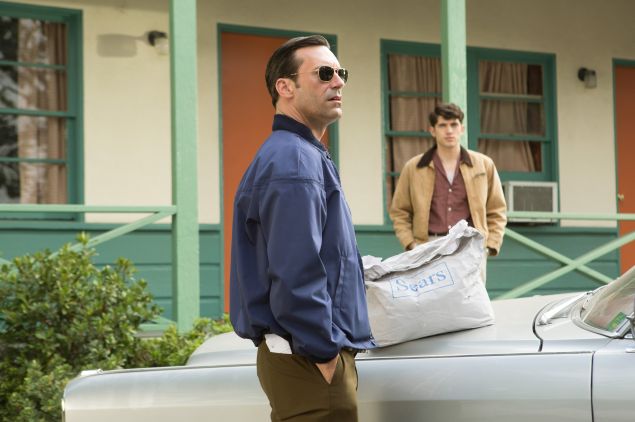 On the plastic front Megan embraces big and bold matching her straight from the pages of Vogue look. Betty is also fashion conscious, but she tends to go for the classic glamorous take on these styles switching out her white cat-eyes for black round frames; both of which are reminiscent of style icon Grace Kelly.
If you're after a Mad Men inspired or La Dolce Vita adjacent look then going straight to the costume providing source could be the way to go. Old Focals also provided Agent Carter's red sunglasses that I fell head over heels in love with when Peggy moved to L.A.
Keeping on the period track and The Americans is a spy show that features a whole lot of glasses, but not of the sun shading kind because it is always winter on The Americans and their mission is to blend it; sunglasses in a grey skied DC are not the way to go. Here location and time of year plays a big part in why their disguises don't lean in on the sunglasses trend instead sticking to large framed regular glasses (not that there is anything regular about 80s frame size). The one standout moment involving shades was when they almost got caught in the season 1 finale and Elizabeth had a whole Farah Fawcett cool vibe going on.
So whether you are trying to protect your eyes from harmful UV rays, offering up some form of concealment, shielding a hangover, making a style statement or some version of all of the above there are plenty of characters on TV offering up inspiration for your summer wardrobe. And you don't even have to offer up a one-liner as you put your shades on while soaking up the Miami sun before The Who kicks in. Thankfully that sunglasses era has passed.
Emma Fraser is the creator of TV Ate My Wardrobe and spends most of her time writing about TV, fashion and costuming; Abbi and Ilana's Broad City style, the wigs on The Americans and Mindy Lahiri's pajamas are just as vital as talking about '90s/'00s teen shows. Emma has a MA in Film and Television and she probably holds Angela Chase responsible for this path. You can find her on Twitter @frazbelina.