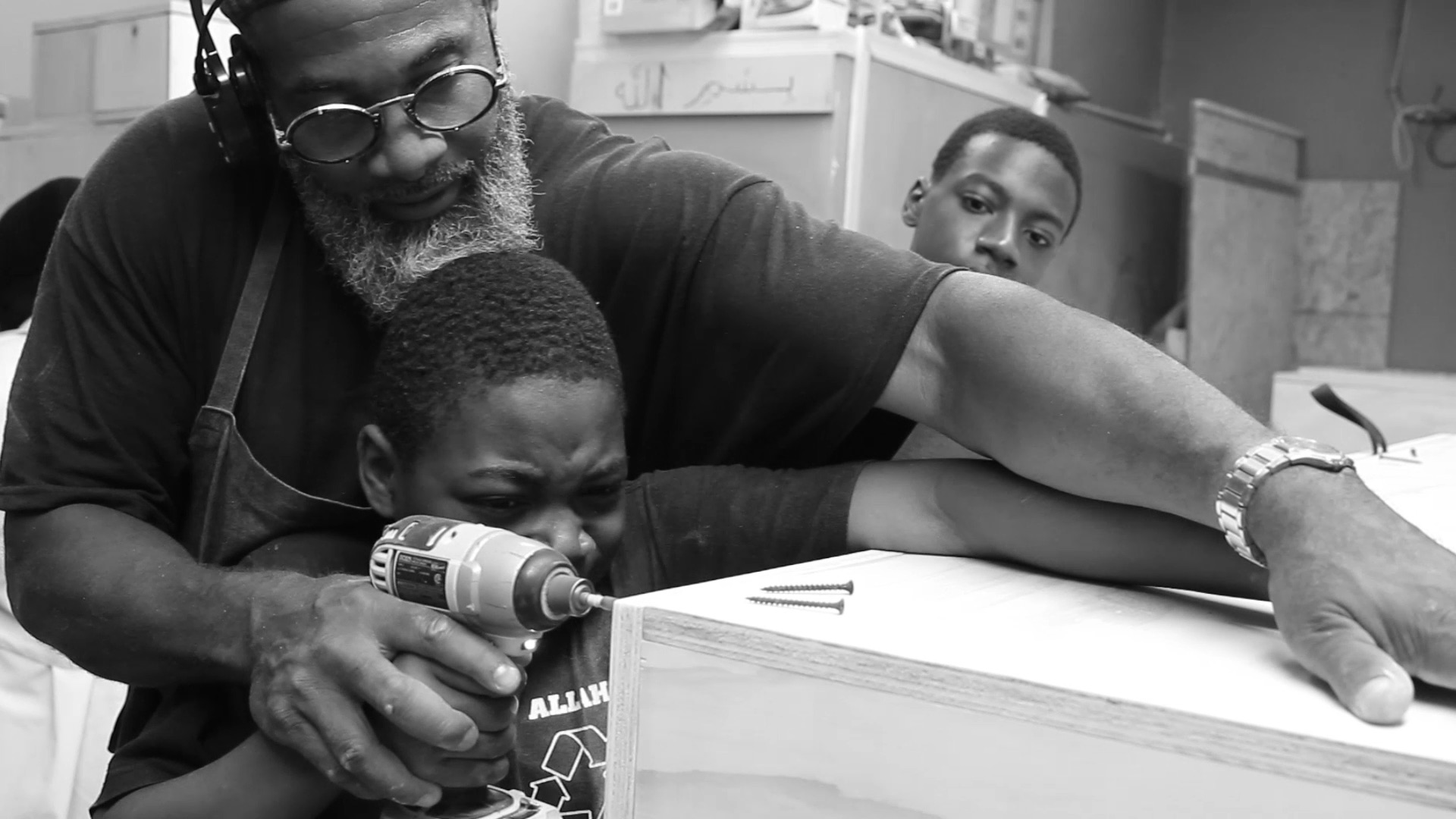 "I think when we have more representation…it develops a lot of appreciation," 31-year-old comedian and former journalist Aman Ali said during a phone call with the Observer yesterday afternoon. "You [need] people in the arts world to tell stories…to draw mainstream acceptance."
Ali is attempting to do just this through film.
Ali's brother Zeshawn, 25, a filmmaker and graduate of NYU's Tisch School of the Arts merged with him to create a documentary—their first major feature—Two Gods. The film centers on a community of Muslim Americans in Newark New Jersey that, in a proactive effort to eradicate gang-related deaths, has begun an initiative to expose young boys to the consequences of such violence by making them assist local morticians. "They're…making them wash bodies, build the caskets, and even [meet] with mothers of lost loved ones," explained the elder Ali brother.
In sharing this one community's story through film, the brothers hope to help dispel stereotypes surrounding Muslim Americans. They want to let the subjects of the film tell their own stories—ones that only they really can, Ali explained.
A new retreat program in Camden, Maine hosted by the Tribeca Film Institute and Camden International Film Festival, and sponsored by CNN Films is lending support and guidance to budding film artists—like the Ali brothers, whose projects, perspectives and stories harbor potential to effect powerful and positive change; the retreat, now in its second year, is aimed at American documentarians from diverse backgrounds who might not otherwise have the resources or opportunities to see their work flourish.
Imagine a grown up summer camp—hiking excursions, barbecues and marshmallow roasting—with the added bonus of schmoozing over dinner with film idols.
On June 12, the duo embarked on their journey to Camden along with five other documentary film teams selected for inclusion in the exclusive "lab," which offers close mentorship from esteemed professionals currently working in various facets of the film industry.
Camden's scenic atmosphere is ideal. The filmmakers will enjoy outside lectures and walks. All involved will (attempt to) "unplug" from technology, devices and social media for the week.
Aside from more serious aspects, the retreat is also an excuse for fun. Imagine a grown up summer camp—hiking excursions, barbecues and marshmallow roasting—with the added bonus of schmoozing over dinner with film idols.
"One night we had lobster rolls and then we had lobster," said film director Steve James, who mentored filmmakers at the retreat last year, not bemoaning the presence of the lobster, but perhaps how full he was.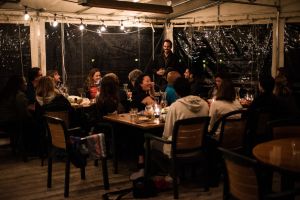 In more formal and lobster-less settings, filmmakers sit down with noted directors, producers, editors and sales experts, and make networking connections
Courtney Sexton, vice president of content development and acquisitions for CNN Films and Amy Hobby, vice president of artist programs at TFI both boast extensive film careers. Formerly an executive at Participant media, Sexton has been credited on more than three Academy Award®-winning films; Hobby was recently nominated for an Oscar for producing the documentary What Happened, Miss Simone?, which told the life story of vocalist Nina Simone—an accomplishment that hardly encapsulates her tremendous span of work.
A substantial list of mentors includes names like Josh Braun, co-president of Submarine whose credits include The Wolfpack and Tangerine and Marshall Curry, two-time Academy Award®-nominated documentary director, cinematographer, and editor.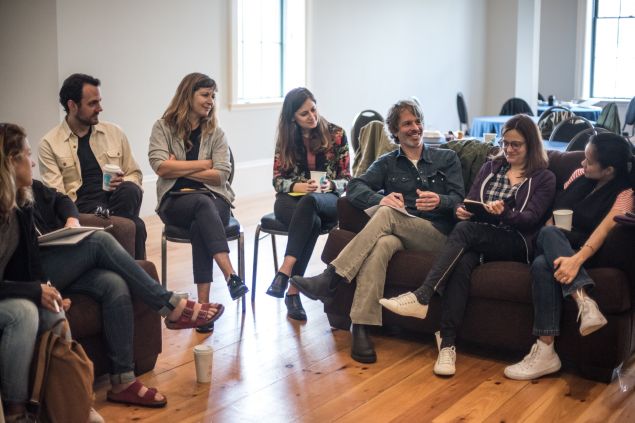 Rather than sorting through film submissions, Sexton and Hobby curated the small group of filmmakers with CIFF's Founder and Executive Director Ben Fowlie, Director of the CFF's Points North Documentary Forum Sean Flynn and CIFF's Managing Director Caroline von Kuhn. Those included on the trip have already completed significant amounts of work on particular film projects, and some are already in the post-production phase. Some of the filmmakers were chosen based on their participation in other TFI programs. The Ali brother's film, as well as another film included in the retreat called A Woman's Work, had previously been accepted to TFI's All Access program which provides mentoring, business seminars, training workshops, networking and market meetings, as well as opportunities to score funding.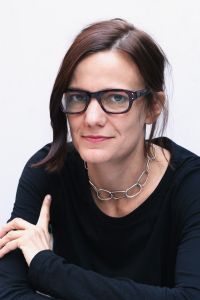 "We're weighing films that we think will be successful…and [that] need help, but we're also looking for films that we think are not necessarily going to be in the typical foundation and pitching circuits," Sexton explained.
To Fowlie, prioritizing domestic stories is crucial; as is casting the net wide enough to encompass stories from nooks of the country that are often overlooked. "This is a great opportunity for filmmaking teams or filmmakers who don't have the resources that filmmaking communities have in New York," he said. Sexton echoed his sentiment. "We try to look outside of LA and New York, where most of these filmmakers are, and try to look regionally to see if there are people and filmmakers that we can help…give them…resources that week, but…[also] give them the check of approval that they've come through our program, so they can get additional funding."
Half of the retreat's participants are women this year—four out of the six mentors, and four out of the ten filmmakers.
Jeff Unay, whose film Greywater about an everyday family man who spends his night in secret as a cage fighter earned him a slot at last years retreat, was surprised when he got the call. "I was invited [to TFI] to give a presentation, and some of the Camden guys announced that they were going to have a retreat and that it was gonna be through CNN Films," he said. "I remember thinking that we didn't have a shot, so I just kept eating my lunch and kind of went on my merry day." Luckily for Unay, who's worked on visual effects for films like Avatar and Hellboy, he got a call from TFI asking him to participate; from there, he bonded with retreat mentor and producer Andrea Meditch, known for her film Man on Wire, who ultimately signed onto his project.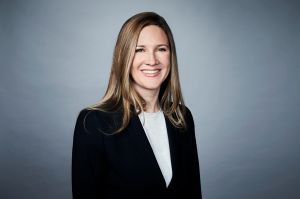 And it's no coincidence that half of the retreat's participants are women this year—four out of the six mentors, and four out of the ten filmmakers. Aside from being credited on a slew of notable films, Hobby also runs her own production company along with Anne Hubbell of the Eastman Kodak company, that seeks to boost representation of "smart, complex" women in the filmmaking industry both behind the camera, and onscreen in strong roles.
"We had no idea that 51 percent of the population are represented in Hollywood by that [small] percent of women," Hobby said, referring to a moment when she and Hubbell sat down to research statistics online, even before joining onto TFI this year. Tangerine then began a series of micro grants for female directors through its "juice fund," filmmaker mentorship, and partook in panels to raise awareness around the world.
That's when she got the call from TFI.
"I thought, this is a way I can have even more impact outside of Tangerine," she said.