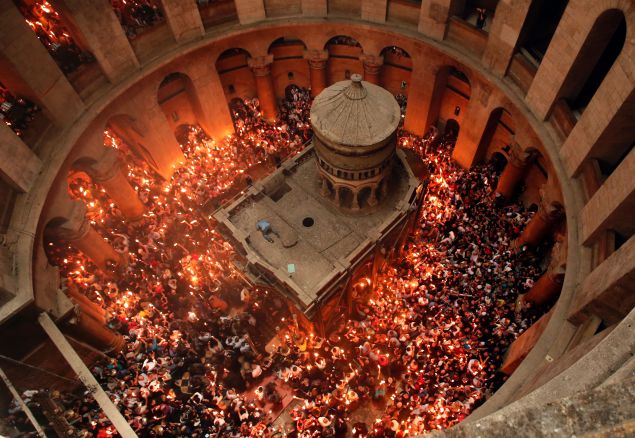 Christ's tomb gets $1.3 million for renovations. The World Monuments Fund has announced plans for a restoration campaign to restore Jerusalem's Edicule in the Church of the Holy Sepulchre, widely believe to be the burial spot of Jesus Christ. A $1.3 million gift from trustee Ioana Maria Ertegun, widow of Atlantic Records so-founder Ahmet Ertegun, will allow conservation to begin immediately.
Damien Hirst posts pro-EU art to Instagram. The YBA sides with fellow British artists Tracey Emin and Anish Kapoor in the upcoming Brexit referendum by posting pro-EU imagery to Instagram. The colorful posts feature the word "IN" spelled out by hundreds of Hirst's signature butterfly designs against three colorful backdrops.
USC art school's remaining MFA student drops out. The last student enrolled at the USC Roski School of Art has finally left. Last year, nearly the entire class dropped out in protest to the school's treatment of its students and faculty. In a letter to the school's provost, student HaeAhn Kwon explained she chose to remain in the program because she had received a full scholarship, however she's now decided to leave after feeling "both socially isolated as well as pedagogically misdirected due to a lack of structure and foresight."
Newly opened Tate Modern sets record attendance. The museum saw 54,000 visitors last Saturday, a new record for the most visitors in a single day. The Tate's new 10-story expansion, called the Switch House, opened to the public Friday.
Picasso painting sells for $63.7 million, setting a new record for the most expensive Cubist painting ever sold at auction. The artist's 1909 portrait of his lover Fernande Olivier, titled Femme Assise, sold at Sotheby's London on Tuesday. "It has been decades since a Cubist painting of this caliber has been offered at auction…Virtually all the significant works of this period are in international museums and institutions," Sotheby's global co-head of Impressionist and Modern art Helena Newman told the Times.