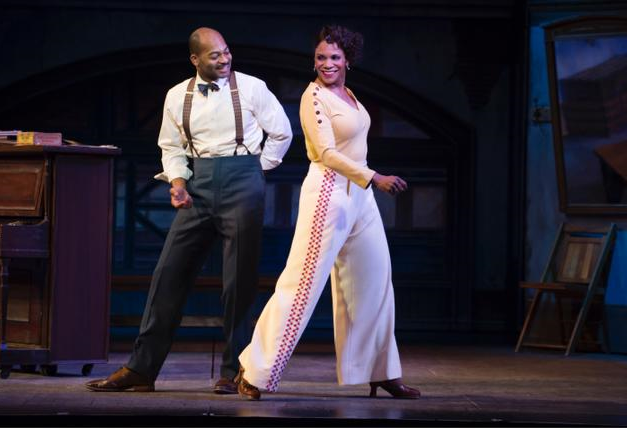 Brandon Victor Dixon is currently starring in the historical bio-musical Shuffle Along on Broadway, but lately he can't avoid reminders of his earlier roles. 
He made his Broadway debut 10 years ago in The Color Purple, for which he received his first Tony Award nomination. Now, the revival of that show is playing across the street from the Music Box Theatre, where Shuffle Along is currently being performed.
"It's a full circle moment," Dixon told the Observer.
His first lead role came in the 2013 musical Motown—also just now returning to Broadway after a national tour—though Dixon said he never considered returning to the role of Berry Gordy. "I very rarely go back to do shows again," he said. "I'm done once I've learned the lessons I need to learn."
Dixon's current role also has special meaning for him, since two of his costars are Audra McDonald and Brian Stokes Mitchell, who starred in Ragtime, the first Broadway show he ever saw.
Shuffle Along (which is subtitled The Story of the Musical Sensation of 1921 and All That Followed) tells the story of the first Broadway musical written and performed by African Americans—the show also pioneered the use of jazz and ragtime on stage. Dixon plays Eubie Blake, Shuffle Along's composer and an early king of pop music.
The show has been nominated for 10 Tony Awards, including Best Musical. Dixon is contending in the category of Best Featured Actor in a Musical, though the 34-year-old freely admits that he knew nothing about the original 1921 production of Shuffle Along before beginning work on the new show. "My knowledge has come from the work we've done building it," Dixon said.
While the Shuffle Along score includes standards like "I'm Just Wild About Harry" and the original production was a hit, the show has largely been a footnote in Broadway history until now because it was produced during an era of segregation. 
"It had a lasting effect on the arc of musical theater," Dixon said. "It's wonderfully special to bring it back and have audience members fall into the emotion of the story."
Dixon and the Shuffle Along company, along with director/writer George C. Wolfe and choreographer Savion Glover, are part of an especially diverse Broadway season, which includes not only the Color Purple and Motown revivals but also Lin-Manuel Miranda's hit musical Hamilton and the Danai Gurira play Eclipsed.
"It's a season where incredible artists have the chance to tell fantastic stories, where the nature of the storytelling is innovative," Dixon said. "Telling diverse stories is at the heart of our culture."
Dixon concluded by contrasting the Tonys with the Oscars, which were criticized this year for being "so white."
"Hollywood is taking longer to learn the lesson," Dixon said.