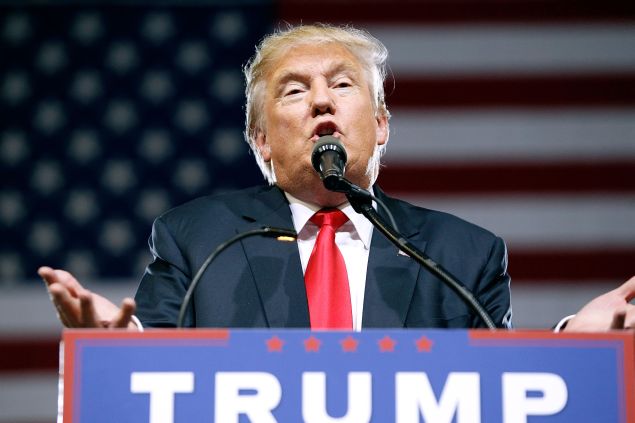 Donald Trump sought to soft land his campaign from virtual free fall today with a blistering but surprisingly well-structured address attacking Hillary Clinton's political record and personal character—and offered his most detailed and inclusive version of his "Make American Great Again" message yet.
The speech was a clear effort by the presumptive nominee to rebound from a disastrous start to the week. On Monday, his campaign's June filings showed him with a paltry $1.3 million cash-in-hand, in contrast to Clinton's $42.5 million warchest. The same day, the candidate unceremoniously dismissed campaign manager Corey Lewandowski, a physically aggressive and personally polarizing figure who successfully steered the Queens-born businessman through the GOP primaries.
Rather than rebut the attacks his Democratic opponent made yesterday on his business career, today Trump savaged her past stances on free trade and foreign policy.
"We will never be able to fix a rigged system by counting on the same people who rigged it in the first place," Trump warned, making another explicit appeal to embittered supporters of Vermont Sen. Bernie Sanders. "Hillary Clinton wants to be President. But she doesn't have the temperament, or, as Bernie Sanders' said, the judgement, to be president."
He revisited his usual broadsides against the North American Free Trade Agreement that President Bill Clinton signed, China's entrance into the World Trade Organization, the massive Obama administration-backed Trans Pacific Partnership trade pact and the outsourcing of American manufacturing. But today's speech—though punctuated with his trademark interjections of "very important" and "so bad"—had little of his usual rambling and grammatical errors.
"I have visited the cities and towns across America and seen the devastation caused by the trade policies of Bill and Hillary Clinton," Trump said.  "She has betrayed the American worker on trade at every single stage of her career."
Clinton supported and coordinated the creation of the TPP as secretary of state but came out against it during the Democratic primary. Her Republican opponent today, however, alleged that the reversal was a political ruse.
Opposition to free trade has been one of the magnate's few consistent publicly expressed opinions over the past several decades, though a number of his clothing lines and other brands come out of factories in China and Mexico—the same nations he has railed against on the stump. And while he attacked the Clinton Foundation's acceptance of money from repressive foreign countries that enjoyed good relationships with the U.S. during the 1990s and during the former first lady's stint as secretary of state, Trump neglected to mention he personally donated more than $100,000 to the same organization.
The candidate was similarly hazy about how he would reverse the trend of job loss, vaguely alluding to "great trade deals" and "massive new factories" that would attend his presidency.
But Trump was more precise in assailing the foreign policy Hillary Clinton pursued during her tenure in President Barack Obama's cabinet. In particular, he lambasted her support for regime change in Syria, Egypt and Libya, which he blamed for incubating radical Muslim groups like the Islamic State.
"In just four years, Secretary Clinton managed to almost singlehandedly destabilize the Middle East," he alleged. "The Hillary Clinton foreign policy has cost America thousands of lives and trillions of dollars—and unleashed ISIS across the world. No secretary of state has been more wrong, more often, and in more places than Hillary Clinton. Her decisions spread death, destruction and terrorism everywhere she touched."
Trump didn't present solutions for the Middle East crisis, though he reiterated his opposition to taking in refugees from Syria. But even then he sought to broaden his appeal to minorities, who are largely loyal to the Democrats and appear to hold the mogul in special disdain.
"For the amount of money Hillary Clinton would like to spend on refugees, we could rebuild every inner city in America," Trump claimed.
The candidate, who often boasts of his riches, echoed Sanders' attacks on Clinton's private paid speeches to financial firms. And he revisited his core issue, immigration, while apparently attempting outreach to blacks and Latinos.
"Hillary's Wall Street immigration agenda will keep immigrant communities poor, and unemployed Americans out of work," he said. "She can't claim to care about African-American and Hispanic workers when she wants to bring in millions of new low-wage workers."
Amid his diatribes against "globalism" and promises of "jobs, jobs, jobs," Trump—who once declared "wages are too high"—sought to depict himself as the true champion of the common good.
"She believes she is entitled to the office. Her campaign slogan is 'I'm with her,'" he sneered. "You know what my response to that is? I'm with you: the American people."
Trump did pepper the speech with his usual personal insults, calling his opponent "a world-class liar." He also meandered off script once into the conspiratorial suggestion that federal authorities "don't want to find" the thousands of emails Clinton deleted from the private email server she used while at the State Department.
But the speech was otherwise perhaps the White House contender's plainest attempt yet to appear presidential, to attract voters and calm GOP donors at a desperate moment.
The campaign's internal dysfunctions have compounded Trump's recent struggles in the polls and the public eye. The brash builder drew ire and fire earlier this month for his racially-tinged attacks on the Mexican-American federal judge handling the fraud case against his real estate seminar, Trump University. And his self-congratulatory Tweets and tirades against Muslims after the Islamic State-inspired massacre at a gay club in Orlando last week provoked further outrage and outcry.
Disclosure: Donald Trump is the father-in-law of Jared Kushner, the publisher of Observer Media.