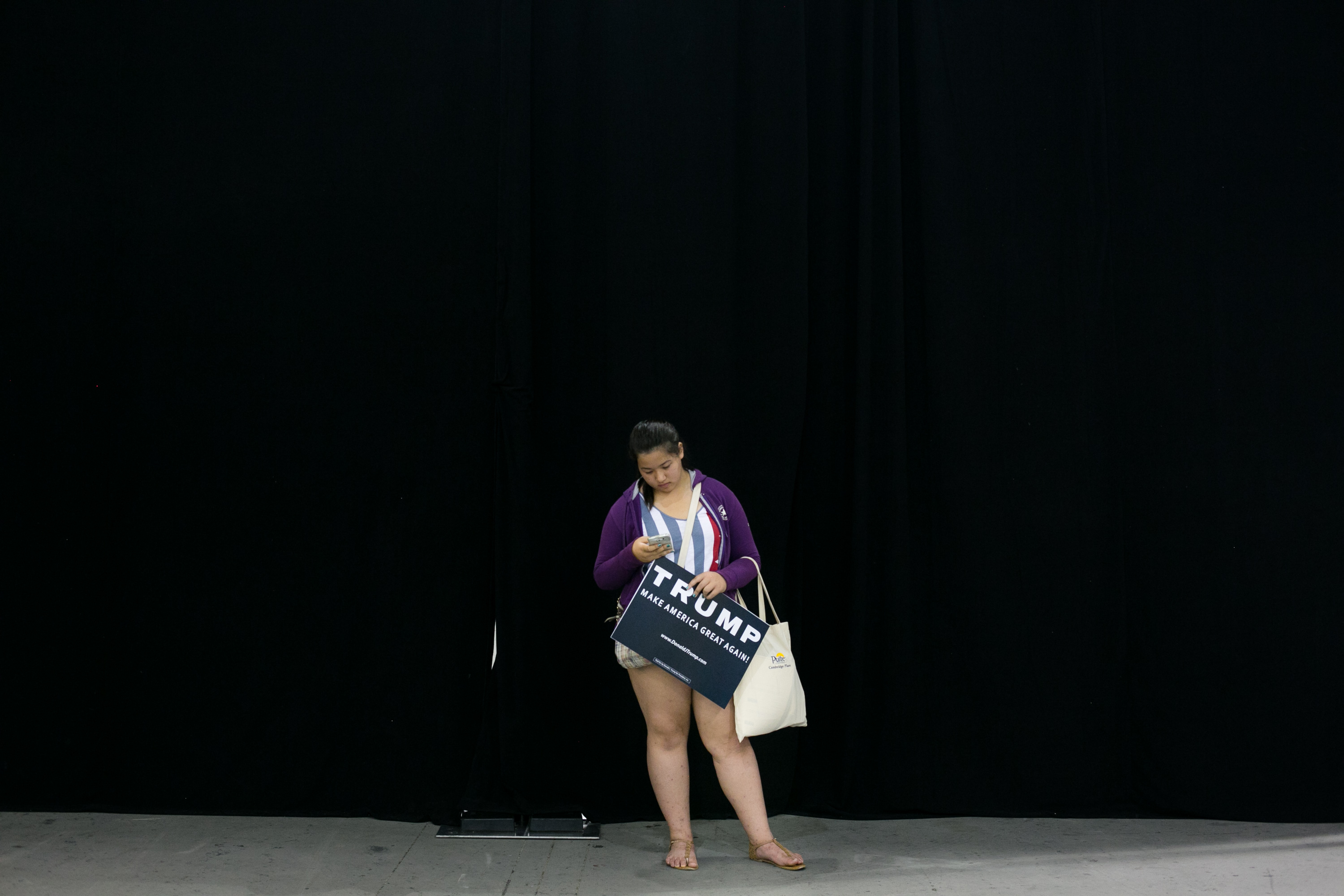 As prime time ended on the East Coast Thursday night, the Donald Trump rally in San Jose concluded with minor violence and major acrimony outside the arena.
The three major cable news channels offered different levels of coverage.
In the 11 p.m. (Eastern) hour, FOX (FOXA) News Channel stuck to the script, showing a rerun of The O'Reilly Factor from earlier in the evening.
CNN, live with host Don Lemon, stayed mostly in the studio, showing multiple pundits with occasional cuts to the melee in the streets of the West Coast city south of San Francisco.
And MSNBC, with reporter Jacob Rascon on the streets, showed the most action. MSNBC skipped commercials for about a half-hour. The live scenes included protestors swirling around Trump supporters with some physical confrontations. Cops wore face shields and clutched batons.
Rascon told of eggs thrown along with punches and kicks against Trump's supporters.
"It's really been almost a witch hunt," he said. "It's just a mob mentality."
MSNBC showed police lines shifting, trying to keep the protestors—some waving signs and Mexican flags—away from the Trump supporters.
"Stop the hate," said one sign.
"Fuck Racist America," said another.
The scene punctuated a week of escalating rancor in the presidential race between Trump, the presumptive Republican nominee, and Hillary Clinton, his Democratic rival.
Clinton, in a foreign policy speech Thursday, called Trump "dangerously incoherent" about global politics and "temperamentally unfit" to lead the nuclear-armed nation and the free world.
"I'll leave it to the psychiatrists to explain," she said in what liberals, Democrats and progressives described as her best speech of the campaign.
Trump responded immediately on Twitter with "Bad performance by Crooked Hillary Clinton!"
Two days earlier, in the 10 p.m. hour that concludes prime time, the three networks took vastly different approaches to recent events.
Trump faced several issues. He had attacked a federal judge ("We believe Mexican") who is adjudicating a case against Trump in court in San Diego.
The judge released plaintiff testimony that accused "Trump University" (a real estate seminar) of fraud.
That morning, Trump denounced journalists who had pressured him to account for the $6 million he said he'd raised for veterans at a January rally.
"You're a sleaze," Trump told one reporter.
With all this percolating, Sean Hannity of Fox enjoyed an exclusive interview with Trump with live remote cameras on Hannity. Hannity interrogated his guest.
"You were getting through a process of thoroughly vetting these groups, which is the responsible thing to do, right?" Hannity asked Trump.
"You have to," Trump responded.
On MSNBC, Lawrence O'Donnell, on The Last Word, took a different tone, calling Trump "a pathological liar" and mocking him during a long opening segment that got to the point quickly and stayed there.
"He does leave people speechless at a certain point in the audacity of his con-man tactics," O'Donnell said. "Can the Democratic campaign handle this kind of candidate?"
But the most compelling stuff aired on CNN, where Lemon on CNN Tonight interviewed two well-spoken U.S. military veterans who engaged in an articulate but hostile debate that veered into apparent Islamophobia from the man representing Trump.
"It was surprising—it took a turn I did not know it would take," Lemon told his two guests, "especially talking about Islam."
Hannity certainly has a pipeline into Trump Tower.  He asked Trump about "the liberal media."
"They cover me so inaccurately . . . it was a horrible experience with the press . . . I got the worst publicity," Trump told Hannity.
Hannity agreed.
"I said in 2008, journalism's dead," Hannity added.
Trump agreed.
"I mean, the press is really dishonest," he said. " . . . especially the political press. They're the most dishonest people. They're bad people."
Under Hannity's questioning, Trump explained that he changed his mind about debating Bernie Sanders because the second-place Democrat can't win that nomination and no money was offered by any TV network as a donation to help pay for what Trump called  "women's health issues."
Seeking to bring out Trump's Lincolnesque side, Hannity asked if President Trump would compile a "team of rivals" to advise him.
HANNITY: "Any surprises?"
TRUMP: "Could be."
HANNITY (smiling): "Ha-ha-ha-ha-ha. You're not giving me anything. I am not the corrupt press . . . I'm actually the conservative. . . I'm an opinion show. I don't hold back. I'll be voting for Donald Trump in November."
Perhaps due to time constraints, Hannity failed to ask:
"What about this 'Trump U' with its alleged high-pressure sales tactics and angry former students who claim they got cheated by you?"
"Why did it take a Washington Post story to force you to write all those charity checks just last week?"
"Don't you think it's a mistake to pre-judge a judge who's sitting in judgment of you and to slur his ethnicity?"
However, Hannity did make time at the top of the show for this piece of Trump's tirade earlier that day.
"On behalf of the vets," Trump told reporters, "the press should be ashamed of themselves."
'Here's the thing: war is not pretty and sometimes you have to do terrible things to win.'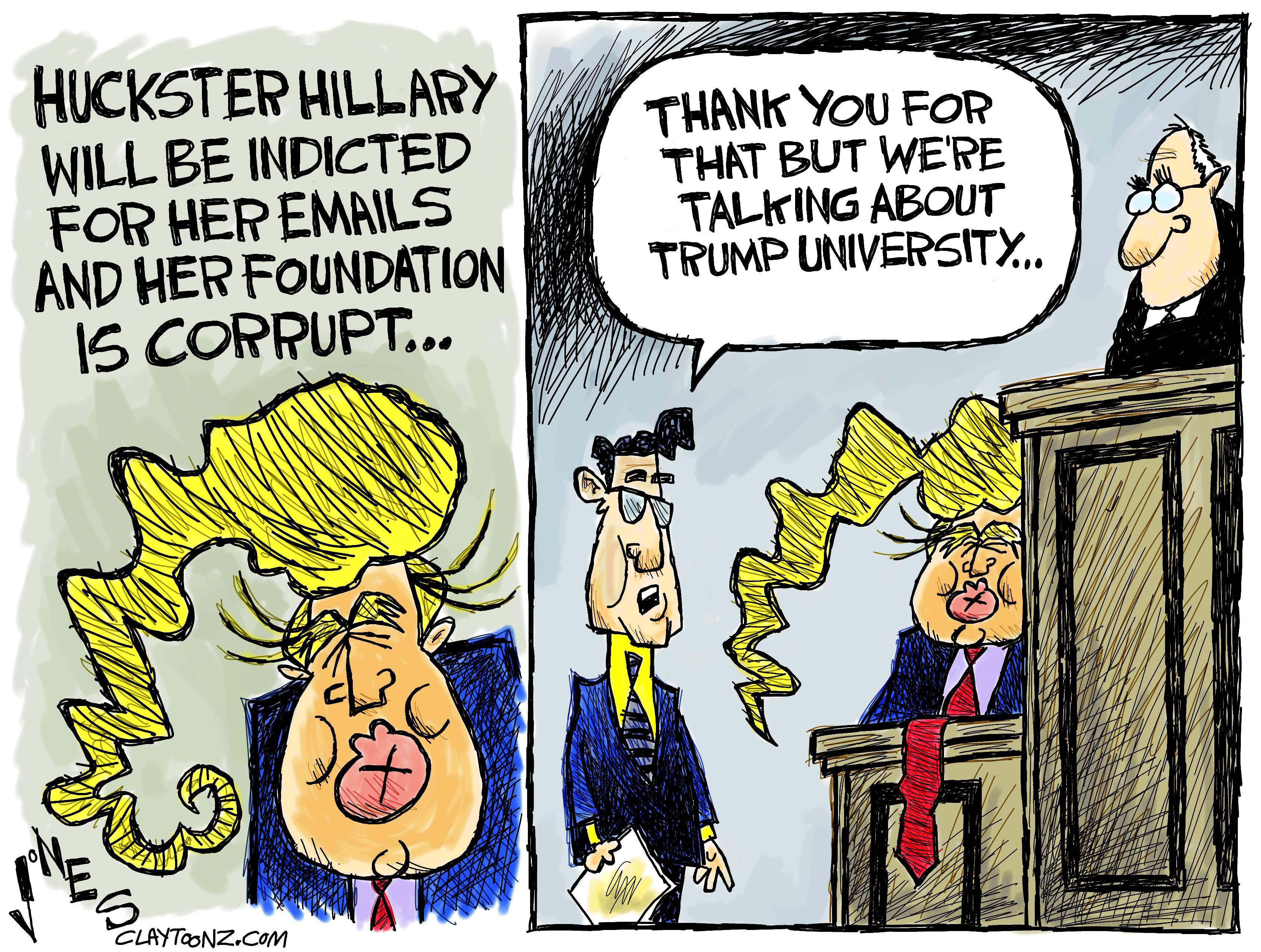 On MSNBC, O'Donnell offered a different point of view.
"So what do you do when you're facing fraud charges in courts from coast to coast and the press questions whether you told the truth about the money that you say you raised for veterans' groups?" O'Donnell asked. "Because you're Donald Trump, you defend your integrity the way you know how—by telling lies."
O'Donnell said Trump has repeatedly been diagnosed by his campaign opponents and psychiatric experts as a pathological liar.
"A pathological liar will tell you a lie to your face that he knows you know is a lie," O'Donnell said.  "He simply cannot resist lying . . . Liars who are not sick in the head only try to get away with lying when they think there's no way you can catch them in the lie."
O'Donnell went on to say Trump lied when he said he wanted to keep his generosity private. He backed this with a video clip of Trump bragging last winter that the total had hit $6 million, including a $1 million donation by Trump himself. (Trump reported a total of $5.6 million this week.)
One of O'Donnell's opinionated guests was Jon Favreau, a former speech writer for President Obama.
"We saw the man-child running for president throw a temper tantrum, which he does when someone tries to expose that he's a pathological liar," Favreau said of Trump. "He attacks people. He attacks the press. He targets federal judges."
Favreau said it matters less now when Trump uses just "his big mouth and his Twitter account."
"But what happens if he becomes president and he has at his disposal the FBI, the CIA, the IRS and America's nuclear arsenal, right?"
(Coincidentally, Trump noted Thursday that Clinton is under FBI investigation regarding her email security as secretary of state and that, if he becomes president, will appoint the attorney general.)
O'Donnell showed the clip of Trump discussing a U.S. district judge he called "a hater of Donald Trump, a hater."
"His name is Gonzalo Curiel," Trump said. "I'm getting railroaded . . . The judge—who happens to be, we believe, Mexican—which is great, I think that's fine . . ."
Throughout his campaign, Trump has called for a large wall on the Mexican border and for the deportation of about 11 million undocumented immigrants from that nation. Some of the protestors Thursday night wore sombreros.
But the best content of this hour came in the middle of Lemon's show on CNN when he hosted inside his studio Carl Higbie, a former Navy Seal who served in Iraq and spoke on behalf of Trump; and Perry O'Brien, an Army veteran who served in Afghanistan and is a member of "Veterans Against Hate," who protested outside Trump Tower.
O'Brien said his group opposes Trump's "ongoing use of veterans as political props to support an agenda of bigotry and hate."
Higbie defended Trump.
"He hates people who hate America," he told O'Brien. "You're talking vets vs. hate? America? Trump is for America. Why don't you guys speak out against the people who hate America, like the Islamic people that are trying to tear us apart? Terrorists, nationwide, worldwide, that are coming here to attack our way of life? Why don't you speak out against that hate?"
Lemon seemed stunned and intervened to temper Higbie's words.
"You mean people who practice jihad," Mr. Lemon said, "not necessarily people who practice Islam?"
Even O'Brien tried to help.
"You're not talking about all Muslims?" he said.
But Higbie was having none of that.
HIGBIE: "I'm talking about a significant portion who don't like our way of life."
O'BRIEN: "Wow."
LEMON (flustered): "So, OK, but let's, let's—go ahead."
O'BRIEN: "I'm astonished. That's just an utterly racist comment. I'm a little surprised to hear it."
HIGBIE: (with sarcasm and a wave of his hand): "Islam's a race? Oh, no. It's a religion."
O'BRIEN: "You and I both know that Islamophobia and anti-Muslim rhetoric—which I'm sure both you and I were subjected to in the military and serving overseas—has a deeply racial component to it. You and I were probably surrounded by people referring to Muslims as 'Hajis.'"
HIGBIE: "Sure."
O'BRIEN: "Sure. Right."
HIGBIE: "Which is actually a benevolent term in their society."
OBRIEN: "Right. Is it the way we use it?"
HIGBIE: "No."
O'BRIEN: "Of course not. When we were just chatting, you just blanket-said 'I don't like Muslims' five minutes ago."
HIGBIE: "I don't like their culture."
O'BRIEN: "Right. So, whose culture?"
HIGBIE: "I don't like the Islamic culture and the influence it's tried to have on my great nation."
At this point, O'Brien turned to Lemon and said Higbie does not represent the majority of veterans, including those who are Muslim and served in the armed forces of the United States "unlike Donald Trump, who I think it has become increasingly clear only seems interested in serving himself."
Lemon again tried to throw a lifeline to the former Navy Seal.
"Are you certain of the words you just said?" he asked Higbie.
"Yeah," Higbie said. "Absolutely. Islam is not a religion. It's a political ideology masquerading as a religion and it's trying to have significant influence on our way of life and it doesn't coincide with our Constitution."
When Higbie said women can't vote in Saudi Arabia, O'Brien noted that they couldn't either in the United States not so long ago. (1920 was the first year.)
He added, in an aside to Lemon, that "other people" in the U.S. were also denied the vote. Lemon, who is African American, acknowledged this with a nod.
Next, Higbie said he believes in Trump's slogan "America First."
O'Brien countered that the phrase comes from Charles Lindbergh's right-wing, isolationist movement before World War II—a neutrality that favored the European aggressor, Nazi Germany.
"You're totally on board with the fascist slogan of 'America First,' where Trump got that?" he asked.
Higbie replied: "I'm on board with putting my country and my way of life first."
And Higbie then sprang some opposition research he'd done on O'Brien.
"You got out of the military as a conscientious objector, OK?" he said. "You joined before there was a war. As soon as you did one deployment, you got out. You go hang out with Bo Bergdahl for  all I care. I  went back and I fought twice. I joined because of the war."
O'Brien confirmed that he left the Army as a conscientious objector and said Higbie was doing what Trump does to his foes.
"Personally discredit us," he said. "Right out of the Trump playbook. Clearly, you've Googled me and are trying to use that to undermine about the candidate you're a surrogate for being a reckless bigot."
When O'Brien asked if Higbie would obey Trump's threatened orders as commander-in-chief to attack families of terrorists and execute prisoners of war with bullets dipped in the blood of pigs, Higbie replied:
"Here's the thing: war is not pretty and sometimes you have to do terrible things to win."
O'BRIEN: "So, you're in favor of executing enemy combatants?"
HIGBIE: "I'm in favor of doing anything it takes."
As Lemon ended the segment with astonishment in his voice, Higbie said "Free exchange of ideas."
The two men shook hands and Lemon said: "Yes it is. And that's what this show is about."
Disclosure: Donald Trump is the father-in-law of Jared Kushner, the publisher of Observer Media.