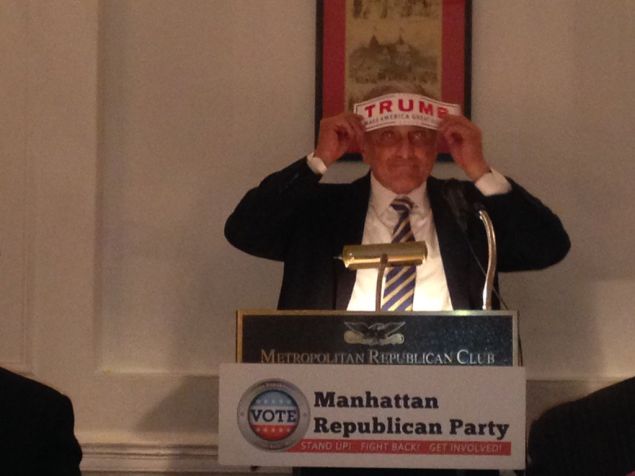 Buffalo businessman Carl Paladino—the 2010 GOP candidate for governor and co-chair of Donald Trump's New York campaign—admitted the presumptive Republican presidential nominee erred in some of his comments about Mexican-Americans.
Paladino used most of his time at the Upper East Side gathering of the Metropolitan Republican Club attacking 2012 GOP nominee Mitt Romney, House Speaker Paul Ryan, strategist Karl Rove, New York Republican Party Chairman Ed Cox, President Barack Obama, presumptive Democratic nominee Hillary Clinton and Gov. Andrew Cuomo—who defeated him six years ago. But he did take a moment to confess that the Queens-born candidate had slipped up in some of his racially-tinged remarks.
"Yeah, he made a big mistake. He made a big mistake with that Mexican comment," Paladino said, shortly after recalling how he had urged staff in Trump campaign headquarters earlier today not to apologize for some of the mogul's inflammatory comments. "He's made a lot of those. And people don't find that significant. Trump supporters don't find that significant when you're talking about jobs, you're talking about labor statistics that are fiddled with."
It is unclear exactly which "Mexican comment" Paladino was referring to. Trump asserted that undocumented immigrants from the Latin American nation are "rapists" who are "bringing drugs" at his campaign kickoff last year.
More recently, the Manhattan developer attracted ire earlier this month when he claimed federal Judge Gonzalo Curiel "should have recused himself" from the fraud case against the Trump University real estate program. Trump insisted Judge Curiel, born in Indiana to Mexican parents, had "an inherent conflict of interest" because the GOP candidate plans to build a wall along the U.S.'s southern border.
Judge Curiel apparently provoked the comment when he released unflattering documents related to the case, one of several against Trump University.
Paladino, a developer from Buffalo, is known for his own confrontational and unapologetic approach. He became his party's gubernatorial nominee in 2010 by defeating establishment favorite Rick Lazio, a former congressman from Long Island.
Tonight, he tore into the Republicans who disparaged Trump or hoped to deny him the nomination as "ingrates."
"They don't have a clue today why people are supporting Donald Trump. They look at it and they just can't believe it. That their influence over our lives is coming to an end," he said. "We are going to have so much fun with Donald Trump as president of the United States."
Disclosure: Donald Trump is the father-in-law of Jared Kushner, the publisher of Observer Media.