Department of Environmental Protection Commissioner Emily Lloyd and Office of Sustainability Director Nilda Mesa, two of the de Blasio administration's top environmental officials, are both stepping down this summer, the mayor's office confirmed today.
The two departures come on the heels of several other high-profile exits in the de Blasio administration. Former press secretary Karen Hinton left in early June—with plenty of parting advice for her boss. Yesterday, the mayor's social media director quit after just eight weeks on job, denouncing political hacks on his Facebook page, a move that landed him on the wood of the New York Post. More consequential but less entertaining was yesterday's news that Maya Wiley, the mayor's counsel, was also resigning—in the midst of several federal investigations swirling around the mayor's fundraising and actions he's taken in office. The departures also come just beyond the two-year-mark for the administration, a time when it is common for some administration officials to leave.
Lloyd had been on medical leave for the last month, and the mayor's office said her retirement was health related.
"Every administration deals with staff turnover. This is par for the course and a natural time in any mayor's term for these transitions to happen," spokesman Eric Phillips said.
Mayor Bill de Blasio, in a statement provided to the Observer, praised Lloyd for serving the city during most of her 40-year career.
"As Commissioner of DEP, she made it her duty to ensure that all New Yorkers were receiving the cleanest drinking water in the United States and that the City's infrastructure was both eye capturing and environmentally conscious," he said. "Commissioner Lloyd always had the health of New Yorkers and the environment in mind with the work she helped lead. While I am saddened to see such a dedicated public servant go, I wish her well in her retirement."
For Lloyd, it was her second stint serving as DEP commissioner: she'd led the agency from 2005 to 2009, under Mayor Michael Bloomberg. The agency is perhaps best known for its role in managing the city's complex water system and proposing the city's water rates, which have long been criticized by some advocates as a backdoor tax on homeowners. Lloyd's agency found itself at the center of a controversy earlier this year when the New York Times reported that the de Blasio administration had postponed work on a crucial water tunnel, diverting funds elsewhere. (The administration eventually changed course, after insisting they'd never actually postponed the project but had merely communicated about it poorly.) Lloyd faced tough questioning from the City Council during budget hearings in March.
"It has been an honor and a privilege to serve the people of New York alongside the 6,000 professionals at the Department of Environmental Protection," Lloyd said in a statement. Every single day we work to provide critical services—such as high-quality drinking water—that allows the City to grow and thrive. I thank Mayor de Blasio for his leadership and his steadfast commitment to protecting public health and the environment."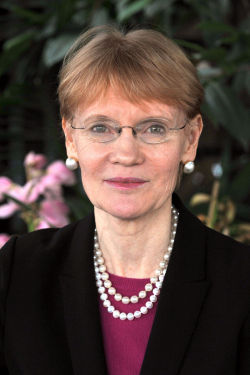 Vincent Sapienza, who has worked for the DEP for more than 33 years, will serve as the acting commissioner, the city said.
Mesa, meanwhile, was the first to lead what was a new office that merged several previously existing ones—where she was a key figured in the One New York plan, formerly known as PlanNYC under Bloomberg—and had previously led the Mayor's Office of Environmental Coordination. Before joining the administration she had worked at Columbia University and prior to that worked on environmental issues in the Obama administration.
In a statement, she it a privilege to serve the mayor and the city.
"We set tough new energy-saving and sustainability requirements for City buildings, tripled solar, put into motion the transformation of NYC's electric grid, and set the gold standard for urban sustainability with OneNYC, infusing equity into sustainability," she said. "Our environmental reviews are now online and transparent. Our comprehensive building strategies will cut carbon and clean up our air, while new ferries and select bus service also are putting us on the path to cut greenhouse gas emissions 80 percent by 2050. I'm proud of the work we've done."
In January, City Hall re-organized the environmental and climate change offices that are located within the mayor's office—putting Mesa's office under the auspices Dan Zarrilli, who was promoted from director of the Office of Recovery and Resiliency to a position leading all climate issues for the city—including his old office and the Sustainability office. He'll lead them both while the city searches for a replacement for Mesa.
"Over the last two years, my administration has aggressively implemented an unparalleled sustainability plan, from our commitment to reducing greenhouse gas emissions by 80 percent by 2050 and the launch of OneNYC, to specific action plans creating greener buildings and the establishment of a clean fleet of City vehicles," he said. "Nilda has been essential in our efforts to create a more sustainable city, and we are grateful for her work."
The administration's record with environmental activists has been a mixed one. Some were frustrated by a shift in the focus that came with the re-naming of OneNYC, which under Bloomberg had been acutely focused on the environment, sustainability and climate change. De Blasio's re-branding of it shifted it to also focus on income inequality—the signature issue of his 2013 campaign.
"The city's overall resiliency approach, it was a mixed bag for us," Eddie Bautista, executive director of NYC Environmental Justice Alliance, said. "There were some good initiatives, but there was a lot of follow through that was missing."
Still, Bautista said both officials were typically trying to accomplish the right goals. He called Lloyd a "respected veteran" and praised her for toughening air quality standards in the future for commercial sanitation trucks, though he said he would have liked to work more closely with DEP on addressing potential toxic waste exposure presented by rising sea levels and the potential for storm surge in industrial waterfront neighborhoods. As for Mesa, he said she had "her heart in the right place" but a tough gig.
"It's always, I think, challenging to try to corral agencies across the board, to not just improve their sustainability approaches but to do so from an equity perspective is even more challenging," he said.
He said it was a job that required long-term commitment—and said he was eager to see what the mayor's office could before the 2017 mayoral campaign, or "silly season," is upon City Hall.
Marcia Bystryn, president of the New York League of Conservation Voters, had only kind words for the departing pair of environmental figures.
"Both Nilda Mesa and Emily Lloyd have been tremendous public servants, leading the way for this administration on the environment," she told the Observer in a statement. "We wish them well in their future endeavors and hope the Mayor fills these critically important roles in short order."
This story has been updated with comments from Eddie Bautista.