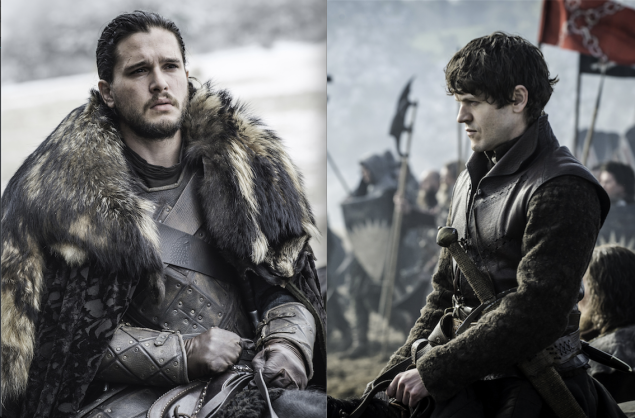 Welcome to our TV Fashion column, where TV Ate My Wardrobe's Emma Fraser discusses the trends in television apparel. This week: Jon Snow vs. Ramsay Bolton in the Battle of the Bastards: Style Edition. 
Come Sunday almost all of what remains of House Stark with some much needed allies will take on House Bolton in an attempt to save their younger brother and reclaim not only their home, but also the North. This isn't just about Starks versus Boltons or getting vengeance for their fallen family; it is about two men who were raised as bastards and have followed an entirely different path meeting here at what promises to be a bloody and dramatic showdown.
Ramsay Bolton (formally Snow) has the upper hand as he has more men and the Winterfell stronghold, but we're not here to talk about who is actually going to win when they face off on Sunday. Instead I'm going to tackle this match-up in a completely different manner; who has what it takes in the style stakes.
Armor
The Starks and Boltons are of the no frills school of thought when it comes to their armor and you shouldn't expect to see any Tyrell style plumage or Lannister gold decadence here. Jon has switched his Night's Watch black garb for the Stark leather and he's looking very much like his half-brother (maybe cousin) Robb and his father (maybe uncle) Ned. Ramsay isn't mirroring his father so much, but he did just stab him in the gut so a clothing homage is unlikely.
Function over style is what is important here and as Northern families they've both seen their fair share of war; practical elements come first including these muted tones which blend into the landscape. It might read as drab, but in the North the battlefield is not a runway.
There's not a whole lot to separate Jon and Ramsay here and taking a wider look at what their men are wearing reveals that the Bolton helmet is far pointer than the Starks super helmet hair helmet. For uniformity Ramsay would get this, but Jon's army of wildlings, 62 House Mormont fighters and whoever else shows up has a ragtag element to it.
So kicking things off with a point a piece.
Draw: Jon 1 – Ramsay 1
Fur
Winter is Coming and both Jon and Ramsay know how to dress for such circumstances. In the past Jon has ventured far beyond the wall and his experience in these bitterly cold locations gives an advantage. As does having Sansa at his side with her seamstress skills; the fur cloak she made him earlier this season is a replica (to her best memory) of their father's and symbolically this was a huge moment. The Stark name didn't end up doing a whole lot in gathering an army to defeat Ramsay, but if Jon is to become Warden of the North after this battle he definitely looks the part even if he's still a bastard.
Removing of the fur prior to the fight is wise as it is cumbersome and it would be bad gift etiquette for Jon to get blood on this new addition to his wardrobe.
Ramsay's also got an impressive fur and I wouldn't expect anything less from a Lord, but it lacks the gravitas and meaning of his rival's.
Jon: Jon 2 – Ramsay 1
Weapons
If it is pointy then Ramsay will be pretty nifty with it as we have seen on numerous occasions and instruments of torture bring him much joy. He's quick to adapt and in fashion this is a big plus; he could definitely Tim Gunn a situation and make it work. Negative points come as a result of Ramsay flipping between using a knife as a murder weapon and an apple cutting tool. That's just not good hygiene and you really don't want that kind of cross contamination.
Jon's sword is far more elegant and Longclaw really sets off Jon's commanding look; so while his name is still Snow this Valyrian steel sword with its direwolf pommel (previously a Mormont bear) enhances the image of Stark power. A strong signature brand is important for a style icon and Jon has just that.
Jon: Jon 3 – Ramsay 1
Fierceness
Coco Chanel said you should always take one thing off before you leave the house and Ramsay Bolton has an entirely different interpretation of this style mantra; replacing himself and an item of clothing in this equation with someone else's body parts whether that be skin, nails or even a penis.
I've watched enough Top Model to know that being fierce can get you far (especially when you are not there to make friends) and Ramsay would do very well in a reality TV competition situation. Well, as long as he didn't get kicked off for an act of horrific violence. Survivor would most likely by Ramsay's thing whereas Jon could brood his way into the final two on Top Model – a couple of cycles ago there was even a contestant I dubbed Bro Jon Snow – and so you would think Jon has all the fierceness needed to win this round.
And yet Jon doesn't have a lot of fun with his current position and after being brought back from the dead he seems understandably even more surly than normal. Meanwhile, Ramsay takes a lot more glee in his role as Lord Bolton; sending taunting letters and reveling in his position of power. This might ultimately be his undoing, but for now he takes the fierce point with his repeated call for Jon to "Come and See." Jon has a brand, but Ramsay sure as hell knows how to use a slogan that is hashtag worthy.
Ramsay: Jon 3 – Ramsay 2
Shirtless
Recently Kit Harington discussed taking his shirt off for photo shoots explaining how demeaning it can be, so he probably won't be a fan of this next section. And Patricia Clarkson best sums up this complaint in an interview with The Guardian "He's a sex symbol. Get over it. You have an amazing career and you're on a hot show. Take your shirt off." That's you told, Harington. I wonder how he feels about Emilia Clarke's "Free the P" campaign.
Anyway, in terms of Ramsay versus Jon in the shirtless stakes I want to venture back to season 4 when Yara tried to rescue Theon and Ramsay was having a whale of a time fighting with no shirt on. Vulnerability is not something Ramsay considers and his bare blood splattered torso offers very little protection and some of that blood is probably his own, but look at how much he is enjoying himself.
Cut to a shirtless (okay pretty much naked) Jon lying on a slab at the start of this season with multiple stab wounds decorating his chest. A startled to be alive after getting murdered Jon unsurprisingly lacks this level of glee and Ramsay claws back a point leveling things to three a piece.
Ramsay: Jon 3 – Ramsay 3
Animals
The direwolves have not fared well this season with both Summer and Shaggydog peacing out (fingers crossed the Shaggydog conspiracy theories come true). Nymeria is still unaccounted for and Ghost was locked up while Jon was getting stabbed up. In the outnumbering stakes Ramsay is victorious with his pack of vicious dogs and they have been well fed this year.
Ramsay should have this point in the bag, but I'm gonna give this to Jon because Ghost is a fucking majestic beast and I'm not even going to consider the possibility that something bad might happen to him. And if it does Melisandre better work her resurrection magic; his name is Ghost after all.
Jon: Jon 4 – Ramsay 3
Hair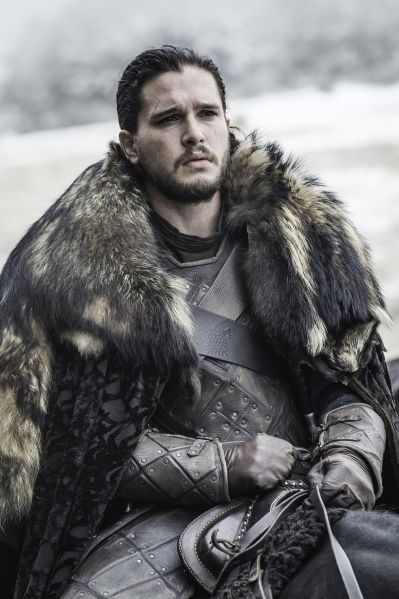 Sorry Ramsay, this one is far from a fair contest and now we know Jon's power is indeed in his hair after Melisandre used some locks to bring him back from the dead. Plus Kit Harington doesn't have a wig clause in his contract and the Harington Hair Watch between seasons was an entertaining way of confirming Jon Snow's not so dead status.
This season he has opted for a man bun, which is the practical choice; I am very aware of how annoying it can be when your hair flops in front of your face and I'm not even embroiled in a sword battle, but simply sitting at my desk. I can also hear my mother asking "How can he see properly?" because this is a question she has asked me many times. The scraped back bun look is just the sensible way to go.
It does mean we will be sadly denied this kind of blowing in the wind serene beauty from the last epic battle Jon took part in as he locked eyes with the Night's King.
Regardless of this new tied back/semi hipster approach Jon still wins this point with ease even if Ramsay has an excellent head of hair, which he clearly did not inherit from his father.
Jon: Jon 5 – Ramsay 3
Sigil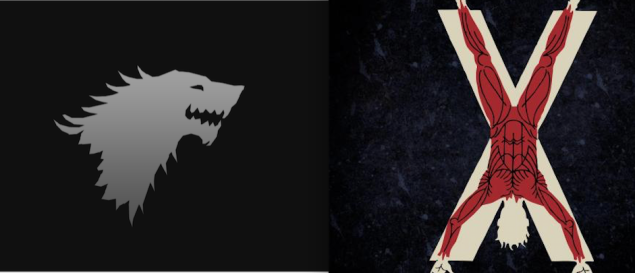 There is nothing subtle about the Bolton's flayed man and Ramsay has shown nothing but commitment to keeping this image alive while slaying their enemies. The Stark direwolf is more symbolic, but Jon also has his real life version and Sansa's made sure she's on brand with her new wolf embellished dress.
The Bolton sigil is in your face, but they also deliver on this message and it is far from an empty threat. The Stark sigil is less gruesome, but as with the other animal baring houses it is a classic choice and in this fight between brash versus chic I'm giving them both the point.
Draw: Jon 6 – Ramsay 4
IRL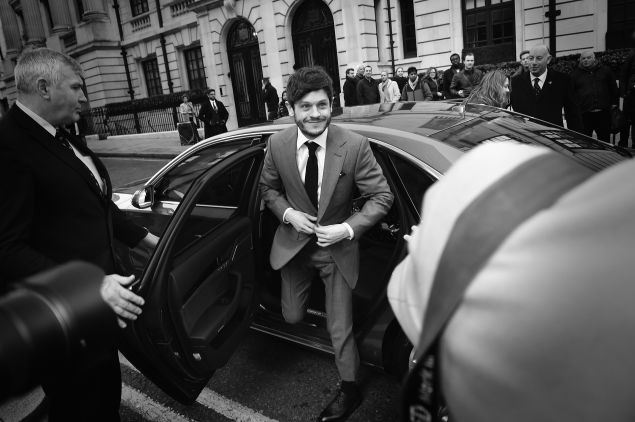 In the final match up I'm going to take a quick look at the IRL style of Kit Harington and Iwan Rheon. Rheon automatically gets the premiere point as Harington skipped all pre-season red carpet events as a way to try and fool the audience into thinking he was really dead (it did not work).
Harington did scrub up well for his Entertainment Weekly Jon Snow's Not Dead surprise party that everyone already knew about; however Interview Magazine's Iwan Rheon photo shoot plays into my love of all things striped sweaters and Rheon also talks about getting to down to the final two to play Jon Snow. How different this Battle of the Bastards looks on an alt-timeline.
Plus Kit Harington just shaved his beard off which automatically loses him this point even if it is for work. Because in this game I am very fickle. Beards are important here and if we were to give style points for Jon and Ramsay's entourage then Jon would win this hands down for Tormund's beard alone. But we're not and Ramsay gets this last round win.
Ramsay: Jon 6 – Ramsay 5
Winner: Jon!
In the end it was closely fought and Jon Snow narrowly takes it in the epic Battle of the Bastards: Style Edit. Will the result be the same come Sunday?
Emma Fraser is the creator of TV Ate My Wardrobe and spends most of her time writing about TV, fashion and costuming; Abbi and Ilana's Broad City style, the wigs on The Americans and Mindy Lahiri's pajamas are just as vital as talking about '90s/'00s teen shows. Emma has a MA in Film and Television and she probably holds Angela Chase responsible for this path. You can find her on Twitter @frazbelina.