In 2012 and 2014, octagenarian Congressman Charles Rangel—despite political scandals, health problems and his advanced age—shocked many in the political world by repulsing fierce Democratic primary challenges from State Senator Adriano Espaillat. In 2016, the contest to succeed the retiring U.S. representative comes down to one question: does Rangel have the power to pick his heir?
If the answer is "yes," the next congressman from the 13th Congressional District will be Keith Wright, presently an assemblyman from Harlem. If the answer is "no," Espaillat in all likelihood will finally take the Hill. The two state legislators face off against each other, and against more than a half-dozen other candidates, in voting booths across upper Manhattan and the Bronx today.
Both men are in their 60s, so it's improbable that either will sit for anything like Rangel's 46 years. And the victor will join the Democratic minority in the House as a freshman, meaning both would have little influence on policy.
The significance of the race, then, is mostly symbolic. If Wright triumphs, the base of power in the area will remain in Harlem, where it has sat since the State Legislature first drew the district for the 1944 election—the election that made Adam Clayton Powell Jr., Rangel's legendary predecessor, New York's first African-American congressman.
If Espaillat succeeds, the center of gravity will migrate farther uptown, to the predominantly Hispanic neighborhoods of Inwood and Washington Heights, which the state senator currently represents in Albany.
Years of immigration, gentrification and redistricting have substantially eroded the size of the seat's once-dominant African-American community. Today, blacks make up a little more than a quarter of the district's residents and a third of its eligible voters. By contrast, Latinos now constitute 55 percent of the local population and 45 percent of those who can cast a ballot.
But if the 2014 Rangel-Espaillat contest proved anything, it's that that stat can be misleading. Espaillat expected to dominate in East Harlem (also known as Spanish Harlem or El Barrio), where he enjoyed endorsements from local electeds like Council Speaker Melissa Mark-Viverito and Assemblyman Robert Rodriguez.
But on primary day, the predominantly Puerto Rican- and Mexican-American neighborhood resoundingly rejected the Dominican-born challenger, and awarded Rangel nearly two-thirds of their votes. Espaillat received scarcely a quarter.
But it may be worth noting that Rangel is half-Puerto Rican, has a Spanish-language surname and has represented East Harlem since his election to Congress in 1970. Wright has none of those advantages.
The vacuum of the vacancy has also attracted several candidates that could interfere with both Wright and Espaillat's paths to victory.  Assemblyman Guillermo Linares, a longtime Espaillat foe who shares his Washington Heights and Inwood turf, is among those seeking the seat this year.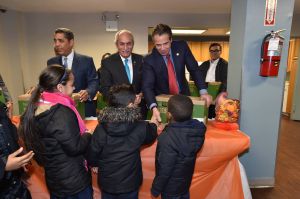 Also in the running are ex-White House aide Clyde Williams, retired ambassador Suzan Johnson Cook and former Assemblyman Adam Clayton Powell IV—the son of the late congressman—all of whom threaten to siphon votes from Wright's political base in central Harlem.
Both Linares and Cook have struggled to raise money, though the former's status as New York's first Dominican-American elected official has made him a minor star in his own community. On the other hand Williams, who also ran against Rangel in 2012, has consistently raked in as much or more cash than either Wright or Espaillat. The majority of that money has come from Wall Street firms and from lobbying groups in Washington, D.C., Williams' hometown.
Clayton Powell has posted decent fundraising numbers, but has also spent a lot of that money on cabs and restaurants. There is also a single white candidate running in the primary, stay-at-home dad Mike Gallagher, who is universally agreed to be a non-factor.
Sources in both the Espaillat and Wright camps insist that they have, respectively, taken into account the blocs of the Dominican and black communities that already dislike them—and maintain that the other candidates will not dig too deep into their numbers at the ballot box.
Two years ago, Rangel telegraphed the danger of declining black influence in the district to his African-American base by repeatedly calling attention to Espaillat's Dominican heritage. This year, he recruited the Rev. Al Sharpton—a longtime rival—to do it for him and Wright.
In an inflammatory radio address Saturday morning, Sharpton warned of insidious "outsiders" uncomfortable with "black people exercising power" who wanted to "control this area." He alluded to a memo that leaked from one of the pro-Espaillat PACs, which suggested the candidate could benefit from reduced African-American turnout.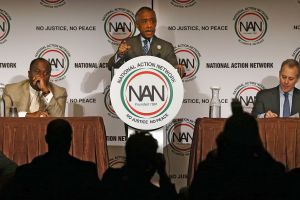 "They are planning on suppressing our vote. And they're planning on you not showing up. Because after 65 or 70 years of leadership of Powell and Rangel, they think you too dumb to stand up for yourself," he said. "They betting on you being stupid. They want to suppress us, they want to distract us."
"They want to control who speaks for us. It's all a matter of control," he continued.
Sharpton also tore into Williams, a signal that he hoped to consolidate the black vote behind Wright.
"You're supposed to be attracted to Negroes you ain't never seen before. I mean, they must have a laboratory to just create these Negroes," Sharpton declared. "Just because you joined the church this Sunday doesn't mean you get to preach next Sunday. You gotta pay some dues."
The naked appeal to racial loyalties exposed what has been obvious to observers for months: the vote will mostly break down along ethnic lines, and Wright and Espaillat recognize one another as their main rival for the seat.
The two have traded fire throughout the final weeks of the campaign. Wright has lambasted Espaillat as a "hypocrite" for promoting a Farmworkers Bill of Rights in Albany while his congressional campaign has accepted cash from Florida sugar growers with a history of labor violations.
Espaillat has retaliated by attacking Wright for taking donations from an Ohio businessman who has donated to Donald Trump, and from a Harlem landlord who has rented to multiple methadone clinics on 125th Street.
Wright raised more than Espaillat up until the final leg of the campaign, and also spent more. But a pair of political action committees have circulated multiple pieces of literature promoting the state senator's candidacy, even though they have failed to properly file with the Federal Elections Commission.
The Harlem assemblyman has dominated in endorsements—from unions and elected officials in the district, from much of the rest of the New York congressional delegation and from Sen. Kirsten Gillibrand. He even snagged the support of the Bronx County Democratic machine, which reigns over the northernmost provinces of Rangel's turf and which backed Espaillat in 2014.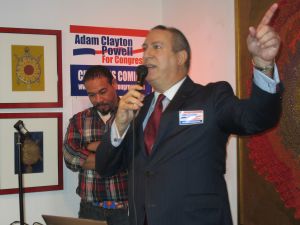 But Espaillat has secured the support of the Transit Workers Union and several smaller labor organizations, and has garnered endorsements from Mark-Viverito, two overlapping councilmen and from several of his fellow state senators. But endorsements from elected officials—and even from Bronx County—failed to lift Espaillat above Rangel in 2014, and it's unlikely they will sway the outcome of the race this year.
Will Rangel's backing compensate for Wright's lack of name recognition outside of Harlem? Have Espaillat's two failed bids left voters skeptical of his candidacy? We won't know until after the polls close.
Rangel's personal charisma and political savvy have shaped the history and the landscape of New York City, even as his home district shifted beneath him. His retirement marks the end of an era. And the primary to replace him will either be the passing of a torch, or a changing of the guard.