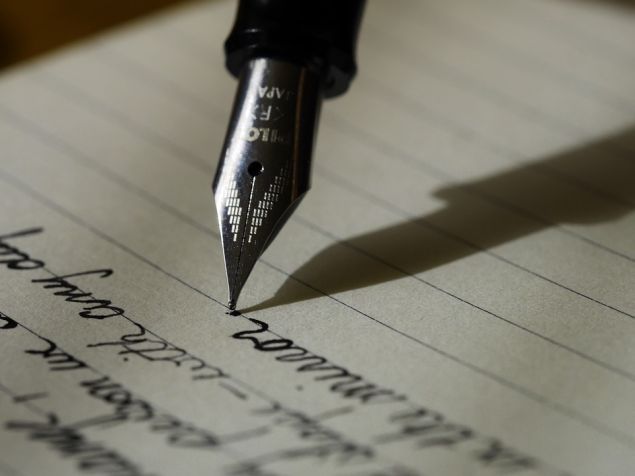 Teaching computers to understand and mimic natural language is one of the biggest challenges in computer science and artificial intelligence. So can a computer write a poem indistinguishable from one penned by an actual human?
Computer scientists at Dartmouth College wanted to find out, so they gathered sonnets written by computers and others by actual authors and put them to the test. Robert Siegel, host of NPR's All Things Considered, served as one of the competition's judges, and he reports that no one was fooled.
Below are six poems. Can you tell which are the products of human creativity and which are from poetic computers? The answers are at the end.
---
SONNET #1

This is the same harsh angle of the sun,
this is the same so deadly humid heat
I felt that week your ending had begun,
reflecting from the glass along the street,
the shattered bits of accidents or trash,
the careless cost of greed obsessed with speed,
the same damned world that made your system crash
and sprout that cancer like a roadside weed.
I walked those mornings to the hospital,
eyes downcast, sweating, breathing in the fumes
of fast Columbus traffic, senses dull,
or so I thought, but now this heat exhumes
the body of that grief. I saw, I heard,
and I remember, Mother. Every word
SONNET #2

The dirty rusty wooden dresser drawer.
A couple million people wearing drawers,
Or looking through a lonely oven door,
Flowers covered under marble floors.

And lying sleeping on an open bed.
And I remember having started tripping,
Or any angel hanging overhead,
Without another cup of coffee dripping.

Surrounded by a pretty little sergeant,
Another morning at an early crawl.
And from the other side of my apartment,
An empty room behind the inner wall.

A thousand pictures on the kitchen floor,
Talked about a hundred years or more.

SONNET #3

A green nub pushes up from moist, dark soil.
Three weeks without stirring, now without strife
From the unknown depths of a thumbpot life
In patient rhythm slides forth without turmoil,
A tiny green thing poking through its sheath.
Shall I see the world? Yes, it is bright.
Silent and slow it stretches for the light
And opens, uncurling, above and beneath.
The sun warms it and with a little time
Another slight leaf joins its neighbor,
They crown slowly and birth without labor
Feeding on the air's breath like a rhyme.
How can we know with body and with brain,
The force that makes the earth suck up the rain.

SONNET #4

And what if from distress comes something fine,
And following this dress-rehearsal pain
Gives way to Joy, mistress of ardor, art,
And love, who sure this mess would straighten out?

For Joy has no illusions of a break;
She brooks many ill fusions of extremes,
And shares her light 'till few suns could compete;
Her binding love makes twos ones and keeps peace.

So best not make a strumpet of this Joy,
Assert that she pays some debt with her smile,
Or name to her a numb set of stale sparks;
She never has succumbed yet, bless her heart.

Her love is full and indiscriminate
And even so you'll find no sin in it.

SONNET #5

Quake with true fear of just reproach my shame
while her eyes came to me we sweetly sing
hand clasped in her breast her withered hands fling
yet by and claim loves boon nor let the tame
But this affliction sure thy heart inflame
he in silence come and assistance bring
then comes a small bright spark comes wandering
sorrows for him you gave that love once came.

Of doom lest any see the signal hear
that tremble through their incandescent nights
wave must dare if the while himself he cheers
what sudden bird will bring us any cheer
Fled to that audit by advised respects
a sequent day to your world of gain roars.
SONNET #6

Living by trust, the gardener plants the seed,
puts it away beyond her power of sight.
She trusts the universe to share her need
to rise through quiet darkness to the light,
to birth the hidden germ that's deep within,
unfurl green life already formed inside
and nurture it until it can begin
to feed itself upon old life that's died.
It helps that she has learned some good techniques,
some tricks to save from bug and blight and rust,
some ways to make fertility increase—
but most of all, it helps she's learned to trust.
She knows the force of sprout and womb and nest
that works when we let go control and rest.

---
#1) This poem was written by Thomas Kinder, a human.
#2) This poem was written by a machine programmed by Marjan Ghazvininejad, Xing Shi, Yejin Choi and Kevin Knight from the University of Southern California Information Sciences Institute.
#3) This poem was written by Ivy Schweitzer, a human.
#4) This poem was written by a human: Kurtis Hessel.
#5) This poem was written by the "Pythonic Poet," a machine programmed by Andrea Gagliano, Emily Paul, Kyle Booten and Marti Hearst from the University of California, Berkeley.
#6) This poem was written by Thomas Kinder, a human.