Three Lives & Company bookstore, a staple of the West Village that's branded itself "a touchstone of the neighborhood," may still be hanging on while other independent bookstores shutter around the city, it still might be forced to find another home.
"We are not closing," Toby Cox asserted. "We are not closing."
Cox, who has owned the snug store on the corner of West 10th Street and Waverly Place for the past fifteen years, says he's received calls, emails and a trickle of anxious customers since a letter was emailed to a "couple thousand" Three Lives regulars last Wednesday.
"I am writing to you about a possibly significant event for the bookshop in the upcoming months…The building in which Three Lives & Company occupies the corner retail space has been put up for sale. In preparation for sale the owners did not renew the bookshop's lease earlier this year and we are now on a month-to-month lease. As you are certainly aware, the white-hot real estate market in New York City means this could present some challenges for the bookshop."
This isn't the story of big tech companies shutting down an independent bookstore, Toby writes in his letter. In person, he's even more adamant: "It's all about real estate in an urban setting. It's all about what you can afford."
Bookstores are facing hard times across the city. St. Mark's Bookshop, a hallmark of the East Village since 1977, closed in February, and shops from Coliseum Books to Endicott Booksellers to Murder Ink had closed years before. Barnes and Noble announced Thursday that the store will start selling food and alcohol in a Hail Mary attempt to salvage the company. But a lucky cluster—Greenlight in Brooklyn, McNally Jackson, Bookcourt, among others—have benefited from what Cox calls "e-book fatigue," blossoming at a time when customers crave physical books and personal interactions.
"It's more than just books. It's central to the neighborhood."—Three Lives regular
"We're having record years," he told the Observer.  "I have more customers now than I did ten years ago."
Cox estimates that the store sells several hundred books per week, although given that Three Lives tracks sales on paper, "like an old record shop", he can't know the exact numbers.
"It's hard, we're in a limbo state," Mr. Cox says. "Nothing's done yet. If we can't stay here, we'll try to find someplace else and continue this enterprise."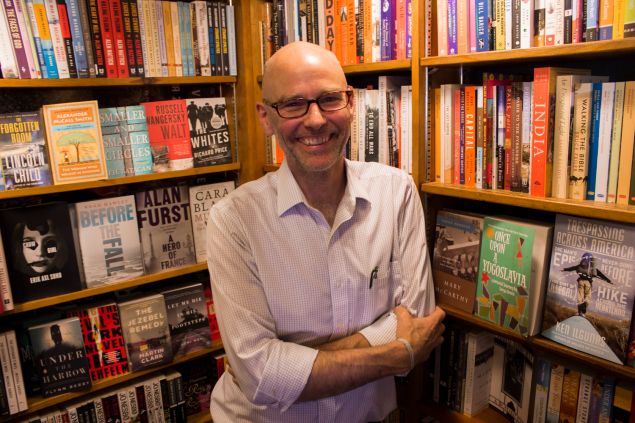 On a sunny Wednesday afternoon, though, it's hard to imagine the store anyplace else. Three Lives seems anchored here, as the village beeps and pulses outside the store's few windows.
"It's more than just books. It's central to the neighborhood," Karen Livecchia, a 54-year-old who works in publishing uptown told the Observer. She's been visiting the store for fourteen years and steps in about every other month.
The 675 square foot space is crammed to the rafters with books. Ron Chernow's Hamilton biography sits beneath Aziz Ansari's Modern Romance; Roxanne Gay shares a shelf with Gatsby, and The Andy Cohen Diaries sits next to signed copy of Michael Cunningham's short stories (Cunningham himself once described Three Lives as "one of the greatest bookstores on the face of the Earth"). Susan Kolker, who's been a regular for thirty years, thumbs through a Lorrie Moore novel and smiles. "It's such a great place with a great vibe. It's definitely an edited selection," she says. "It's literature, versus just any old reading."
The crowd in Three Lives proves as diverse as the book selection. A blonde in pink lace shorts scans the stacks with a hand on her hip; a baseball-capped man three times her age flips through poetry collections. Meanwhile, a guy in a shirt studded with anchors asks the staff behind the counter if they know any Danish writers. In the center of the store, a teen murmurs to her friend, "I'm buying a book for my mom. So she'll forgive me for spending so much money on books to myself." 
The wood floors, the dirt-darkened oriental rugs, the green library lamps, the smell of musk—every detail is charming, but important, too.
"This is very much part of the West Village," Mr. Cox said. "If this bookstore were somewhere else, it would be very different. It really is about this community."