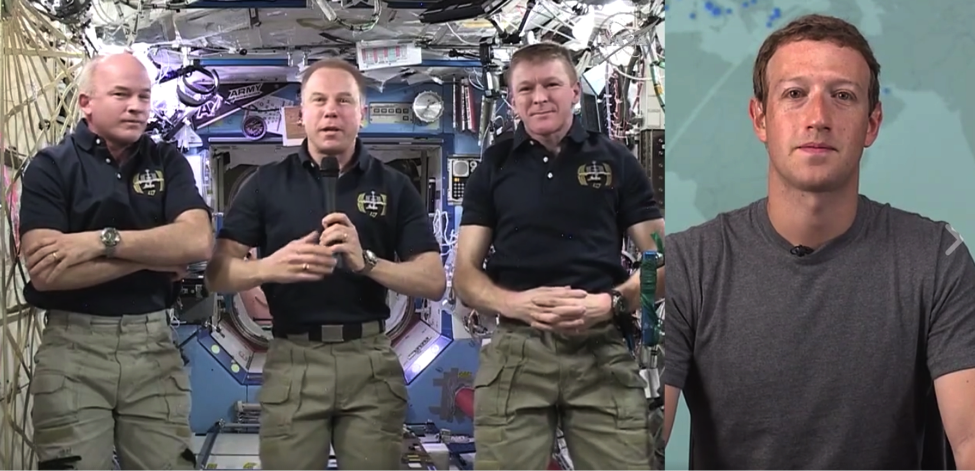 Facebook held the very first 'Facebook Live from space" on Wednesday and was joined by members of Expedition 47 currently living aboard the International Space Station. NASA astronauts Tim Kopra and Jeff Williams and European Space Agency astronaut Tim Peake participated in a Q&A moderated by Facebook founder and CEO Mark Zuckerberg from the company's headquarters in California.
The 20-minute video chat was broadcast live on NASA and Mark Zuckerberg's official Facebook pages and questions to the crew came from the community who are active on those pages. These are some of the most interesting excerpts from the participating astronauts.
No amount of training can prepare you for the experience of living on a space station.
Mission Specialist Tim Peake– "The training is phenomenal and we have a wonderful training team all around the world in all of our international partner sites. But it's the real experience of launching in a Soyuz rocket and seeing that first orbit of planet Earth going through sunset. Seeing a moonrise, seeing a sunrise. You can't put into words how beautiful the planet is from up here."
"Also having the privilege of seeing it change over the nearly six months that we've been up here already and seeing the northern hemisphere going from winter to summer. Seeing thunderstorms at night time, and the aurora. It's just absolutely incredible. I think it's all those kind of elements that the training really can't prepare you for."
Zero-gravity and its effect on the human body is always being studied.
Commander Tim Kopra – "One of the main things we do is try to understand the impact of Zero-gravity on the human body. A lot of the negative Impacts. In large measure, we are an experiment. We exercise a couple hours every day which is a mitigation for the loss of bone density and muscle mass. We have our eyes scanned because there's issues with your eyes as a consequence of zero-gravity. There are several other things that we do on board to try and make sure that when we go beyond low-Earth orbit, we fully understand the implications  of zero-gravity on the human body."
"Beyond that, we do lots of basic research up here as well because when you remove the gravity component to a lot of physical phenomenon, you learn things. We have physical science experiments that range from combustion to fluid flow to microbiology and we are learning a ton. We expect that to pay dividends long-term in terms of benefit for our planet."
Life aboard the space station is an international affair.
Commander Tim Kopra– "We do speak different languages up here. Tim speaks british. Williams and I speak American. But seriously, we have three Russian cosmonauts on board and we've had a whole host of international astronauts up here. Japanese, Canadians, Germans—all kinds of European astronauts and we have to be able to communicate. Typically, when we do our training, if it's German or Japanese or Canadian or American in training, we speak English. When we go to Russia, we speak in Russian. We all speak Russian to varying degrees of skill level. Our Russian cosmonaut friends speak English very well. When we get together on board, we'll speak either Russian or English or maybe 'Ruslish'—a combination of both."
"It's very important for us to communicate and in fact, that's probably the biggest aspect of our job up here. To make sure everybody is on-board and synchronized."
Food tastes different in space, but there's plenty of it.
Mission Specialist Jeff Williams– "Most astronauts that have been up here over the years will say that their taste changes a little bit. I think it has to do mostly with the fluid shift in our body due to gravity not pulling down. That sometimes results in a stuffiness so maybe our tastes are attenuated a little bit. Most of us like to have spicier food up here. The food can taste a little bland so we'll spice it up a little bit on our own. So I would say food taste a little bit different. We, by the way, have a wide variety of food on board from all different countries."
"The food up here is very, very good."
Astronaut Ice cream is a lie.
Commander Tim Kopra– "The astronaut ice cream that you buy at the gift store—that powdery stuff—that's not real. But we've had ice cream on board. When SpaceX came up they delivered a bunch of ice cream in a freezer so that's been quite the treat. I think we are down to the last few bars. Trying to ration it."
Internet and Social media is now part of everyday life on the station.

Commander Tim Kopra– "Social media is a really nice way to reach your friends and family from up here. Our internet connection is actually a relatively new thing and so we're very happy to have that. The whole world has become so connected that it really feels good that we can sort of be connected. It's not quite the same speed or bandwidth that folks have on the ground but it's good enough and it allows us to keep in touch with friends and family. Social media for us or for me personally, I can say is great because it's one way that i can share the photographs that I take and the few thoughts that i have up here because one thing about life up here is that it's so unique. It is such an opportunity and a blessing for us to be up here that being able to share it with other people—especially a wide audience—is just a tremendous benefit."
The space station windows can provide enriching entertainment.
Mission Specialist Jeff WIlliams – "We do a lot of things that are fun. Actually, none of us get tired of viewing the Earth from up here so we spend a lot of time at the window studying all the details of the Earth. Tim talked about the different seasons and stuff that goes by. The different lighting conditions and weather patterns. All the geography and geology, ocean currents, and thunderstorms. Seeing lightning ripple across a weather system—that's a lot of fun. So we spend a lot of time at the window."
Robin Seemangal focuses on NASA and advocacy for space exploration. He was born and raised in Brooklyn, where he currently resides. Find him on Instagram for more space-related content: @nova_road.