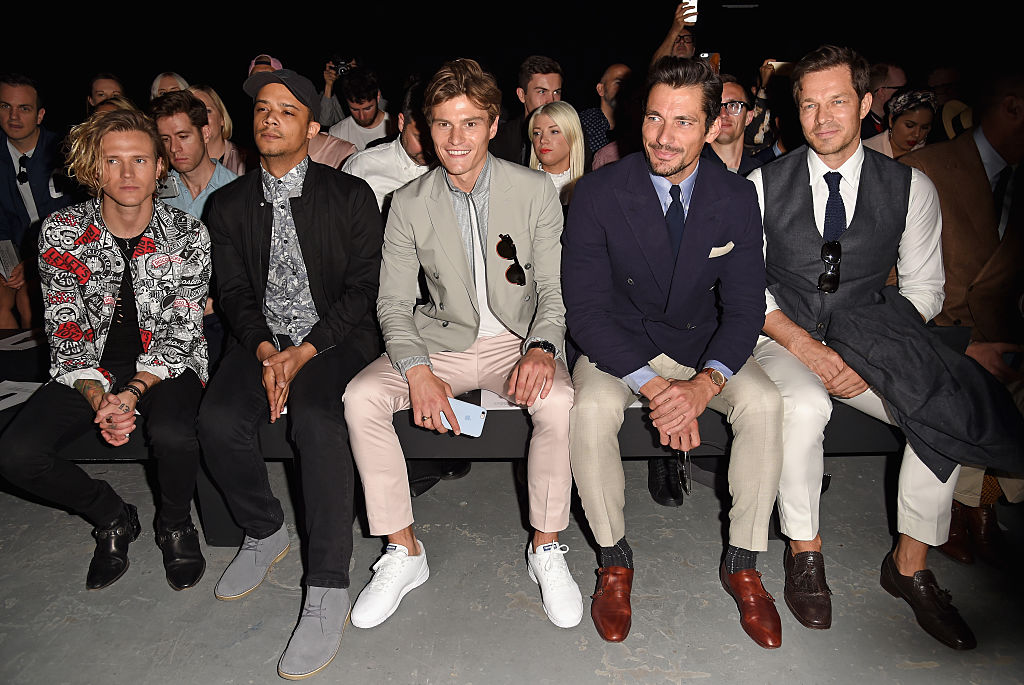 The press release from the British Fashion Council giving details of  LCM's show and schedule itinerary gave the game away. There were almost as many cocktail parties and store launches in London last weekend as there were fashion shows and presentations.
For fashion designers today success is almost as much about the names on your power front row or at the after party as it is about the clothes on your runway.
Instagram, Twitter and Snapchat increase the currency of brands via the instant images of their gangs of friends, celebrities and their entourages as much if not more than advertising and traditional media coverage.
During fashion weeks the industry almost seems to be saying: the clothes? Meh! But did you see Kanye and Kim on the FROW?
In fact the most constant presence on the LCM front row this season was the male supermodel and British Fashion Council ambassador, David Gandy. The fearsomely buff and chiselled Gandy, who became one of the the first male supermodels through his advertising work with Dolce & Gabbana, is the perfect poster boy for British menswear. He wears his suits as effortlessly as, presumably, the underwear he designs for high street label, M&S.
Seated next to Gandy at many of the shows and presentations was the Chinese star and slashy supremo, Hu Bing, an actor/model/singer and philanthropist. To add yet another slash, Bing is also the international ambassador for LCM. Thus he cleverly links British menswear to what's likely to soon become the biggest market for fashion in the world, China. Dylan Jones, LCM's chairman and editor of British GQ told me, "The menswear industry continues to grow year on year, with the industry currently valued at £14.1 billion. This makes up 25% of the total clothing market." And much of that growth has been in the far east and China whose press from those markets made up the biggest presence at the shows.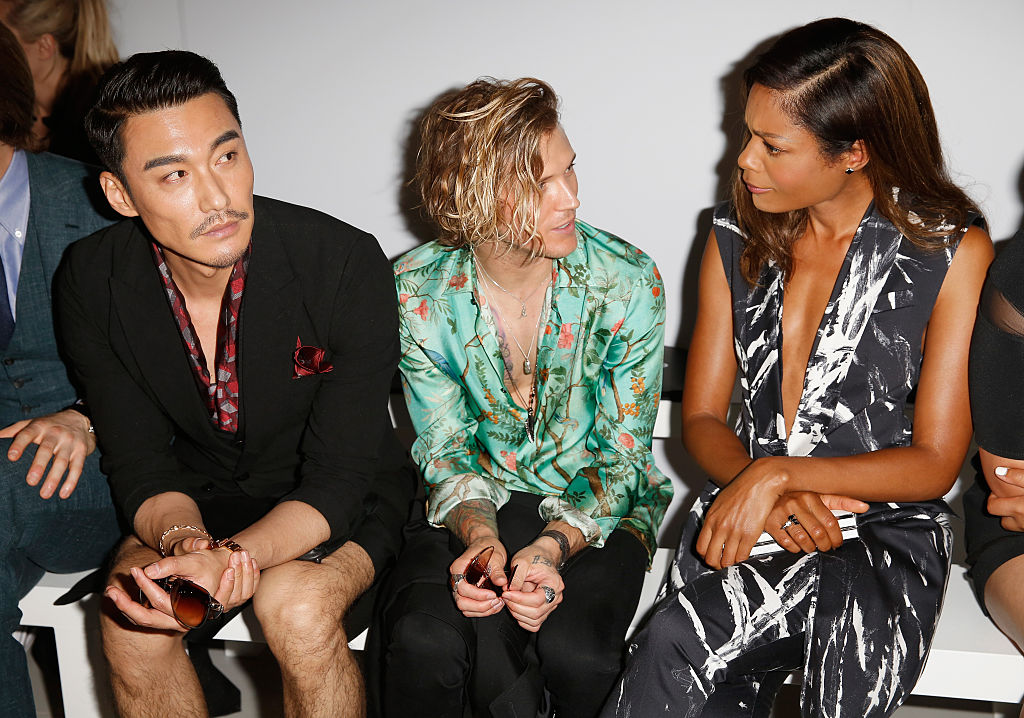 Actress and ultimate Bond girl, Naomi Harris graced the Korean label Songzio's debut LCM show alongside McFly bassist and model, Dougie Poynter. Sitting cheek by jowl to him was actor Craig McGinlay, who has just finished filming Guy Ritchie's new movie, The Knights of the Round Table. It was central casting for a fashionable East/West cultural exchange.
In swanky neighbourhood Mayfair, British menswear legend Paul Smith instead of showing a collection (his mainline is always shown during Paris menswear), exhibited black and white punk photography and book launch by the documenter of outsider and street youth, Derek Ridgers.  It's 40 years since punk rockers forced their pierced and snarling faces and music onto pop culture in London and New York. Gritty shots of Debbie Harry, Sousxie Sioux and the Sex Pistols grimaced sweatily on the walls of Smith's below-shop gallery under the watchful gaze of legendary fashion journalists, Suzy Menkes and Sarah Mower.
JW Anderson had larger than life rapper like A$AP Rocky at his show with whom he's collaborated with a mini collection of fur, denim-style jackets. While Nasir Mazhar's had his usual gang of edgy club kids adorning his FROW.
But it was the British creative director at Coach, Stuart Vevers, choosing London for his SS17 menswear outing who had the sickest (London street slang for 'best') FROW of them all. When you have Kate Moss and her 29-year-old boyfriend Count Nikolai von Bismarck, actor and model Jack Guiness, Oliver Palermo's husband Johannes Huebl and Australian male-model-of-the-moment, Jordan Barrett (who bares an uncanny resemblance to the late River Phoenix) on your FROW it's hard to tear yourself to look at the clothes. Which would be a shame. With their 1950s gang style inspiration the Coach collection was looking might fine too.  Indeed, it was one of LCM's stand-out collections.
The menswear jamboree finished with Dylan Jones hosting a charity night of karaoke with Samuel L Jackson. Where? At legendary Beatles recording studios Abbey Road. Of course. This is London after all where fashion and music so often collide.