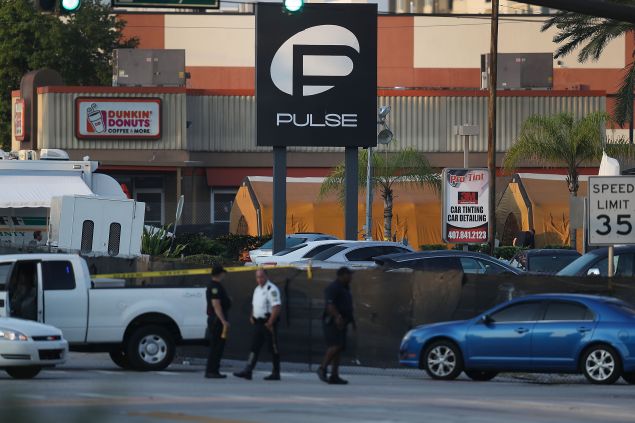 Since Sunday morning, law enforcement authorities have been trying to piece together the chain of events that led to 49 people being murdered and 53 injured at Orlando's Pulse nightclub in the worst mass shooting in American history.
As more details have emerged, much of the scrutiny has focused on the the actions of the Orlando police department. Officers exchanged fire with gunman Omar Mateen until he barricaded himself in the club's bathroom with an unknown number of hostages. At that point, police decided to try and convince him to surrender. Mateen was on the phone with police dispatchers throughout the three-hour standoff, during which he pledged allegiance to ISIS.
But when Mateen (falsely) claimed that he had explosives, law enforcement tried to breach the bathroom wall with its own ordinance. When that didn't work they drove through it with an armored truck, allowing the prisoners to finally flee.
Combining negotiation with gunfire may seem counterintuitive, but according to forensic criminologist and security consultant Daniel Kennedy, this tactic proves that police couldn't tell if they were dealing with a hostage situation or a captive situation, in which the gunman kills those he has taken prisoner. 
"In a hostage situation there's a paroxysm of aggression, but then the gunman thinks twice about treating people as objects," Kennedy, who is based in Troy, Michigan, said.
Once it became clear that Mateen, a devout Muslim, was instead planning to murder the captives and then commit suicide, police opened fire.
"He had no intention of surviving that night and only wanted paradise," Kennedy said.
Joseph Giacalone, a former New York City police detective and adjunct professor at John Jay College of Criminal Justice, agreed with this idea on principle.
"This guy had no intention of giving up," Giacalone told the Observer.
"Police are damned if you do and damned if you don't. You have to neutralize the guy, and friendly fire is a possibility."—Former NYPD detective Joseph Giacolone
Because of this, the NYPD veteran said it would have been better for the Orlando police to go right into the nightclub rather than try to reason with the jihadist for so long.
"The normal protocol is 'isolate, contain, negotiate,' but this guy wasn't going to negotiate," Giacalone said. "You need information about what's actually going on. You have to go in."
While the Orlando standoff shows that it can sometimes take time for law enforcement to determine the proper course of action, Kennedy said that police responses to mass shootings have largely stabilized since the Columbine High School massacre, in which officers set up a perimeter around the building, then waited for a SWAT team.
Now, however, the goal is to stop the bloodshed using the best method available—and those methods include both negotiating with the shooter as long as possible and using force when necessary.
"There's been a sea change in attitude and an increase in proper response," Kennedy said.
Giacalone, however, cautioned against the Columbine comparison, because while the gunmen in Colorado had planted small explosives and booby traps, Mateen only had two guns. Because of this, he believes police should've focused on stopping the carnage right away, even if club patrons were caught in the crossfire.
"Police are damned if you do and damned if you don't," he said. "You have to neutralize the guy, and friendly fire is a possibility."