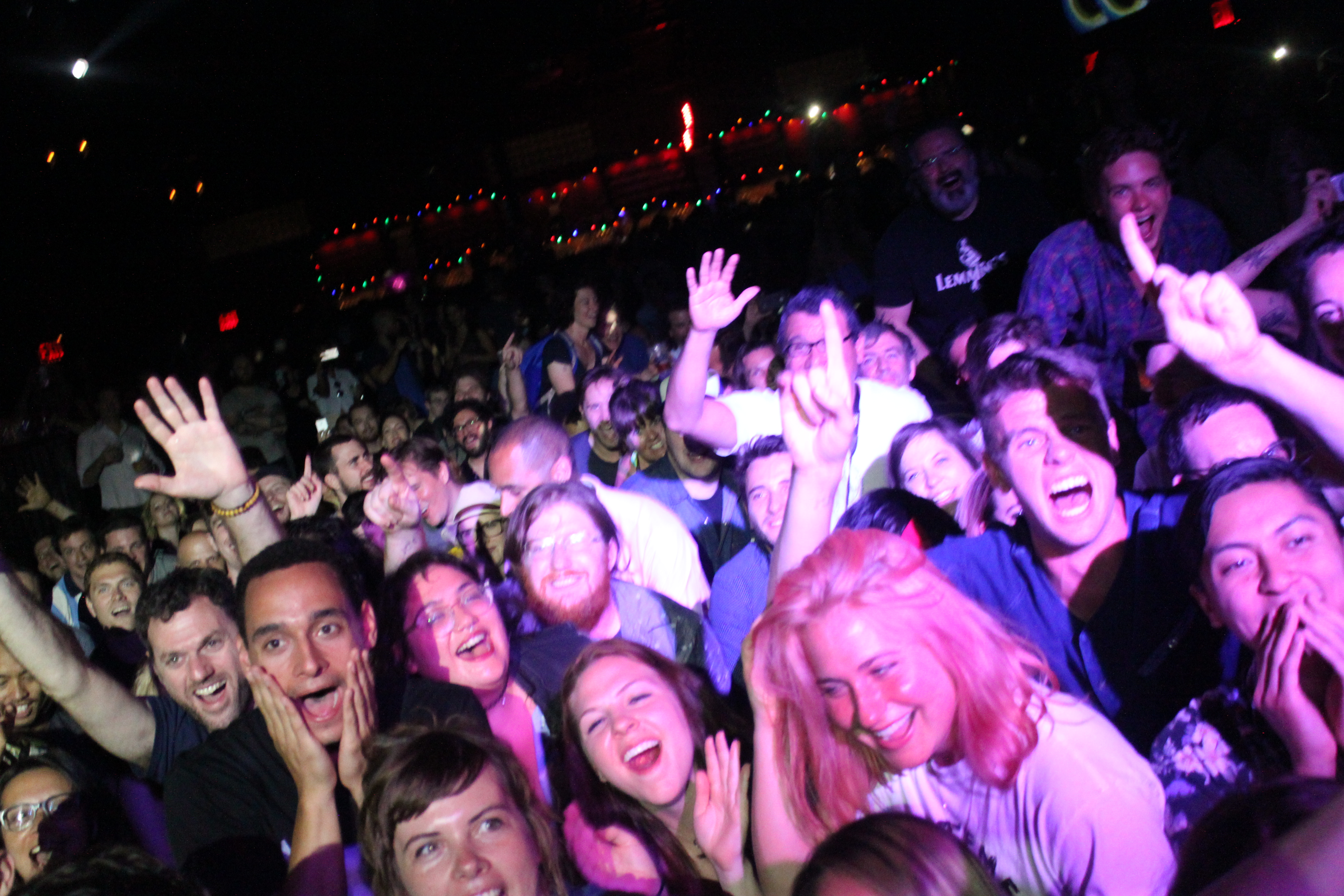 Week-long, multi-venue, industry-savvy music/technology festivals are a dime a dozen these days, and in New York, they're almost seasonal.
While fall sees the city host the annual CMJ Music Marathon with its new owner's focus on technology, spring sees the more creatively-minded Red Bull Music Academy, and summer belongs to the Northern Brooklyn music and innovation week called Northside Fest.
Adjunct from other public or nonprofit arts festivals, these three make no secret about their focus on branding, and they all tell musicians how to market themselves in some way, whether directly or not. It's all in the panels, the parties, the carousing. These are festivals to play if you're an artist who hopes to reach a very self-aware, distinctive and opinionated demographic of hipster. Welcome to the music industry, lightweights!
Northside 2016 started as an annual consortium of industry marketing and fans who would've gone to the shows anyway, but it ended as something much more.
If CMJ is for college kids and RBMA is for crate diggers, Northside is for the older cool kids who can afford to live there. But what's refreshing about the festival's six days of innovation, tech and music is that Northside Media Group knows it.
The "Humanizing Brands Through Long-Form Content" panel, led by GE CMO Linda Boff at Wythe Hotel, was undoubtedly peppered with more acronyms still. "The Evolution of Discovery, Distribution and Consumption of Content" panel brought four founders and CEOs of "some of the original internet brands" together to tacitly agree they see media as disposable by trafficking in the term "content."
But for all the "Engineering Empathy" panels there was also a panel that asked, "What is the Role of Art, Design & Culture in Innovation?" Led by NEW INC director Julia Kaganskiy, that one saw Kaganskiy and Allison Wood of 3-d printed "sound totem" startup REIFY talk about how art can impose itself on future innovations, and not the other way around.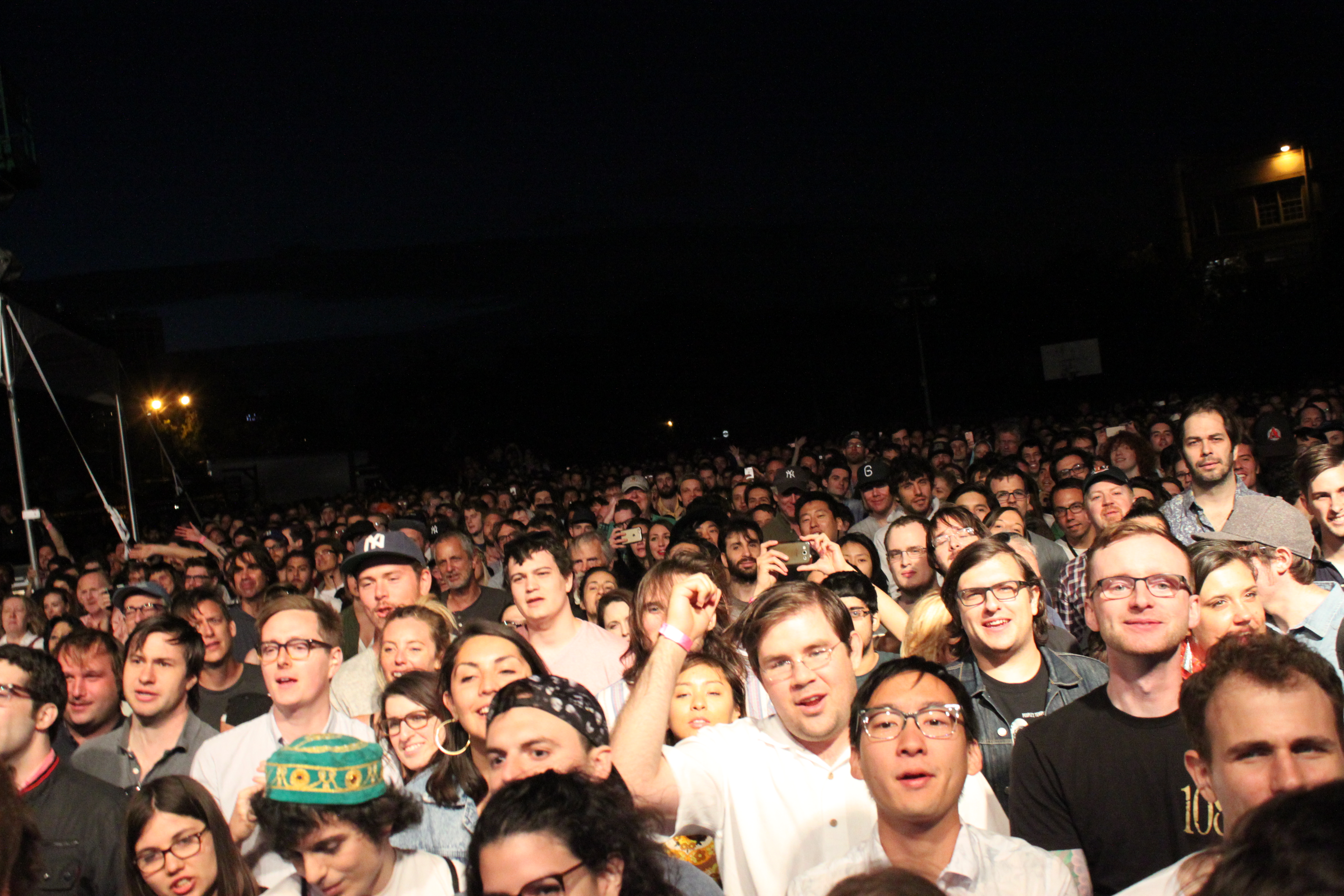 Though such ipsum-laden Ted-inspired Talks might be a goldmine for context and perspective on how the music and tech industries fraternize, this reporter had his fill of that stuff during last fall's CMJ. Suffice to say, that longform piece didn't humanize any brands. Rather, such talks and continental breakfasts pulled my head out of my music beat so fast that I was picking up the pieces for weeks, man, shit.
Hence, the Observer's Northside Festival coverage would seek to recapture a focus on the 400 artists scheduled to play, even if more jargon-laced corporate plots were still afoot. It all comes back to whether or not something gives you joy and fills us up, doesn't it? I mean, why else would we submit ourselves to festival schedules, sore feet, aching legs and obscene prices for refreshments if we didn't want to be there?
Memories of the Paris attacks and last month's shooting at Irving Plaza remind us that we continue to go to shows and enjoy live music because it is, in many ways, an expression of our ability to come together and let loose. Saturday night's unspeakably horrific mass shooting in Orlando further reinforced the importance of celebrating life with dance, song and revelry.
Our itinerary placed us at a show Saturday evening where we all crouched down on the floor of Brooklyn Bowl at the singer's request, emitting personal sounds of orgasm and elation in the interest of creating a communal memory. The singer's name was Arish Ahmad Khan, but more on him a little further down.
Thursday night's kickoff concert in McCarren Park was joy for days, as a free show headlined by Montreal's stately, recently unthawed Wolf Parade saw fans out in full force who couldn't get into the band's sold-out run of reunion dates at Bowery last month.
Though singer Dan Boeckner and his bandmates hate playing large, bloated festivals with shitty sound and rules prohibiting bands from playing any other shows in the area, he has faith in the direction that the live music industry is moving. "A lot of festivals have a no-play clause," he told me in March. "I think those smaller, better-curated festivals with a lower ticket price that are geared toward specific audiences and have a specific footprint…that's where this is going to go."
Part in parcel with his prophecy, Northside is localized, geared toward a slightly more adventurous music fan, and focused on leaving a local footprint that fortifies the borough's intrinsic artistic integrity, even as the neighborhood continues to be pecked at by culture vultures and experience tourists. Whatever direction Wolf Parade take as they get comfortable playing music together again, they proved they're just as sharp playing large, outdoor stages as they are rocking for the standing-room-only faithful in a dive.
For a band that realizes the value of cutting your teeth in a small space, those new in-ear monitors and small sound team on deck meant the band sounded absolutely pristine, despite playing to a cement lot in McCarren park. A deep cut from their sophomore LP At Mount Zoomer, "Animal In Your Care," saw keys man Spencer Krug's delicate piano transitions reverberate through the park with a poignant dynamic resonance seldom heard at outdoor shows. They were also witty as ever, and loud as fuck.
Looking out across the park at a looming condominium tower, Boeckner felt unease. "If we play past 9:30, the eye of Sauron is going to open up and vaporize the band," he said. "Not you guys, though, just the band."
Brooklyn transplant Steve Gunn, who just released his wonderful first album for Matador Records, Eyes On The Lines, earlier this month, played a celebratory release show at Music Hall of Williamsburg, just back from touring the songs through Europe. It's a testament to the all-encompassing nature of Northside that Brooklyn-based acts at all different levels of success and notoriety were given sets and showcases. (I'm still waiting for Turnip King to break through, but am confident that will happen soon.)
Friday, we mainly took it easy, but moseyed over to Baby's All Right to see the dark folk of The Cave Singers, an older scene of music fans quietly nodding their heads to an older band.
It's hard to picture Cave Singers, doing what they love without any frills or gimmicks, getting any stage time at a major festival without providing a strong financial incentive to promoters. But here they were at Northside, the headlining act of the early show, their slightly older crowd out in full force. We wanted to stay for the late show, which featured the jangle-pop of Diet Cig and the slacker bubblegum of Colleen Green, but were still reeling from the night before. These events take a lot out of you if you aren't in tip-top physical shape or inhaling gratuitous amounts of amphetamines.
Saturday's programming kicked off at Union Pool, where the special guest at 4:20 turned out to be Pittsburgh's riff-poppers The Gotobeds.
We first saw this band open for The Men at Cake Shop's 10th anniversary shows last summer, and they were such dicks. Lead singer/guitarist Eli "Hazy Lazer" Kasan openly mocked Sub Pop Records, the label that had just signed them, and proclaimed to be Father John Misty. Though they absolutely ripped, shredded and shook that Cake Shop basement with their rock 'n roll, the goofiness of this guy undermined any chance we had of taking their music seriously. The two women up front who were presumably significant others of bandmates were screaming, pointing and demanding recognition the whole time. Shit was obnoxious and unprofessional.
Those two were at Union Pool too, still awkwardly cloying but more of a cheering squad than a distraction this time. And Kasan was definitely still a dick, smirking through the locks of his hydrogen-peroxide blonde hair and joking about signing to Sony next year. The big change since last summer, though—their first LP for Sub Pop, Blood // Sugar // Secs // Traffic, came out last Friday. The songs are more complex, the arrangements more atonal and daring. Some Fugazi has crept in, a new level of darkness and seriousness that elevates the band and their considerable talent more than just a novelty. Now this dude just needs to start owning it and they'll be unstoppable.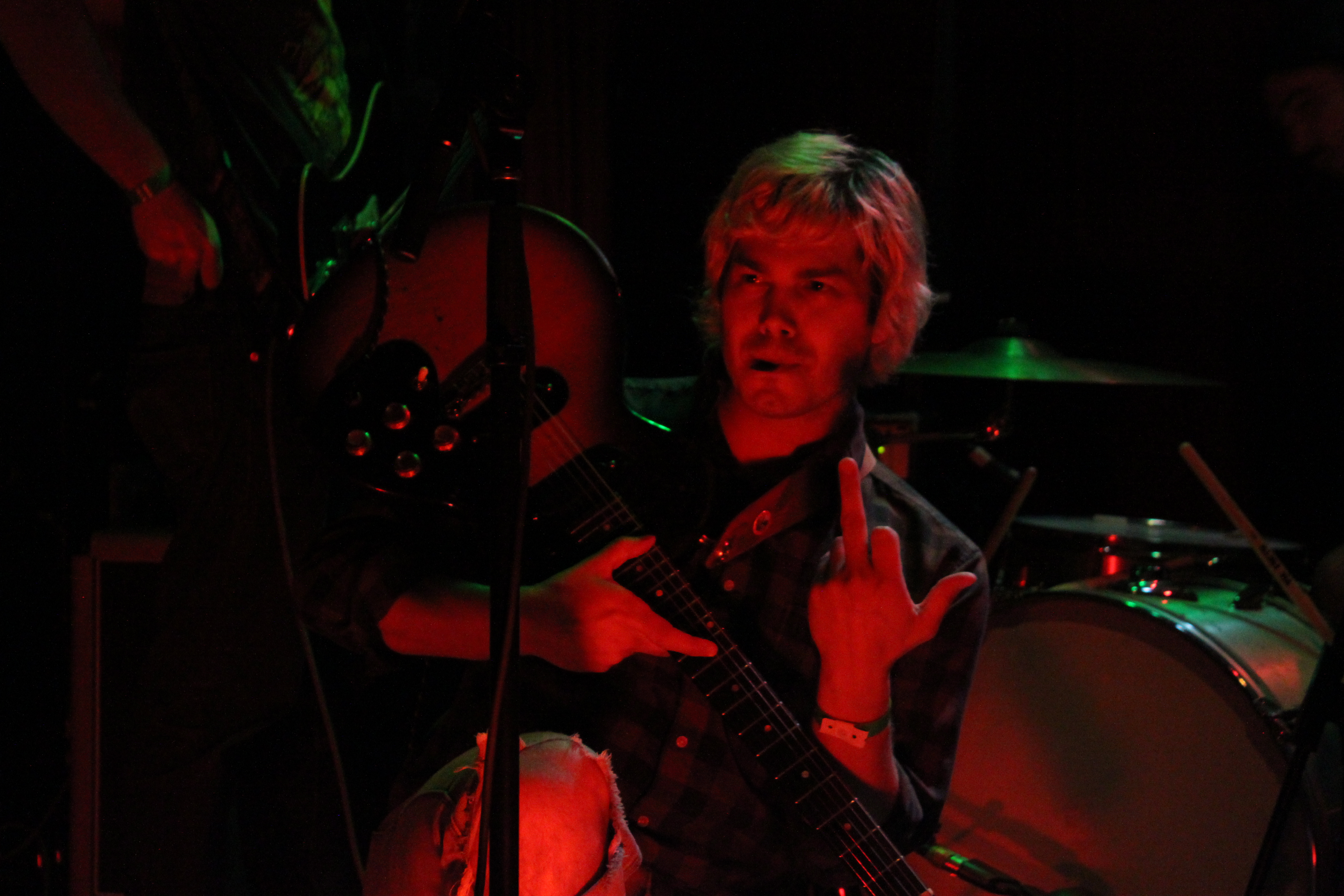 Closing out the afternoon at Union Pool were the wonderful SAVAK, a Brooklyn band of cool dads featuring former members of the now-defunct Obits and Toronto noise dance punks Holy Fuck among others. The band's website says "their influences range from '60s Texas psychedelia to British pub rock to early-'80s American hardcore, with some Zamrock band Chicha thrown in for good measure." I still hear lots of Wire and Mission of Burma, while my friend detected faint hints of Jawbreaker. Either way, this is a group of seasoned pros playing songs that are well-composed, arranged and executed.
One of their kids was visible standing in the wings backstage, wearing oversized protective earmuffs and studying his father intently. Such is the power of doing what you love, that it inspires the people in your life who may not have it figured out yet. So if this kid pursues a musical career in any capacity, it will be for the right reasons.
As evening came it was back to Baby's for some Thai food and music. "Cooler than you" local promoters Panache Booking held a showcase that we couldn't hang at for too long (and are still kicking ourselves for missing Michael Rault), but we were curious to see opener Boulevards. Singer Jamil Rashad's '80s-infused funk pop debut Shout! came out in early Spring, but it always felt like a summer album. Excited to see Rashad perform live and curious as to how he would pull off the album's full-band instrumentation, it was a bit of a disappointment to see him take the mic with only a DJ backing him. These are songs that demand dynamics, range and the pursuit of a communal groove.
It was cool to see Panache's Karen Alonso and MVP Mac Demarco out supporting Rashad in the crowd during his early set, as there were only a few people in the room, but one wonders how much bigger and more recognizable of a talent he would be to the musicanistas if given the budget to bring a full band around with him. In effect, this was karaoke—really good karaoke, but karaoke nonetheless.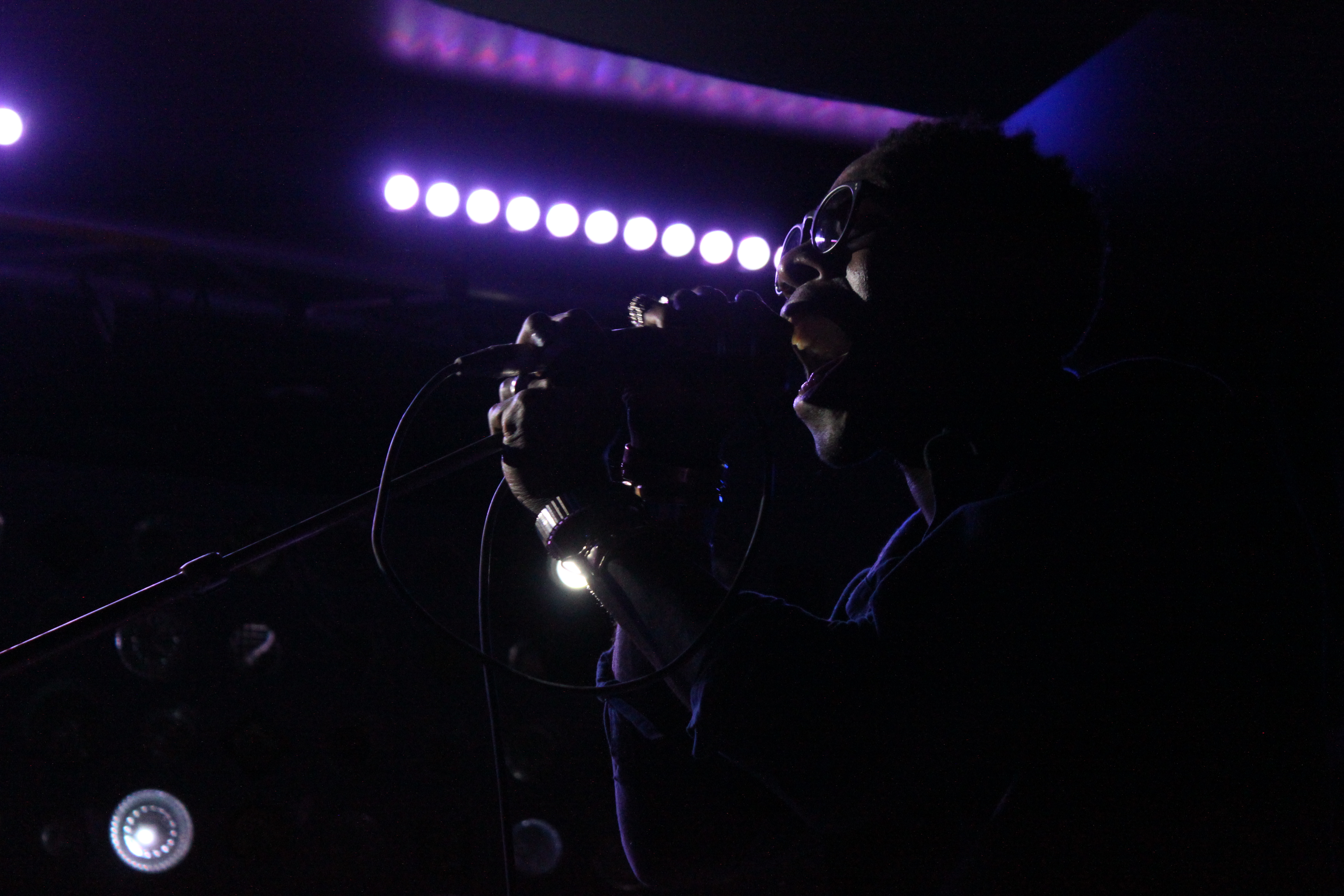 We were set to go to Bushwick DIY space Palisades after Boulevards' set, to see the atmospheric electronic stylings of Public Memory, but a notification that the venue had been raided and shut down by feds the night prior meant the show wasn't happening. There may be no wisdom in this unfortunate occurrence, but Palisades was by all accounts operating as a legitimate space for months, and the idea that Northside's promoters and legal team wouldn't step in to prevent this from happening is unsettling. It is in a much less prosperous neighborhood than Williamsburg, though. Could that have had something to do with it? What constitutes a legitimate music space?
Nevertheless, it was time to head to Brooklyn Bowl. Though the sound is abhorrent at this venue (now with locations in London and Vegas, too [cringe]) the restaurant/bowling alley/venue is nonetheless at the forefront of exporting Brooklyn chic.
Brooklyn's psych-pop act Las Rosas opened the night, surfy, jangly and not taking themselves too seriously. How had we never heard these guys before? They're seriously fucking great, and definitely an act to watch. At 10 p.m., Arish Ahmad Khan, better known as King Khan, took the stage with his huge German/French Canadian psychedelic soul band, The Shrines. The soul revival craze is hot right now, but when Vice issued a comp of Khan's best songs stateside in 2008, we began to be anointed by his blessings.
There's simply nothing like a King Khan & The Shrines live show, during which his three piece horn section backs up every gospel proclamation, every shamanistic invocation and every groovy iteration of paisley kitsch that Khan feels like channeling.
I've already mentioned the gospel number that required all of Brooklyn Bowl to crouch down to the floor and accurately detail the sounds we make during sexual climax, but I didn't mention the comically oversized merkin he wore during the second costume change. As his saxophone players surrounded him, engulfing the merkin with the openings of their instrument, we all became voyeurs, watching aural pornography manifest before us.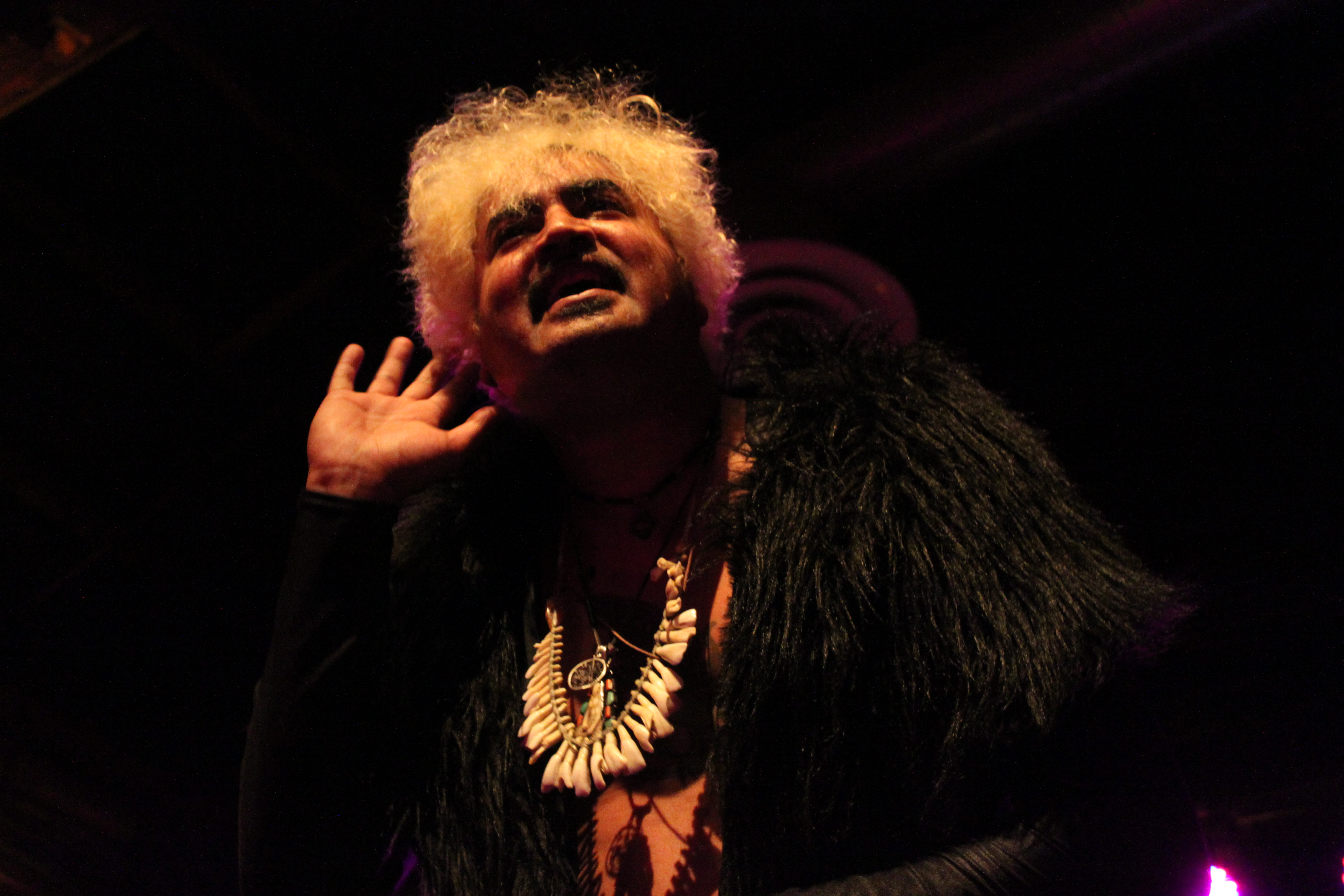 Khan introduced his gender-bending hit, "I Wanna Be a Girl," in the context of recent Southern transphobia. "In Asia we worship transexuals," he began, detailing every Asian country that treats trans people not only as people, but as divine. "Not a lot of people can fuck themselves. It's much better," he quipped, ever vacillating between sounding poignant, topical and dismissively juvenile. That's King Khan for you.
As the tragic, senseless murders unfolded just a few hours later that night in Orlando, the Khan show became much more resonant. We were all on the floor of a bowling alley—gay, straight, trans—howling manufactured sounds of orgasmic rapture into the air, together. No insecurities, no hateful stares, just a communal love-in boogie. Perhaps this silliness with which Khan approaches his act, only to wow an audience with his incredible musical prowess, is secretly profound—the wise man acting the fool to deflect bad energies.
"It's plain to see, that life ain't too easy for a fool like me," Khan crooned that night. I'd prefer a fool who acts silly in the name of communal love than a wise man who acts serious in the name of himself any day, wouldn't you?
It was a beautiful day Sunday for Brian Wilson's closing Northside show, a celebration of the seminal Beach Boys album Pet Sounds turning 50, but there were clouds anyway. Though no performers mentioned the Orlando shooting, reminders of how lucky we were to even be there all together, safe and stoned, were everywhere.
Madrid's surfy garage-pop ladies of Hinds played a solid opening set, even if the sound was a little low. Stalwarts of the DIY spaces, they're still figuring out how to mic and get their sound shored up for a large-scale event, and that's no indicator of how awesome they are. Wolf Parade only figured that shit out recently, and they've been around for over 10 years.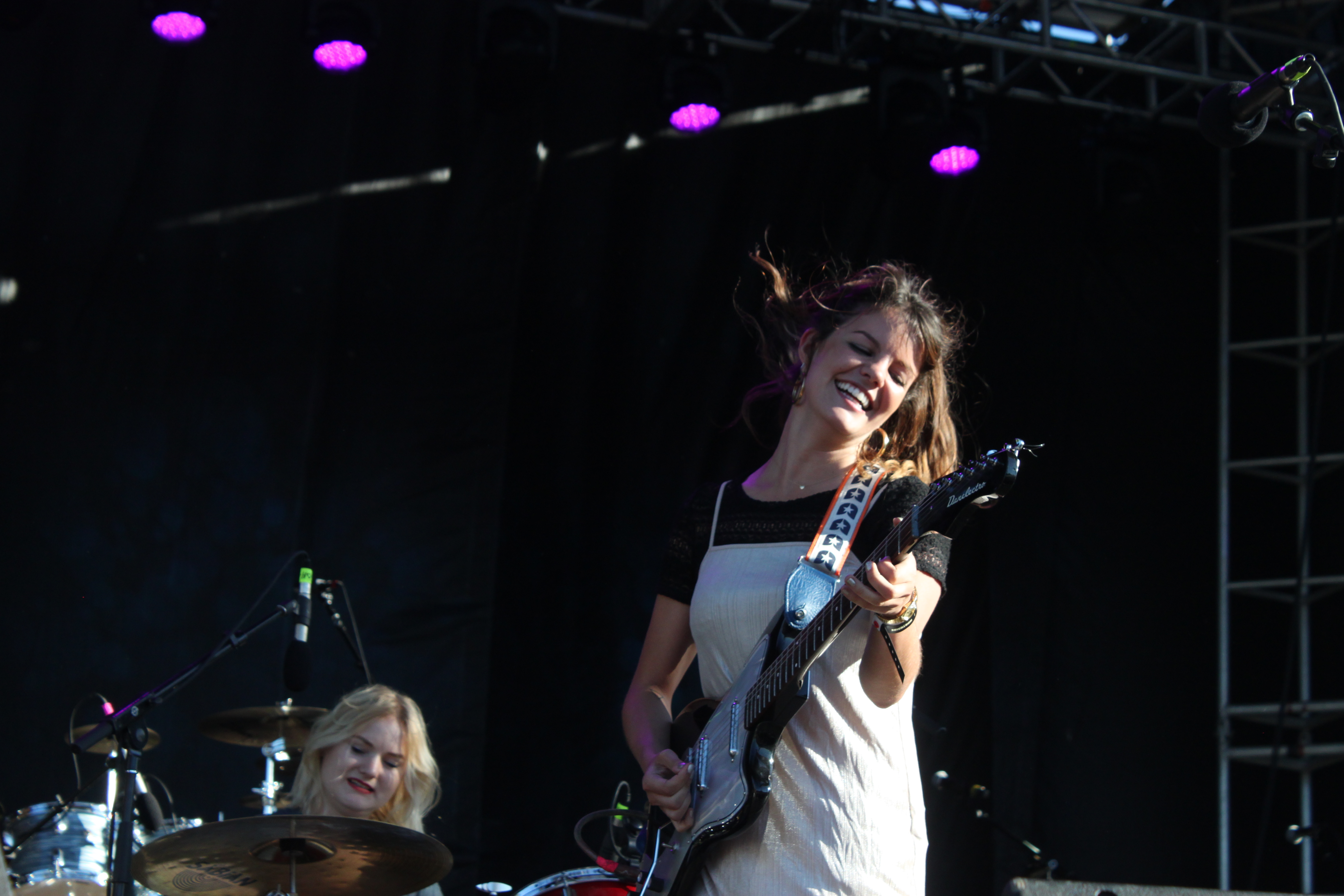 Ex-Vampire Weekend dude Rostam debuted his live solo show, playing songs off his 2005 album Discovery with Ra Ra Riot's Wesley Miles.
Aided by a string quartet and guests Angel Deradoorian (who Rostam used to play with in Dirty Projectors) and ex-Walkman Hamilton Leithauser, Rostam just barely pulled off his set. Too many samples played from his laptop and too much crooning left the impression that he's still figuring out how to make a compelling live set, but he's grateful such talented friends want to help him make that happen. The most poignant moments were the songs where two men clad all in black did a conceptual dance performance about unity and gay relationships together onstage. No words about Orlando needed to be said for the power of the performance to be felt.
Between the lively set from Hinds and the coming-out party of Rostam's live work, the openers for Brian Wilson took us through peaks and valleys. But once Wilson sat down at his white grand piano, with his huge band featuring OG Beach Boys Al Jardine and Blondie Chaplin, everyone was ready to boogie. Teens in Hawaiian shirts smoked what appeared to be their first joint as the band went into a faithful "California Girls." While more classic Beach Boys hits preceded the Pet Sounds portion of the set, Blondie Chaplin's moments to shine on the raucous of "Wild Honey" and the chugging "Sail On, Sailor" hit hardest.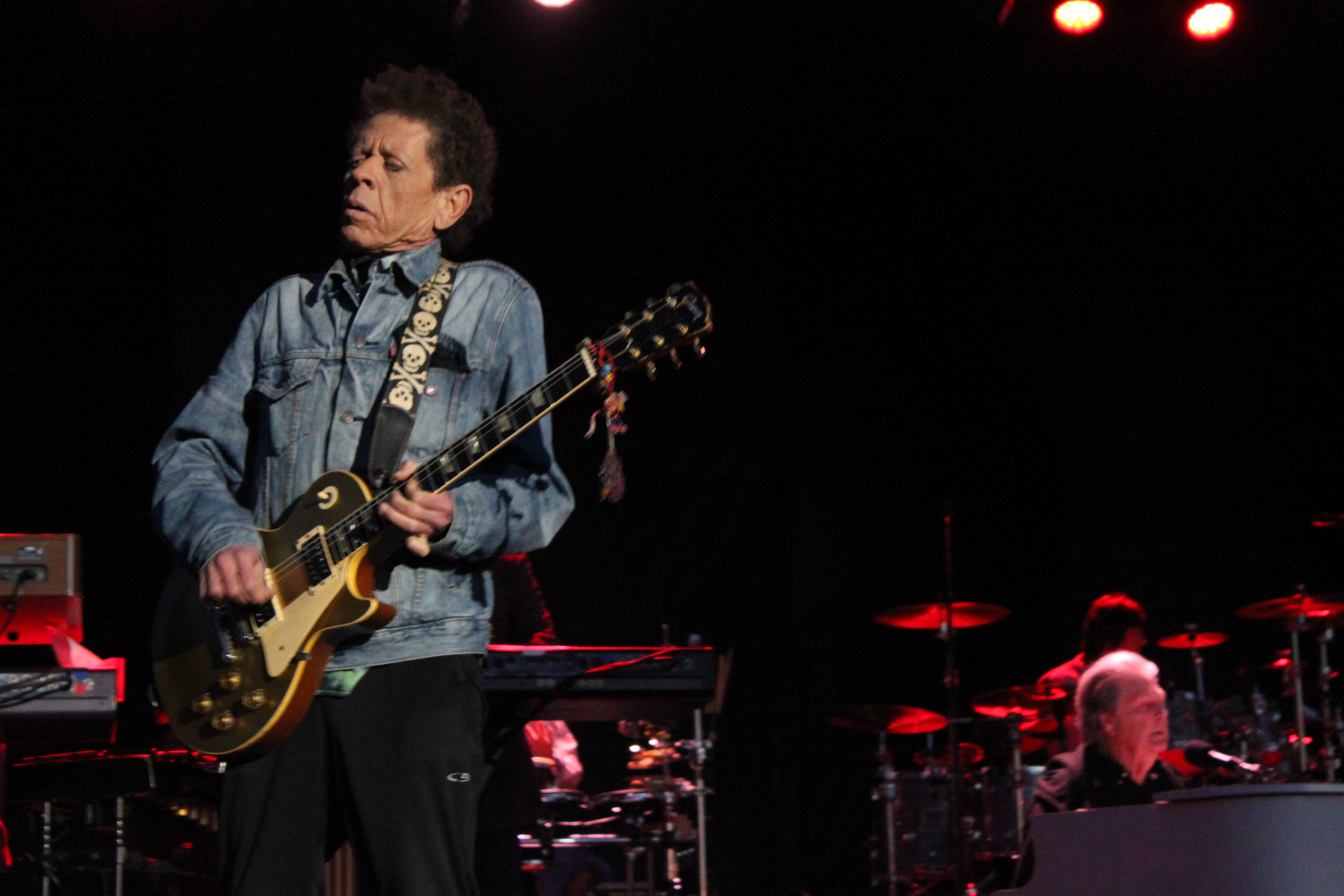 Pet Sounds likely influenced at least 2/3 of the acts playing Northside, and with good reason.
Capturing the Beach Boys at the peak of their psychedelic, creative powers just before Brian Wilson went off the mental deep-end, the songs sound just as immaculately arranged, innocent and heartbreaking as when they were written. When Wilson began "You Still Believe In Me," the lyrics "I know perfectly well I'm not where I should be" echo the added resonance of his since acknowledging his diagnosed Schizophrenia and auditory hallucinations.
The man really does what he does with the innocence of a child, perhaps stuck at the point in his life where everything started to melt together. His stage banter was amiable but simple, and after another short set of Beach Boys classics bookended the Pet Sounds songs, they were gone with no encore. "This audience completes this music," said Al Jardine. "Thank you very much."
Brian Wilson's well-documented personal struggles notwithstanding, if someone who lives their life and communicates as simply as a child is still capable of recreating such beautiful sonic memories, the power of music is on display full force.
Northside 2016 started off as an annual consortium of industry marketing and music fans who would have gone to the individual shows anyway, but it ended as something much more. As Wilson's band finished the gorgeous instrumental "Let's Go Away For A While" and he wiped tears from his face, we were reminded of a crucial lesson—in all of its infinite power to absolutely break your heart and make you feel alone, music can save you, too. God only knows what we'd be without it.