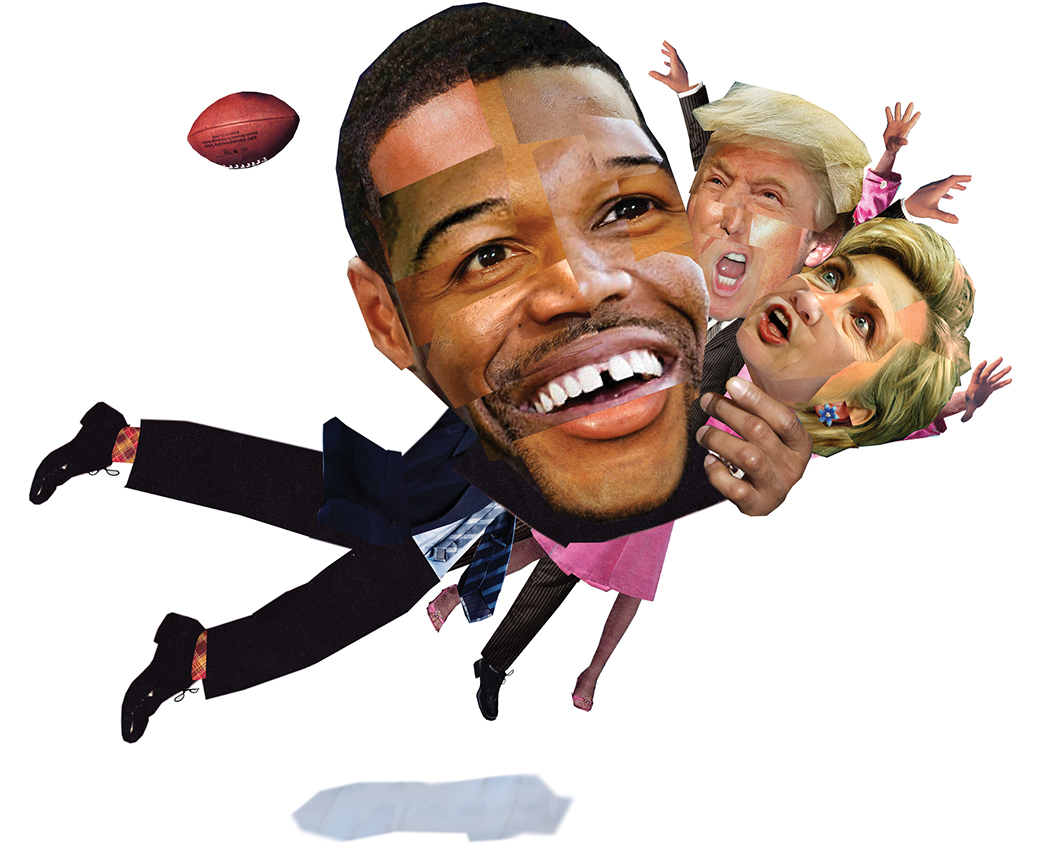 Some pro athletes famously resort to pabulum in response to a reporter's questions. Michael Strahan, the former Hall-of-Fame defensive end for The New York Giants, who now makes his living chatting on TV, recalled that his favorite moldy chestnut (or "safety net") was, "We just got to go out there and play better as a team." He laughed, exposing his trademark gap-toothed grin, his meaty hands draped on the table. But in a lively recent exchange with the Observer at the temporary offices of his new ABC game show, The $100,000 Pyramid, which debuts June 26, Strahan spoke freely and easily about a host of topics—football, politics and racism—with one exception: his departure from Live With Kelly and Michael to join Good Morning America. His job promotion apparently sent his jilted ex-co-host into a tizzy.
You told Barbara Walters that you don't think anybody's a "natural" at television. How do you hone your craft?  Demosthenes, the ancient Greek orator, practiced speaking with pebbles in his mouth. If I tried to do that, the marbles would fall out of my teeth, so it wouldn't work too well.
Are there any specific tricks or techniques you learned? I study people in the business—their mannerisms, their phrasing, the way their face moves, how their eyes light up, how they pronounce a word, how they make tone higher here, a little bit lower there, depending on what the story is. Still, I have one friend of mine who says, "You're the only man on television who can make a living talking and you can't say the letter 'S' without spitting on everybody."
Who wouldn't love hitting a man and hearing the breath leave his body as you crash into him? Phenomenal. Phenomenal feeling. One of the few things I miss.
When I was in a different business, I met a CEO of an investment bank. He immediately studied my shoes, which were a bit ratty at the time. I'll never forget that. How do you size up people? The way you are with people and the energy that you give off. Are you somebody who's divisive or inclusive? Are you somebody who genuinely sees people? Or are you somebody who only sees the people that you need to see? A lot of people only see people that they need to see. When I grew up, I was cutting grass. I was washing dishes for years when I was in college. I was moving furniture in my parents' moving business. I was the guy people didn't see. So I'm very conscious of everybody, because I want to see everybody and make them feel valued.
What did coaches like Dan Reeves and Tom Coughlin teach you about management? Reeves, you felt safe with him. You felt like you knew what he was doing; he had been in every situation. And to me it taught that if you're going to be that leader, no matter what is going on, you have to be confident. You have to be that rock. When stuff goes wrong, everybody looks at you. We had a lot of success with Jim Fassel. He just knew how to communicate and he was a little bit more fun.
Then you had Tom Coughlin, who came in and was the opposite of both. He was not personable at all toward the player. And he was not fun. Coughlin wanted to win so badly, and he only knew one way to do it: Drive you into the dirt. Be to a meeting five minutes early or you're late. Have your socks up to this length or I'm going to fine you $300. But he figured it out. I think his wife talked to him actually. I know the players had many conversations with him.
Did you talk to him?  Yes, of course.
What did you tell him? Oh God, I can't put it in print. Too many curse words.
We publish curse words. It was just one of those situations where it's either, 'You're gonna lose this team or you got to change. You got to show us that you're a human being, and not a robot and that you care about us.' Football is physical. You're beating yourself up, and I'm not running through a wall for a guy I don't think really cares about me. After our first meeting, I went home, and I told my wife at the time, "Let's enjoy this season, because I'm not going to come back and play for this guy. Nope." But by the end of the season, I'm like, "I can't imagine coming back to the NFL playing for any other coach." Coughlin changed that much.
Name the fairest beat reporter covering the Giants? Oh man…I always went to Jay Glazer, who I worked with at Fox if I had a real story. Ralph Vacchiano. Steve Serby was the guy when I first got there they said, "Watch this guy, Steve Serby.' He ended up being one of my favorite guys to joke around with. Paul Schwartz, was another guy.
Do you think black quarterbacks still face discrimination? You look at a Russell Wilson, you look at Cam Newton and the first thing they want to say is, "He's such an athletic quarterback" just because a guy can run. But if you look at those two guys, they can throw the hell out of a football. That's how they're winning games. They run when they have to run. And I think they both are brilliant in the way they understand that they do what they need to do to win at the time, but neither one of them now you can say is a pure runner.
Who's the player that you miss hitting? I kind of miss hitting Donovan McNabb. It's nice to hit any quarterback actually. [Tom] Brady. Oh man. Who wouldn't love hitting the man and hearing the breath leave his body as you crash into him? Phenomenal. Phenomenal feeling. One of the few things I miss.
You once ran for office. Yeah, in Montclair. I aborted that mission.
You don't abort many missions. I went into it with the innocence of a lamb. When you see all the underhandedness and you see all the games, I completely lost interest.
So you don't see politics in your future? I would love to do something that really serves and helps people. I have a friend of mine who says to me, "Everything I've said about you has come true, and you're going to be the mayor of New York City."
Tough job. I think I'd rather be president. If you're going to get that much scrutiny go ahead and just take over the whole country.
Who would you rather sack Hillary Clinton or Donald Trump? Oh man. Line them both up. Give 'em a football; I'll take 'em both down.
This interview has been edited and condensed.