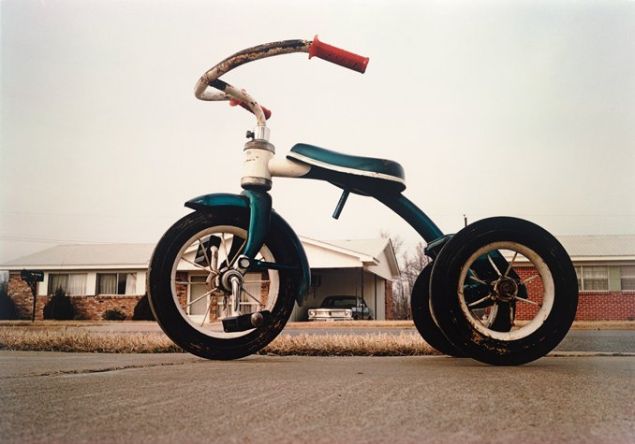 Yet another blue-chip artist leaves Gagosian. First it was Julian Schnabel, and now photographer William Eggleston is leaving mega dealer Larry Gagosian. Eggleston has chosen to team with powerhouse dealer, David Zwirner. "I think the photo community sometimes takes their own and holds them hostage," Zwirner told the Times. "It's important for Eggleston's work to be seen among the great art that's being made. I know that's very important for him in choosing our gallery."
The FBI has sniffed out thousands of missing and stolen artworks. Since 2004, a specialized team of FBI agents have successfully recovered 2,650 artifacts including a letter by Charles Darwin stolen from the Smithsonian and a Renoir painting taken from the Baltimore Museum of Art. Way to go FBI!
What's Vito Acconci, the art world's most famous masturbator, up to these days? In 1972, Acconci jerked off continuously underneath the floorboards of a Soho gallery in his infamous performance Seedbed. Today, the 76-year old artist is about to open a retrospective exhibition at MoMA PS1 in Queens on June 19, and the Times' Randy Kennedy catches up with the artist to suss out the "genetic impact" of his work on the art world.
Finally, fans open a Lord of the Rings/Game of Thrones Art Show. Followers of two of the greatest fantasy franchises have united in San Francisco to open a show at Spoke Art gallery brilliantly titled "Lord of the Thrones."
Corruption is running rampant in the art world, according to one very outspoken collector. Writer and collector Kenny Schachter, known for speaking his mind in lengthy screeds on Arnet News, said during talk at Wales' Hay Festival that the art market was a "hotbed of corruption" and "money laundering."
Bushwick creatives to gather for a group portrait to immortalize New York's scrappy Brooklyn art scene. The Bushwick Documentation Project has put out a call to local artists, gallerists and journalists to gather for a photo much like that of Nina Leen's famous 1950 snapshot of all the Ab-Ex big names of the day. So, on Saturday, June 4, wear your best if you want to be part of history.