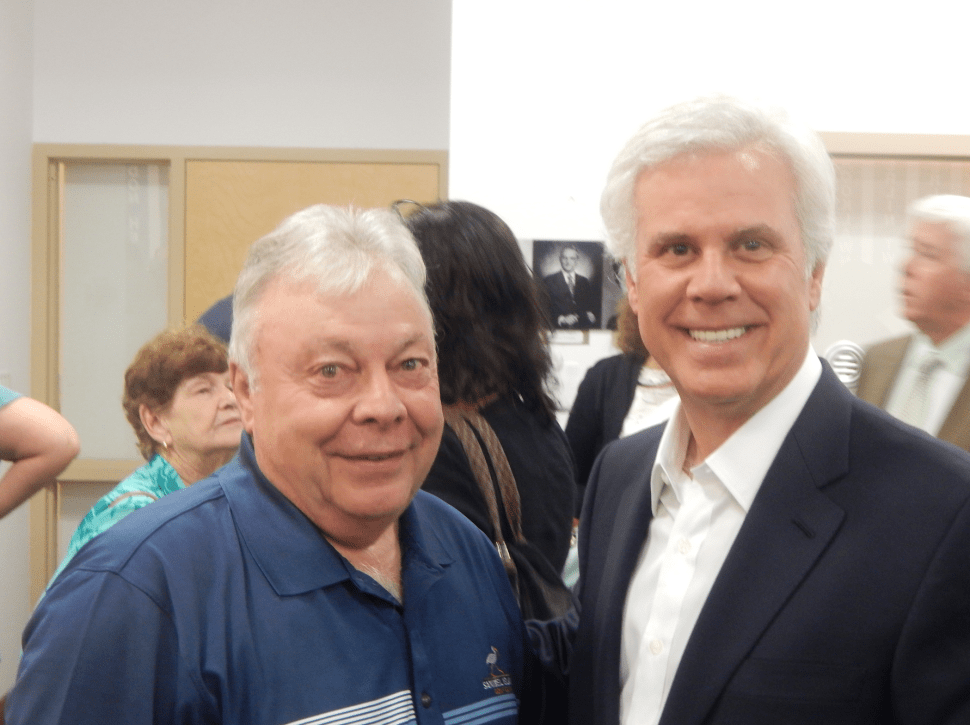 WINNERS
Hillary Clinton
The Democrat last night became the first woman to be a major party's nominee for president. On the way she won New Jersey last night 63.3% to 36.7% over Bernie Sanders, and gets a special shout-out here this morning in part because of her classy victory speech nod to the Garden State, which included the line: "thanks especially to our friends in New Jersey for such a resounding victory tonight."
Donald Norcross
The 1st District Democratic Congressman last night laid a butt-kicking on challenger Alex Law, a 74-26% overkill that enables South Jersey to make the case for Norcross's elevation to U.S. Senate in the event that an upper house seat becomes available. The organization, led by George Norcross III (pictured at right above with state Senator Jim Beach) was at full tilt for the boss's little brother.
Leonard Lance
The 7th District Republican Congressman destroyed nagging nemesis David Larsen (and newcomer Craig Heard), winning all six counties and putting up a 21-point Primary victory. The win was especially gratifying for Lance, who produced a 2014 sleep walking performance against Larsen, beating him by just single digits.
Mike Venezia
In the most watched local primary contest in Essex County, the incumbent mayor of Bloomfield put up a 2-1 win over challenger Joe Lopez (4,588 to 2166 votes). The victory officially establishes Venezia as a star in the Essex political firmament.
John Currie
Enlisting his ally Kelly Stewart Maer to serve as campaign point person and a steely eyed Laura Matos as political director, the Democratic State Party chairman from Passaic County led the statewide effort on behalf of the Hillary Clinton Campaign. Many key allies joined Currie to celebrate Clinton's win, including long time Clinton backers John Graham of Fairview Insurance, and Mike Kempner of MWW, both dedicated fundraising leaders who formed The Group back in 2008.
The Buccos
In Morris County, the GOp Primary ticket of Mastrangelo/DeFillippo/Cabana won big. They were the first complete Republican freeholder team to win as a team in a primary in nine years, winning 35 of 39 towns including Parsippany and Randolph where rivals Valori is Council President and Hirniak is Mayor. The Buccos went all in for the winning team with mail and phone calls as well as Jimmy Gannon (65-35%) for Sheriff.
Adam Geller
Nate Silver and Harry Enten's 
fivethirtyeight.com
 came out with their "Pollster rankings" and gave NJ's own Geller's National Research Inc the best grade among Republican pollsters.
LOSERS
New Jersey
Yes, Clinton gave the Garden State a shout-out from the stage last night, but the Associated Press's "clinch it" report on the prez nomination on the eve of New Jersey's primary election prevented New Jersey from being able to thump its chest for having put Clinton over the top. As if we need more chest-thumping.
Bernie Sanders
The Vermont senator didn't put the resources into New Jersey in the lead up to yesterday's Democratic Primary. It showed. Sanders lost by double digits here, which might have been easier to bear had he fared considerably better in California. But Clinton won the Golden State, too.
Alex Law
The upstart deserves some credit for taking on the beast, but his campaign finally got snapped in half and devoured last night. In the process, Law did, however, supply one of the most inspiring speeches we ever heard. Our all-time oratory list includes Mark Antony, Henry V, Jack Kennedy, MLK, Bobby Kennedy, and now, Alex Law:
David Larsen
Strike four and you're out. It was the Tewksbury businessman's fourth attempt to dethrone Congressman Lance, an effort pockmarked by his Hail Mary riot act rant over Lance's support for President Barack Obama's executive order increasing civil rights protections for gay, lesbian and transgender federal contractors.
John Wisniewski
The state director for the Sanders campaign found himself saddled with the reality of California – not New Jersey – becoming the front line for the Sanders campaign.
Joe Lopez
The challenger to Mike Venezia in Bloomfield went down hard, losing by a 2-1 margin to the incumbent Democrat.