Members of the Bergen County Republican Organization (BCRO) are currently divided on what direction the county party organization should take during next Tuesday's chairman election. Some back current chairman Bob Yudin while others back his challenger Paul DiGaetano. Things have taken a messy turn between the two sides.
BCRO members are receiving literature blasting prominent Bergen Republicans who support DiGaetano including former Hackensack Mayor Jack Zisa, district 37 Chairman Thomas Toscano and Bergen County NJ GOP Committeeman Ben Focarino. The literature claims that, because of the support of these men, DiGaetano has "built a leadership team with a very bad record." The flyer then goes on to make claims that Zisa backed a Democrat for Senate over a Republican (Bob Torricelli over Dick Zimmer in 1996), that Focarino was involved in voter fraud in Garfield and that Toscano pleaded guilty to 'criminal sexual contact.'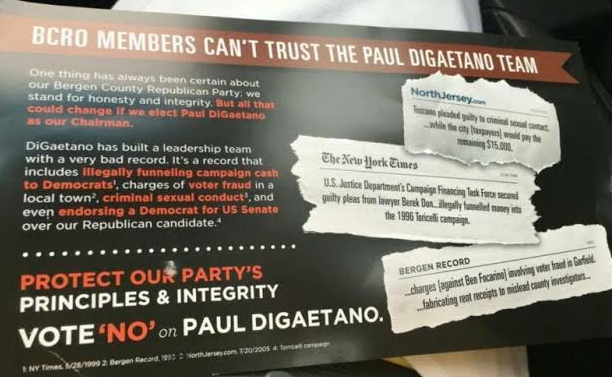 The flyer spawned a response from Zisa, Toscano and Focarino that was sent to members of the BCRO on Thursday. That response was titled "An Open Letter to Outgoing Chairman Robert Yudin."
The response read: "After spending seven years as invited members of your kitchen cabinet, you can imagine how shocked we were to learn today what bad company we are.
We request that you immediately return the tens of thousands of dollars that you asked from us and that we have contributed and raised for you over seven of the last eight years.
We would hate for such tainted money to remain in the BCRO coffers."
While Yudin declined to speak regarding the flyer or response letter specifically, he did tell PolitickerNJ that he believes the decision of certain BCRO members to back DiGaetano stems from political motives.
"There is a group of men that I stopped taking advice from, and it really wasn't advice, it was orders. I was told directly by Toscano and by the former mayor of Hackensack Mr. Zisa that they were running to oust me because I would no longer accept their advice, which is absolutely true," Yudin said. "I found their advice to be self serving, not in the interest of the party. That is the reason why this group is trying to unseat me. That is the bottom line as I see it. This is for control. This is for control of the BCRO."
Yudin also claimed that the individuals "never win elections against Democrats."
"They just want to control the Republican Party apparatus so they can work with the Democrats for their own personal gain," Yudin said.
According to Zisa, the claims made against him in the flyer are "absolutely true."
"The allegation that I supported a Democrat is absolutely true and the reason that I did was that his opponent—my own Republican—made anti-Italian remarks in his campaign," Zisa said. "That is why I decided to support the Democrat over the Republican, because of the anti-Italian ethnic comments."
Zisa declined to comment on Yudin's claims that he and his fellow BCRO members decided to back DiGaetano because the chairman declined to listen to their advice any longer.
"My intentions are always to support the organization and that is what this is really all about," Zisa said. "When he was chairman he wanted support from his cabinet, advice and direction and we gave it to him."
DiGaetano for Chairman also sent mailers to BCRO members on Friday blasting Wyckoff Mayor Kevin Rooney for his reversal on his stance on Yudin. In November, Rooney announced he was running against Yudin for chairman. In March, he left the race and endorsed the current chairman. In April, it was announced that Rooney would be on a county-backed slate for LD40 assemblyman. The mailer also blast Yudin for a lack of fundraising in the last several months.
Tuesday's election will decide who is the BCRO chairman for the next two years.