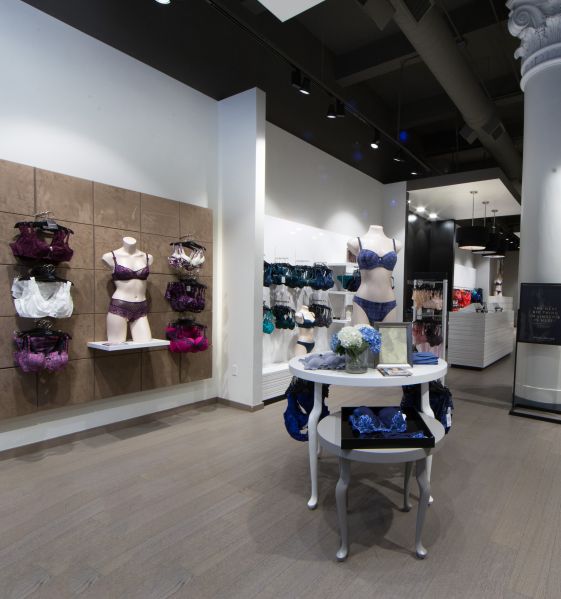 If it's good enough for the Queen of England, it should be good enough for you too, right? That's the mentality one should take when shopping at Rigby & Peller, the lingerie shop that's recently arrived in Manhattan, but has been a source of luxury bras and panties to the U.K. for over 75 years. They're such a staple across the pond that June Kenton, the brand's UK director of lingerie styling, is also the corsetiere to Queen Elizabeth, with a Royal Warrant to prove her title.
On the walls of the lingerie shop's Flatiron boutique, a quote reads: "I came in for a new bra. I left as a new woman!" Seeing as the boutique stocks sizes from A to K cup, that bold statement might ring true for women who have a hard time finding a bra in their size that is both cute and comfortable. As a bonus, most of their selection is relatively affordable, with plenty styles falling in the price range of $50 to $70, although there are more lavish styles, which will cost you up to $175.
Do keep in mind, this is the kind of place where a sales associate will be joining you in the fitting room, ready to assess your size and bring you options that address your specific needs. Offering tips on alterations and how each bra should fit, this is certainly not a DIY experience.
Clearly, strapping yourself into a bra isn't quite as simple as slipping on a T-shirt, so we turned to a specialist to receive a little brassiere education. Jennifer O'Connell, one of Rigby & Peller's lingerie styling experts, shared 11 of her top tips for finding a bra that fits, wearing it properly and keeping it in pristine condition.
Seek professional advice.
No matter what your size, it is important to get a good fit. Your lingerie is the most important part of your wardrobe, as it gives shapes to your clothes. Don't get stuck thinking that every woman has to fit in A, B, C or D. There are so many more options out there.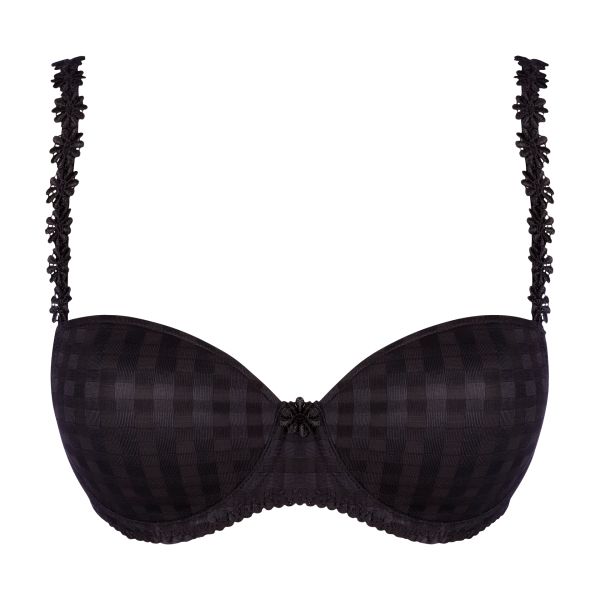 Be fastidious about fit.
When buying a bra, keep these five rules in mind.
Your band should be snug (you should have about two fingers worth of give in the band) and sit horizontally across your back.
Your straps should be comfortable on your shoulders. Again, give it the two fingers test.
Your cups should encapsulate your breasts so that no breast tissue is coming out of sides or tops of the cups. There should also not be any empty space or gapping in the cups.
Your underwire should sit directly underneath your breast tissue and should not dig in on the sides.
The bridge of your bra (the part in the middle that connects the cups) should sit flat against your breast bone.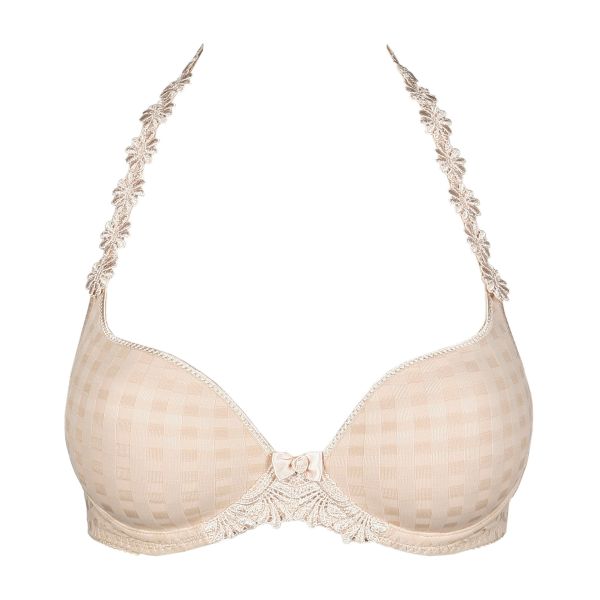 Be one with the band.
There is a direct connection between the band of your bra and your straps. Bras are designed to fit the best when hooked in the middle; if your band is too big, your band will ride up your back and your straps will fall off of your shoulders. If you tighten your band or try a smaller band size and pull your band down lower on your back (so that it is even with or below the front of your bra) your straps should stay in place. You cannot get a better lift by tightening your shoulder straps; lift comes from the band.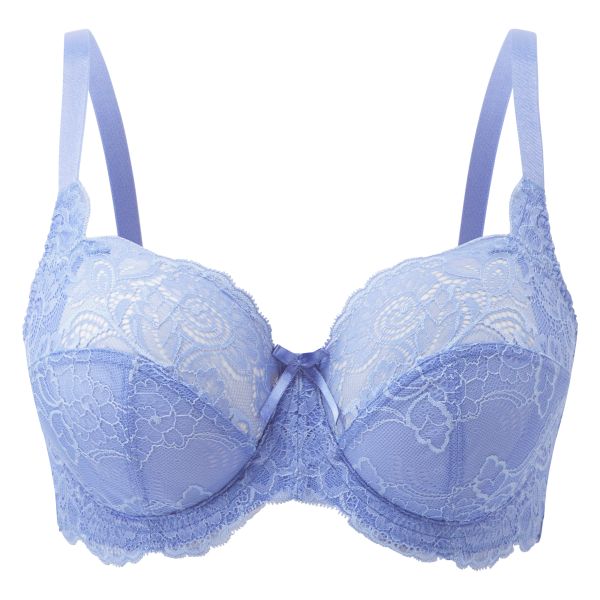 Embrace the lace.
Though it may look delicate, lace is very strong. There are so many benefits to lace and seamed bras.
They are more beautiful.
They provide more support and lift. Every seam in your bra is a point of strength.
 They are more flexible and therefore better at working with your natural shape.
Practice good storage.
Ideally, your contour bras should be stored unfolded and face up in your drawer, without anything on top of them. However, if this is not possible or if you wear non-contour bras, fold the bra in half so that the cups are touching, then tuck the straps and band behind the cups. You can then line up your bras in the drawer.
Get into a good rotation.
At minimum, you should have three bras that you are always rotating. Never wear the same bra two days in a row; the elastic in your bra needs time to recover after a wear.
Establish a replacement plan.
If you take good care of your bras you should only need to replace them every 8-12 months—it just really does depend on how many you wear and how you take care of them. Good quality bras really do last longer, that is why they are worth the investment.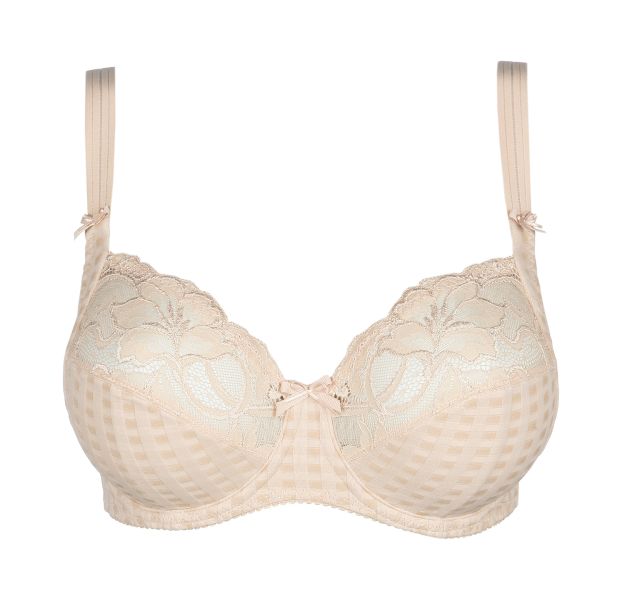 Wash frequently.
Wash your bras every two to three wears.
And carefully.
Hand washing your bras is recommended and a lot easier than you think—fill the sink with cool water, drop in some lingerie detergent, add in your bras, agitate gently, let soak for 10 minutes, rinse and hang dry. Wash your bras with an alcohol free lingerie wash detergent—Rigby & Peller recommends Forever New powder or our own liquid wash. We really stress lingerie specific wash because of the fiber additives that help maintain the elasticity in your bras.
Keep your cool.
Never put your bras in the dryer! The heat breaks the elastic and can melt the underwire casing.
Be mindful of various styles and what they should be worn with.
T-shirt bra: Perfect under light colored clothing or thin fabrics where you don't want your bra to be seen.
 Strapless: For any tops or dresses that showcase your shoulders.
Convertible: For halter or racerback tops and dresses.
Sport: For workouts—this is an important one. Always look for bra-sized sports bras for the best support. Your sports bra should have two separate cups that support each of your breasts individually. When you try a sports bra on, jump up and down a few times to see how it performs.
Fashion/Statement: A bold piece of lingerie that makes you feel confident and sexy— something you want to show off.
Demi/Balconnet: For square necklines or any time you want to showcase your décolletage.
Plunge: For v-necks and wrap dresses.