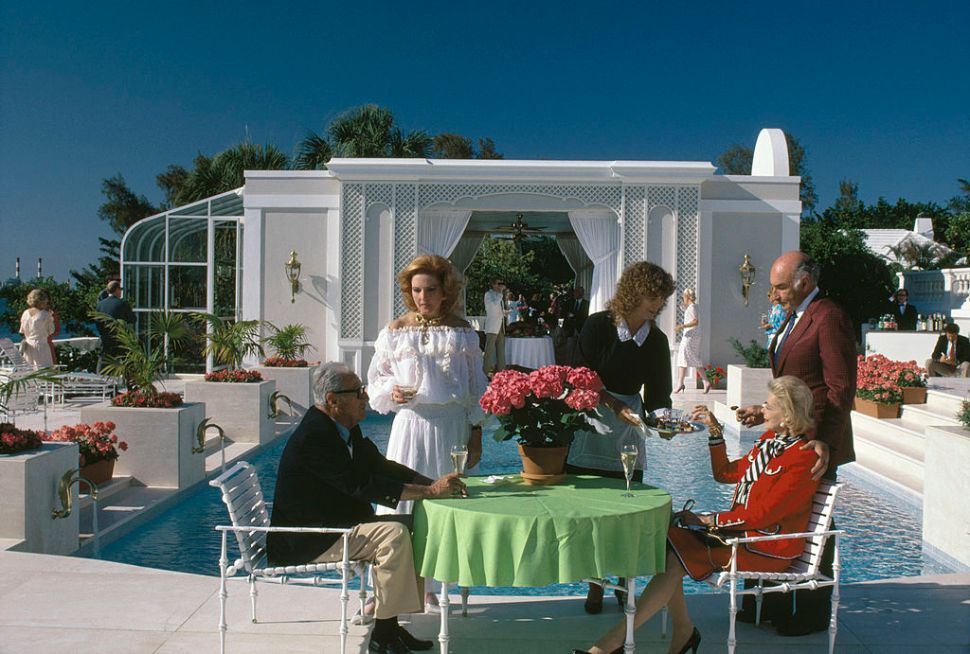 It takes work to be social in New York. Apart from the wardrobe and scheduling, it has become necessary, and with good reason over the past decade, that everyone does something with their days. That's why we selected these twenty-one socialites who don't just sleep all day and party all night, but have real goals and their own ambition behind them.
Nell Diamond
The heiress turned luxe bedding entrepreneur behind Hill House Home takes her design inspiration from hotels around the world. Thus, Diamond has traveled better than most, but still counts Manhattan as her home base. She and husband Teddy Wassermann also just announced that they have their first baby on the way.
Ariana Rockefeller
Ms. Rockefeller doesn't let her last name come before her. Instead, she prefers show jumping and design for her eponymous fashion label. On Instagram she's often seen tending to her horses, or attending galas sporting her own wares.
JiaJia Fei
As the digital director for The Jewish Museum and the former digital marketing director of The Guggenheim, JiaJia Fei is aware of any and all happenings in the art world, and thus she has become a must-have attendee for gallery openings and celebratory dinners where New York's local and imported talent are celebrated.
Morgan O'Connor
Male model Morgan O'Connor is a regular fixture at Montauk's Surf Lodge, and hangs with a crowd that includes Hiltons and Brants. His unique look first shot him to fame under the wing of Ralph Lauren, but he is now rumored to be in pursuit of a singing career.
https://www.instagram.com/p/BH-z9KmAMR8/
Gaia Matisse
This great-great-granddaughter of Henri Matisse is one of a handful of "Snap Pack" kids including Andrew Warren and Kyra Kennedy. Matisse's Insta-feed is full of rip roaring warm weather exploits, all with her dog Bambi in tow, but she soon hopes to trade partying for acting when she plays a supporting role in "Forgetting Sandy Glass," due out later this year.
Nicole Hanley
While Hanley used to go by Hanley Mellon, she made the strategic decision in 2015 to hide her notable last name in favor of trying her own hand at success as a designer. Her clothes are inspired by far flung locales like St. Barths and Seville, but she still counts New York as her home. Last September, she held the presentation for her newest collection at the family's uptown estate.
Barron Hilton
The brother of Nicky and Paris is pursuing his own career as a foodie under the moniker Barron's Bites. This year he plans to tackle the hotel industry on his own, including a rumored role as Music Director of Jayma Cardoso's Surf Lodge.
Chris Leidy
Chris Leidy has a penchant for the beach, but dives much deeper into its waters. Leidy, who is also the grandson of Lilly Pulitzer, gets up close and personal with the types of sealife, or as he deems them #underwatertextures, that would have inspired his grandmother's designs.
Sean Burke
This former protegé of preppy Newport, RI-based start-up Kiel James Patrick (@KJP) has struck out on his own as a social media intern for Vineyard Vines and grad student at Hobart & William Smith. When he's not hitting the books, he can be found sporting a navy blazer in almost all of the North East's summer getaways, including high above Taylor Swift's Watch Hill compound easily viewed from the nearby Ocean House.
Sofia Sanchez de Betak
Sofia Sanchez de Betak is a darling of the fashion and luxury world, but delightfully no-frills when it comes to her knack for partying and food. While she partakes in fine dining experiences often devised by her husband, event producer Alex de Betak, her favorite meals always come in the form of Juniors Cheesecake. She has monetized her fun-loving @Chufy personality to include strategic partnerships with The Luxury Collection of hotels, Globetrotter luggage, and Under Our Sky womenswear.
Alyssa Coscarelli
Coscarelli maintains a day job on the fashion team at hip and hit Refinery29 where she receives bizarre and hilarious editor gifts to her desk, but has a continued hankering for the best food in Manhattan and beyond. She is also always accompanied by her fluffy white bunny, aptly named Bean.
Caroline Vreeland
This granddaughter of Diana Vreeland is more than a pretty face. She's both a talented singer, and a social media maven who has a talent for beach-ing it with her "partner in crime", and fellow Instagram sensation, Shea Maria (@PeaceLoveShea).
Zachary Waldman
Waldman was once known as the after-hours party photographer, always sporting his signature cap. Now he, along with girlfriend Sophie Auster and a team of passionate twenty-somethings, are on a mission to make the next High Line-esque public space known as Maker Park. The Williamsburg locale is poised to be repurposed from Charles Pratt's Astral Oil Works on the waterfront.
https://www.instagram.com/p/4UIGRqpYS3/
Kick Kennedy
The granddaughter of Robert F. Kennedy is a triple threat of actor, singer, and environmentalist. While her summer has been spent working on her singing chops, she has spent time relaxing on city rooftops, her family's Hyannis Port compound, and in Malibu where her father's Emu takes a dip in the pool.
Dorian Grinspan
Seen regularly hanging with The MoMA's chief curator at large, Klaus Biesenbach, as well as a host of other art types, Grinspan is the Editor-in-Chief of Out of Order Magazine. At just 23-years-old, the wunderkind turns out a high quality quarterly full of exclusive stories and photos.
https://www.instagram.com/p/BH-xZAxj_Ar/
Arden Wohl
This vegan shoe designer behind Cri de Coeur is a go-to guest at most art and fashion events along with her artist husband, Jonah Freeman. Wohl is also the daughter of socialite Denise Wall and real estate developer, Larry Wohl.
Alexander Soros
The son of billionaire George Soros has entrenched himself in the philanthropic community. While he can usually be found with pals like Maxwell Osborne and Dao-Yi Chow of Public School, he also spends his time on the boards of the Open Society Foundation, Jewish Funds for Justice, and Global Witness.
Fiona Byrne
The mod party chick is known for her signature hair style, and a frequent guest at any and all summer blow outs including the weekly Saturday afternoon pool parties at The Revolve House pictured here. Byrne is also a talented interior decorator, and a contributor editor to The Coveteur.
Warren Elgort
The often lesser-known brother of heartthrob Ansel Elgort is following in the footsteps of his father, Arthur, and sister, Sophie, as he prefers to be behind the camera. The 26-year-old cinematographer, producer, and director is currently cutting his teeth in the realm of film shorts and documentaries.
Luke Weil
The formerly hard-partying heir to the gaming empire known as Scientific Games now operates the Andina aqusition fund, as well as plant-based medicine research center, PlantMed, and clean water charity, LIMPIA.
https://www.instagram.com/p/BITL_bkAne-/
Alessandra Balazs
This hotel heiress is no Paris Hilton. Instead, 27-year-old Alessandra Balazs fancies herself an actress, and a budding hotelier herself as she often assists her father, Andre Balazs, on property projects. We should also expect her younger sister, Isabel, to burst on the scene soon enough.