As much as we all love the smell of scented candles throughout a home, it's always nice to have a chic alternative that will release just as lovely a fragrance. After all, there are only so many candles one can display—not to mention, it can be kind of a fire hazard.
Luckily, designers have created a number of divine home fragrances options, which work as perfect substitutes for candles.  Diptyque's hourglass diffuser is a classic, of course—it just needs to be flipped over (hence the hourglass name) once one cycle is complete. That one doesn't need to remember to blow out the flame is simply an added bonus, but make sure to handle it delicately–a pool of scented liquid streaming about isn't the gentle fragrance one might desire.
No matter, Diptyque, Byredo and others have created deliciously aromatic alternatives to home candles, so the next time you're in the market for a stylish new scent for your home, consider these five home fragrances.
Jo Malone London has long been the go-to for many home décor mavens, and their Red Roses scented drawer liners make sure that even those items inside your dresser smell like, well, a bed of roses. The product is part of a collaboration with Marthe Armitage, and Armitage's hand-printed designs are on the packaging, making it just as lovely as what's inside. "I wanted to capture a perfect English summer afternoon," Armitage said of the brand—perfect for anglophiles! Make sure you scoop up yours soon—the limited edition collection was released last month, and is only available as long as supplies last.
$55 for a box of four sheets, jomalone.com
This fragrance from Byredo is meant to be sprayed on any of the fabrics surrounding you—perhaps that freshly laundered blouse that you just put back in your closet, or even your sheets, to give them a dose of freshness. You can spritz this textile perfume on pretty much anything you think would benefit from the lovely scent—it's a mix of bergamot and fresh aldehydes, with lily, violet silk, as well as stronger hints of amber and cotton musks. It works quite well for your pillowcases, wardrobe, or an upholstered piece of furniture, all of which is left with the fresh scent.
$62 for 75ml, Byredo.com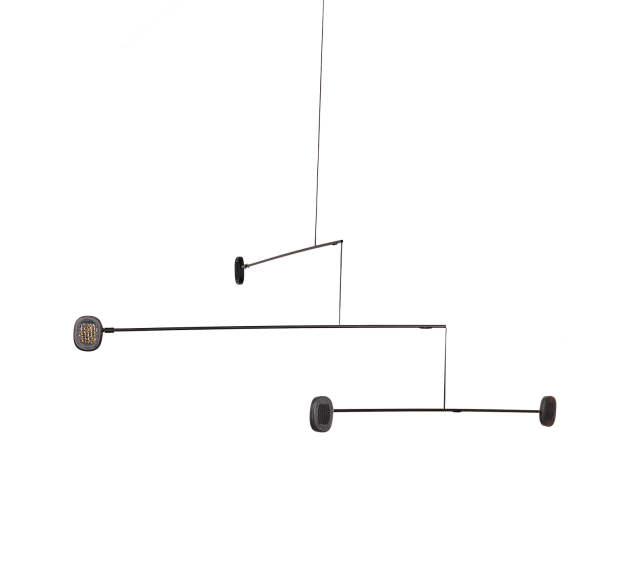 Leave it to beloved French perfumer Diptyque to come up to come up with this chic version of the classic mobile. A take on the traditional nursery staple, Diptyque's stylish mobile is a kinetic and light sculpture, designed to dangle from the ceiling. The scent is released by airflow, with the subtle fragrance spreading throughout the space. Fragrance options include Diptyque mainstays like Baies, Figuier, Roses, 34, Ginger, Orange Blossom, Ambre, and Feu de Bois. The scented mobile is available exclusively at Diptyque's Brooklyn pop-up boutique for a limited time come September, so prepare to scurry over if you're loving this concept as much as we are.
$108, Diptyque pop-up boutique at Invisible Dog, 51 Bergen Street, Brooklyn, NY 11201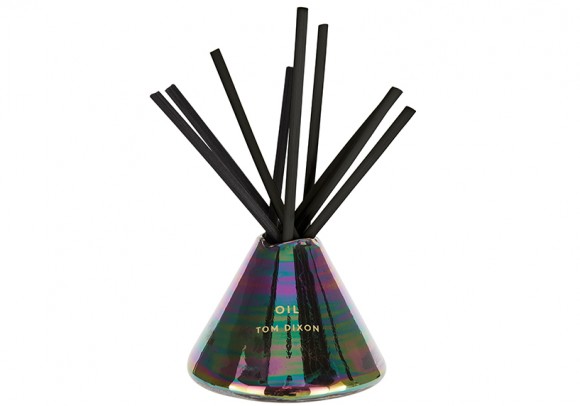 This shimmering diffuser is ideal for those who prefer natural, woodsy scents. Tom Dixon's take on the traditional diffuser releases essential oils through charcoal reeds, leaving one's home with delightful notes of cyprus, guaiacwood, and styrax. The iridescent, multi-colored container is quite aesthetically pleasing, as well, making it a welcome accessory in for any design-obsessed home.
$115, tomdixon.net
Cinnamon Projects has managed to create an intense burner that doubles as a very pretty accessory, to place atop any surface in the home. This hand-crafted solid brass incense burner and tray is inspired by rituals of the koh-do incense ceremony–also known as the art of appreciating incense, something that those of us living in the rather hectic and stressful confines of this city might benefit from taking note of. The Japanese-style incense burner lies in a horizontal position, and it catches its own ash, so there's no need to worry about any kind of mess.
$150, cinnamonprojects.com