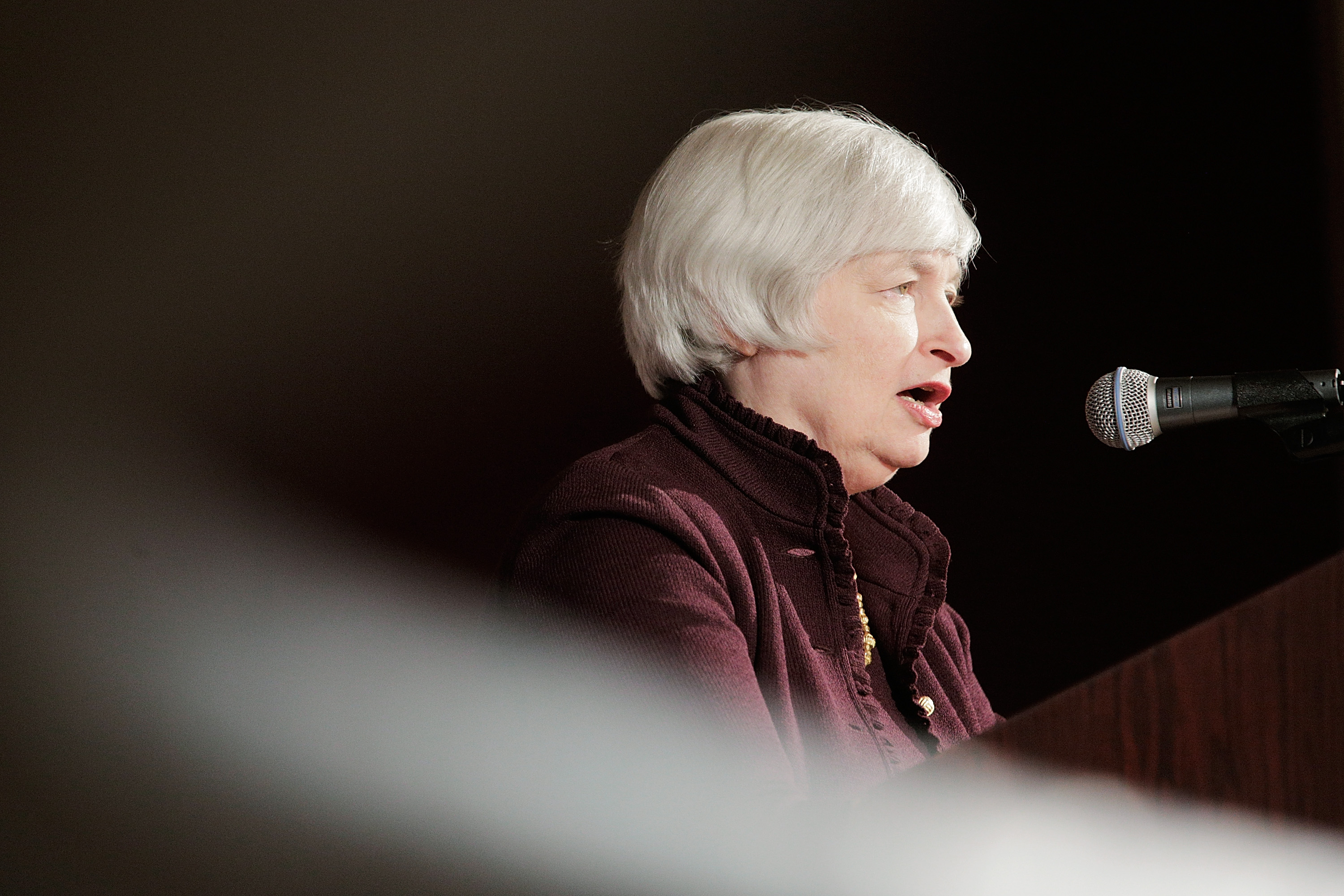 In June, payroll employment grew by 287,000 and the unemployment rate ticked up to 4.9% percent. Last month's figure of 38,000 was revised down to 11,000, still the lowest figure since September 2010. There was a lot of economic angst over last month's feeble employment report, but today's number may confirm that could have been a blip and the economy remains resilient. It is also worth noting that this month's Jobs Report preceded the United Kingdom's referendum vote to leave the European Union on June 23 — a decision which will surely reverberate in world economies for months and possibly years to come as it affects foreign confidence in the value of the pound.
1) Job Growth
This month the economy added 287,000 total non-farm (TNF) jobs. While two months do not make a trend, job growth has slowed so far in 2016, averaging 172,000/month. It is important to note that this month's figure also includes the additional 35,000 Verizon workers who were on strike last month.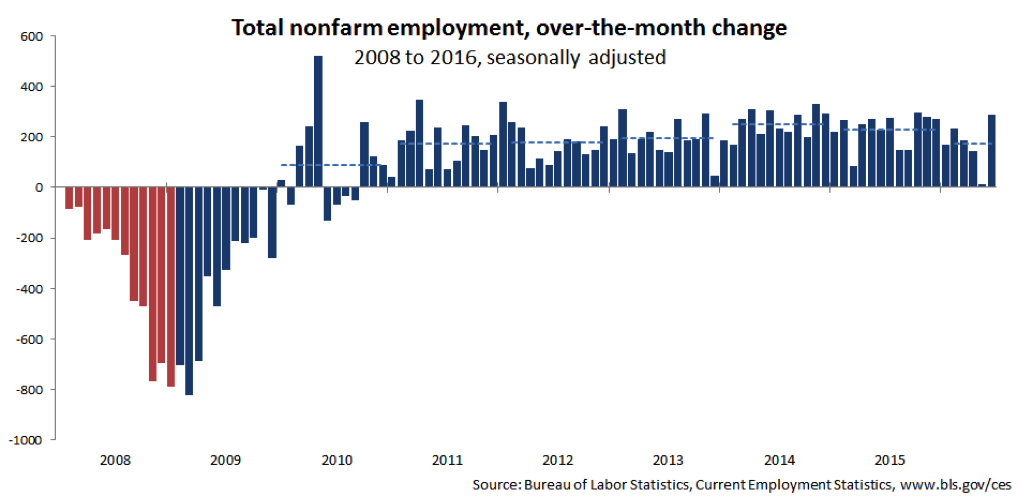 2) Where's the jobs growth coming from?
It is clear that job growth in 2016 has slowed from 2015 in many areas. Let's take a look at some recent industry growth now, compared to the same period last year. There have been several bright spots in the recovery of jobs of late, including the Education & Health Services industry and the public sector in general, which has seen significant job creation over the last two years. What's disturbing, though, are the slowing and negative trends in Construction, Manufacturing, Mining, and Transportation & Warehousing. Those sectors correspond to typically male-dominated professions and, as, we will see in the next chart, are partly responsible for the decline in prime age men participating in the labor force.
3) How are jobs affecting prime age workers?
A major reason that a lot of Americans are feeling angst about the economy, despite the record streak of job growth over time, has to do with the fall in prime age workers in the labor force. When we isolate prime age men and women, we see that both groups' participation in the workforce fell during the recession and participation never fully returned to pre-recession levels. Although we have seen some recovery among prime age workers, the fall in Manufacturing, Construction, and Mining jobs certainly does not help the recovery for prime age men.
4) Wages
A continued bright spot over the last few #JobsReports has been the continued growth in wages. Over the year, average hourly earnings have risen 2.6% — higher than workers have experienced over the last few years. As inflation pressures remain low, workers are seeing increased purchasing power. Coupling this wage growth with the 172,000 jobs we are averaging in 2016, you have the makings of a fairly solid economic picture for workers. Nevertheless, the issue of continued angst remains for the many left out of this growth.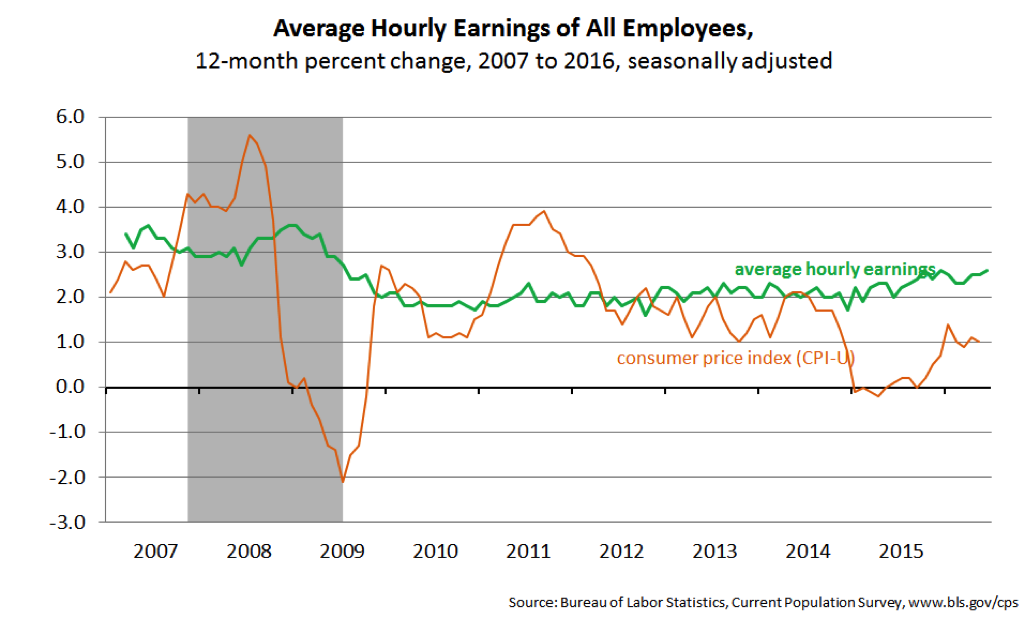 5) How much of our labor force is native-born?
The number of native-born workers in the labor force has stayed relatively constant over the past eight years of the Obama administration, between 180,000 and 210,000. Similarly, the number of foreign-born workers in the labor force has hovered consistently between 30,000 and 40,000 over the past eight years. June 2016 seems to be no exception. As of June 2016, foreign-born workers remain a much smaller percentage of the overall active labor force than their native-born peers, suggesting that perhaps some of the rhetoric we've been hearing from the campaign trail about "immigrants taking all of our jobs" is a bit overblown!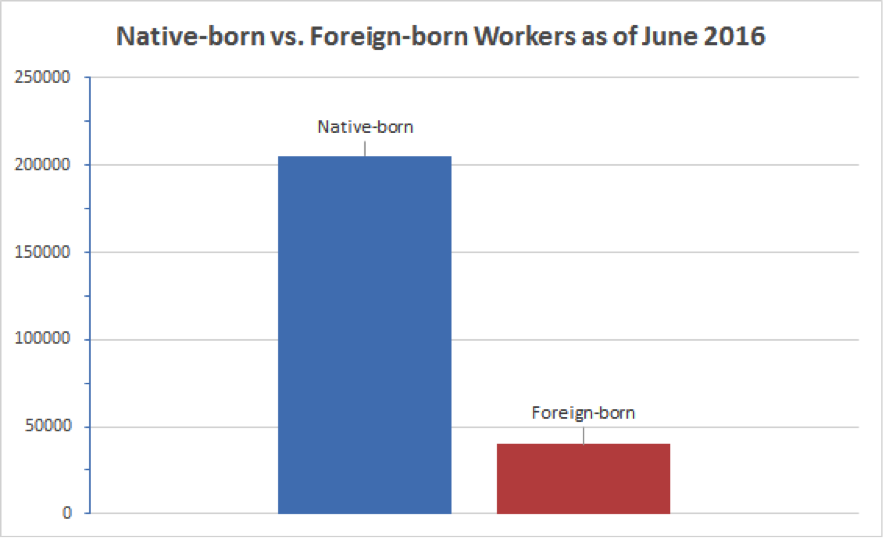 Harin J. Contractor (@harincontractor) and Sonalee Rau (@sonaleerao) are labor market economists & former Department of Labor staffers for both Secretaries Tom Perez and Hilda Solis.
Please note, former author Charles Carson (@CharlesC1983) is now on the Hillary for President campaign. We wish him well and thank him for his contributions over the year.