http://https://www.instagram.com/p/BHHV301hkdh/?taken-by=dwyanewade&hl=en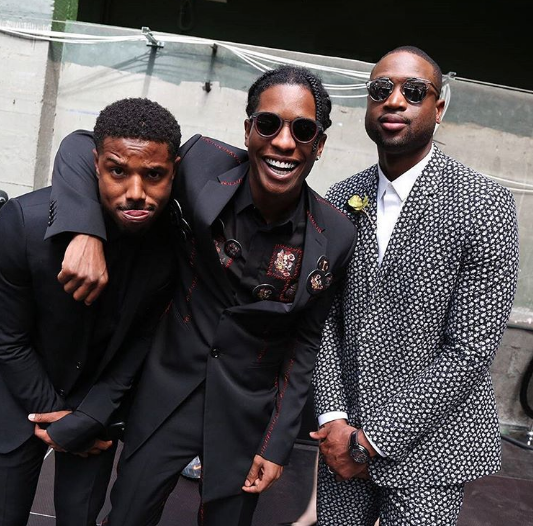 With New York Fashion Week: Men's officially underway, New York City is flooded with style bloggers, fashion designers, and hot models galore. Designs from Perry Ellis kicked off the fashion fête today and with a Michael Kors collection set to debut tomorrow, Instagram-ready moments are already in the making.
Ripe with last minute casting shakeups and fashion emergencies, the social media app is assuredly the place for all the best behind-the-scenes moments. So as you lay in your bed scrolling, post-morning alarm and pre-coffee, take a peek at these accounts for all things NYFW: Men's.
Recently announcing his return to the Chicago Bulls, after three championships and 13 years with the Miami Heat, the basketball star was officially announced as an NYFW: Men's ambassador of the four-day fashion week. The 12-time NBA all-star who designs a line of ties, also has an underwear, watch and sock collection to his name. A frequent fashion show guest, the star most-recently sat front row at Balmain's showing with fellow ambassador, singer Travis Mills. Follow Wade's account for some intimately chic moments of his all-star possé and sightings of his impeccably fitted suits. Perhaps he'll post some pictures similar to his ESPN Magazine cover for its annual Body Issue. A girl can only dream.
Another ambassador for NYFW: Men's, this silver fox gives George Clooney a run for his money and is a must follow this fashion week. As the features editor at At Large Magazine, in addition to being an in-demand model, Rutherford is the latest multi-hyphenate to take over fashion week. And as his 128,000 Instagram followers can contest, his feed is always filled with more of his beautifully coiffed hair and perfect smile.
Having shot past fashion week collections for Ralph Lauren, Tommy Hilfiger and Rochambeau, Werner is a go-to for all things runway. With his work featured everywhere from The New York Times to Harper's Bazaar, ELLE and GQ, Werner's account is fitted with both stunning models and the clothing to match.
This Greenwich Village studio space has been used to host fashion shows and photoshoots by the best of the fashion world, including Balenciaga and Elizabeth and James, to Jenni Kayne and Salvatore Ferragamo. Boasting seven studio spaces, the company's Instagram is adorned with an abundance of behind-the-scenes looks and pre-production photographs. This season, the studios have already hosted presentations for Plac Jeans, Wood House, David Hart, max 'n chester and David Naman.
Led by runway industry icon Drew Linehan, the production company originally known for its model castings, has expanded its role as rex of the runway. With clients like Badgley Mischka and Jeremy Scott, this company is no stranger to high-fashion showings.
CFDA, The Official NYFW: Men's producer
The Council of Fashion Designers for America, led by queen of the wrap dress, Diane Von Furstenberg, is the motherland for all things fashion. With a mission "to strengthen American Fashion in the Global Economy," the non-profit consists of 400 of America's best designers and is responsible for producing both men's and women's New York Fashion Week. Be sure to follow along with the CFDA for all the official photographs for all things pre and post runway.