So often, chic, must-have haircare lines are pegged to the cities their celebrity hairstylists style in. Jen Atkin's OUAI oozes with Kardashian, Kalifornia vibes, while Christophe Robin's line is unquestionably Parisian.
However, the newest collection to make room for in your overcrowded bathroom spans three cities and aims to capture the aesthetic qualities of each. IGK Hair is the creation of four stylists (including two brothers) whose salons are in Miami, LA, and NYC. Brothers Franck and Leo Izquierdo hold down the fort in Miami, while Aaron Grenia and Chase Kusero (notably, the man responsible for Jared Leto's unforgettable ombre manbun), helm NY and LA, respectively.
I went to check out their new range (21 products in total) at their tiny, but very cool location at the Dream Downtown in the Meatpacking District. Each city has its own micro-collection and its own fragrance, though the brand also quickly notes that the scents were carefully crafted to layer well and not compete with one another. Miami has a mix of fruity guava and coconut water, LA fuses lemon zest and mimosa, while NYC features blackberries, black pepper, and leather accord.
IGK's products are currently only available online at Sephora and the brand's own site, but come September, will drop in 80 Sephora brick-and-mortar locations. Here are the must-haves from each city:
The Miami Look:
Most likely, we will one day look back on our quest for "dirty-looking" hair and laugh, but for now, revel in the coming of IGK's Down & Out Dirty Spray ($29), a texture spray for that "morning after grit," to put it in the brand's own words. Basically, clean your hair, and then, methodically un-clean it with this for that piecey, lived-in look.
I'd be remiss not to also tell you about the Miami line's Amaro Ombre Highlight Spray ($29) namesake of the Amaro Instagram filter, naturally. Skip the real (and expensive) ombre and give your hair that sun-kissed look only when you want it for a palatable price. This highlighting spray contains innovative pigment technology that allows the light-colored spray to blend in with the hair rather than simply sitting atop of it.
The LA Look:
The LA must-have is the Rich Kid Coconut Oil Gel ($27), which harnesses the strengthening, nourishing powers of coconut oil and diffuses it into a lightweight concoction meant to redefine your preconceived notions about gel (most of which are not great). Comfrey extract leaves the hair soft and silky and stimulates scalp health.
The NYC Look: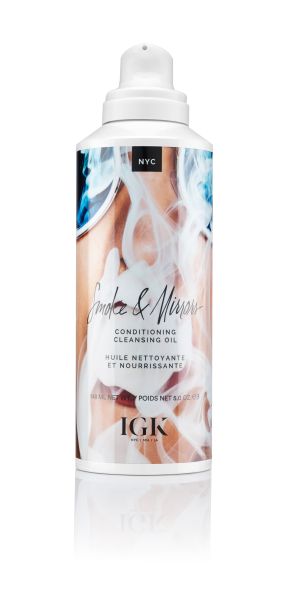 Finally—you can manage a cold shower to cool off from this heat wave, even when you don't need to shampoo and condition your hair. Do that, and do it well with the NYC line's Smoke & Mirrors Conditioning Cleansing Oil ($29), which quickly removed product buildup and strengthens damaged hair in one step.