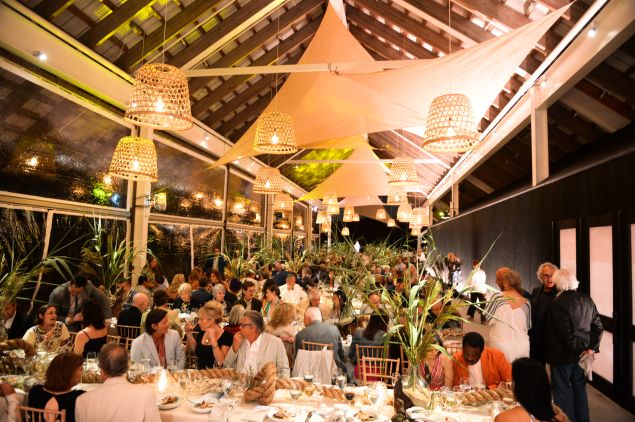 Last Saturday night at the Parrish Art Museum, a woman with a spoon strapped to her wrist as a bracelet approached choreographer Jonah Bokaer. "Nautical radical!" she cried, admiring his pinstripe suit and Panama hat. Around them, guests swarmed into the galleries to celebrate the annual Midsummer Party, held on the museum's premises in Water Mill.
Despite all the fuss, Bokaer smiled serenely throughout the evening. As the festivities began, he appraised the view out the window. "Don't you love the sky?" he asked. "It's almost like a photo screen. It's like a photographer's dream." Indeed, the flat gray hue complemented the Herzog & de Meuron architecture itself, which Bokaer called "very austere, very powerful."
Bokaer's work is now on view as part of the museum's Platform series, which asks one artist per year to respond to the Parrish's building and grounds. By hanging 122 drawings of musical scores from the rafters, he hopes to "render the architecture visible in a new way." He credited Curator of Special Projects Andrea Grover with helping him create some of his best work.
Grover herself was remarkably visible, thanks to her dress by Russian designer Alena Akhmadullina. Appliquéd with a design reminiscent of a great wave on a Japanese woodblock print, the outfit perfectly captured the spirit of the Parrish's summer exhibition, Radical Seafaring, which Grover curated. With work by 25 artists or collectives from five countries, the show explores artists' offshore endeavors. The water has long influenced visual art, and Grover and her team have investigated artists' efforts, since the mid-1960s, to engage with international bodies of water.
Grover has a long relationship with the sea—her father was a boat builder and commercial fisherman. In fact, her father knew the father of artist Michael Combs, who comes from generations of fishermen and whose homage to horseshoe crabs, Daisy Chain, Grover included in Radical Seafaring. She led me on a tour of the show, speaking in particular about a Mark Dion cabinet filled with trash he scavenged from the seas and a model of Pedro Reyes's Floating Pyramid, an interactive structure he launched off the Puerto Rican shore.
The exhibition and the rest of the museum began to fill with artists, bankers, and even a cooking show star—Sandra Lee, of Semi-Homemade notoriety (remember the doughnut tree? The Hanukkah meringues?) arrived in a collared white dress with a floral pattern. "The Mid Summer Party is the most important social occasion of the summer season out here…I just said hello to someone who came in from Paris, someone from London," the Parrish's Director, Terrie Sultan, told me as she greeted guests outside. "Ahoy for everyone!"
Inside, artist Eric Fischl lauded Autoxylopyrocycloboros by Simon Starling, from the Radical Seafaring show. In the work, a series of slides projected onto the wall demonstrate how the artist and his friend begin to saw wood from their boat to fuel its engine, gradually destroying the vessel. Eventually they sink. "It's hysterical," Fischl said. The sea has impacted his painting too. "My work has always been near the water, in the water. I grew up on the water," he told me. And what's so appealing about the water?
"First of all, it's sexy," he said. "It's a place where people go to get pleasure. It's fun to watch. People are naked or mostly naked. It's fun to paint. It's colorful. It's also elemental. On some molecular level it's where we come from. There's a kind of deep memory and metaphor."
Guests wandered in and out of the galleries, stopping at bars set up throughout the museum. High tables draped in turquoise tablecloths encouraged repose amid the art. One woman examined Buckminster Fuller's Model of Triton City, a prototype for floating housing, on loan from the Lyndon B. Johnson Library in Austin, Texas. Though Johnson was interested in realizing the project, it never came to fruition. "Is this an example of what not to build?" she asked. She tilted her head and reconsidered. "Or what to build?" Brooklyn-based artist Swoon's piece, a giant raft she floated into the Venice Biennale in 2009, attracted much attention.
On the patio outside, elegant dinner tables greeted the crowd. Knotted nautical rope extended from one end to another while candles glowed inside mason jars as though Brooklyn had moved east for the evening. The appetizer arrived on a blue and white speckled plate: street corn, a tomato salad, and a sweet green gazpacho in a small white container that required guests to sip through striped straws.
As the caterers continued to refill wine glasses, experimental theater director Robert Wilson mounted the stage. While barking like a dog ("Ruff ruff! Ruff ruff!"), he praised Terrie Sultan and others who helped the evening come together. "I can't understand a word he's saying!" a woman complained, shrugging in confusion.
Actress Emily Mortimer also spoke. The Parrish's permanent collection includes work by her grandfather-in-law, sculptor Constantino Nivola. After dinner, she told me that Jackson Pollock gave Nivola a splatter painting in the 1950s. "He hung it on his wall for a week and then gave it back because he said it made him nervous. What a bad move!" She'll be in the area for more art later this summer—The Drawing Room in East Hampton will open an exhibition of sculpture by her brother-in-law, Adrian Nivola, at the end of July.
Desserts appeared on the tables in the form of minature tarts, éclairs, cakes, macaroons, and panna cottas. Guests began migrating to the dancefloor. One might have described the ensuing debauchery the way that Fischl described the sea: sexy and fun to watch. And unlike swimming, dancing requires no 30-minute waiting period post-consumption. One more drink, and guests were good to go.