It was over brunch at Café Gitane in 2014 when Sophie Kahn noticed the greening of her finger from a beloved fashion ring. While noshing at the Nolita foodie favorite, Kahn and her former Princeton classmate, Bouchra Ezzahraoui, conceived the idea for their direct-to-consumer jewelry company, AUrate.
Now, more than a year and a half since the company's inception in December 2014, the bauble brand has blossomed into a successful e-commerce shop with three lines of gold and diamond covered jewelry. Taking their growth one step further, today AUrate will host other female-run fashion companies von Holzhausen and Cienne in their Soho pop-up.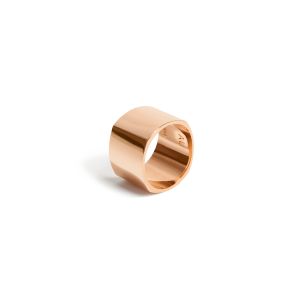 All similar in their ethically based sourcing mottos and Warby Parker inspired direct-to-consumer business model, the all-female run brands—AUrate for gold jewelry, von Holzhausen for luxury leather bags and Cienne for simple made easy, ready-to-wear women's clothing—will join forces for the ultimate eco-friendly meets girl power partnership.
"We believe in what they do, they believe in what we do, so why not give them some exposure with us and work with them for two days?" Kahn said of the partnership.
AUrate, founded on the principal that philanthropic endeavors would live at their center of their companies, operates on a one-for-one model, similar to TOMS shoes, which Kahn sites as an inspiration. Instead of shoes, AUrate donates a book to a school-aged child in the United States for every piece of jewelry sold.
"I felt like maybe there were better uses of my time. We thought if we're going to do it, we're going to do it right, in a way that also helps the world."
While Kahn grew up in Holland where "everybody knows how to read," and virtually "nobody's really poor," her business partner, Ezzahraoui, grew up in Morocco, where the gap between the rich and the poor is hugely visible and a wide range of its citizens illiterate.
"We think this model of one for one, or giving back as a company is the future," Kahn said. "If every company would do this—if you think about every pair of shoes you buy, every grocery, every can of milk, it doesn't matter, if for everything you do somebody would benefit, it would make such a huge difference for the world. So we also want to set the right example."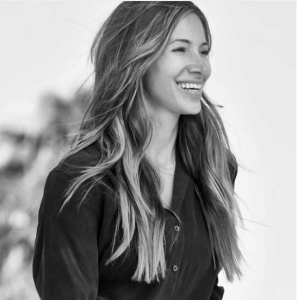 Similar to AUrate in its passion for philanthropy, handbag designer Vicki von Holzhausen donates 10 percent of her monthly profit to Hope Gardens, a charity benefiting the homeless population on Skid Row in Los Angeles. The Malibu-based company, which markets itself as a future lifestyle brand, is only six months old and currently offers a collection of high-end leather handbags. The brand's founder, von Holzhausen, gained much of the inspiration behind her luxurious leather styles from days working at Mercedes in Europe.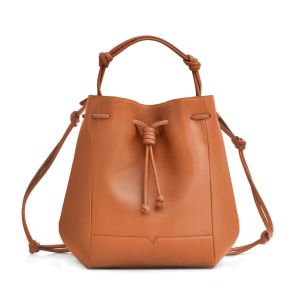 "I had this vision of taking the elements [of car design], applying them to my own brand and creating a lifestyle brand that encompasses European timelessness with effortless vibe of Californian style," von Holzhausen said. "Automobiles are just one of those iconic romantic things. And I think that fashion is really similar, the transition in a lot of ways very easy."
Transitioning between careers is something Cienne founder Nicole Heim can also relate to. Heim, a former Victoria's Secret designer, founded her luxury womenswear brand after quitting her job at the lingerie line and exploring Eastern Africa as a volunteer with Charity: Water.
Similar to AUrate in its social consciousness, the brand is sourced globally and made locally in New York. "We are very much inspired by what each country does, in their natural abilities or resources," Heim said of the Peruvian wools and Indian silks she often uses in her creations. Heim's team of designers brainstorm pieces for the collection and then turn to artisans worldwide for collaboration.
In addition to the Ethiopian weaving and cotton that Heim grew accustomed to during her time volunteering, the designer also credits much of her design inspiration to a love of vintage.
"The idea of looking toward old traditions, we really love that idea," she said. This love for the old and respect for tradition was present from Cienne both in design and in name. Meaning coffee cup in the Ethiopian language, Heim learned the importance of coffee culture to Ethiopia during her volunteer efforts there and found the name to be perfectly fitting.
Heim, who is "super passionate about creating experiences," will showcase her entire Spring/Summer 2016 collection at the pop-up. Crediting jumpsuits, the Hudson dress, and the Charlotte pant as some of her favorites, the Cienne girl is defined by a refined minimalism. The collection features an array of simplistic, transitional pieces and is distinct in its use of bold prints and clean lines.
Heim, whose brand focuses on "quality and versatility" has all but ensured her company's stake in the eco-friendly fashion game. With social consciousness and an ethical mindset at the core of the female brand's DNA, a seemingly shared passion for empowerment and equality exists among the female entrepreneurs.
"I feel like it's more about empowerment in general, whether it's male or female," Kahn said.
Heim echoed. "My hope would be that we're not really talking about whether they're a male or female. I hope we're all just sitting at the same table."
The pop-up is located at 156 Spring Street and will be open July 14 and 15 from 11 a.m. to 8 p.m.