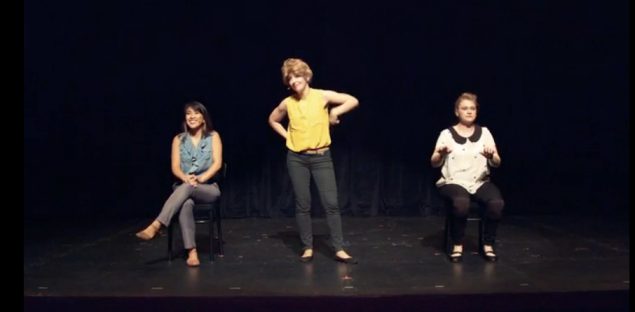 It's no secret that female tech workers often feel uncomfortable at Silicon Valley conferences and the social events surrounding them, where many "brogrammers" are more interested in the open bar than networking and companies as prominent as Microsoft hire women to pose in bikinis.
To battle this type of environment, a startup that's been on the forefront of gender equality in the tech field decided to host a more female-friendly alternative to an afterparty at the recent Big Data Hadoop summit in San Jose, California. Arcadia Data—a data discovery and visual analytics company—produced "Night of the Living Data," a sketch comedy performance (which you can watch a clip of below) to explore the controversial gender issues of the tech industry.
The team partnered with San Francisco's acclaimed sketch comedy troupe Killing My Lobster to produce the show, which featured sketches like "Lean In" (cave woman Sheryl Caveberg explains the concept of "Lean In" to fellow cavemen to show even Paleolithic era-men should be able to grasp the concept of gender equality) and "The Tech Shuffle" (A group of women lament arrogant remarks from the male colleagues, and whenever they encounter it, music plays and they do the "Tech Shuffle" to dance away the negativity). Over $35,000 in proceeds was raised and donated to Girls Who Code.
"Tech conference networking events at the end of a long day can be a real drag. With so many people from tech companies there, it makes the gender gap much more obvious. We wanted to create an evening experience that would be fun and make networking suck less," Arcadia Data VP of marketing David Fishman, who is the mastermind behind the comedy show, told the Observer.
It's not surprising his company was the one to take the initiative, for gender equality has been a given at the startup since its launch in 2012. Three out of the four founding engineers are women, and 30 percent of the overall engineering team is comprised of women, which is more than double the industry average of 13 percent.
'We were able to reach a new audience, and many of the gender issues we attempted to highlight felt very important and of-the-moment. Plus, the audience laughed.'
The goal of the first-of-its-kind comedy show was to shine a spotlight on the often fraught gender politics of SV and explore why there are so few women in tech, what big data can do to crush the gender gap and how SV can rally around the important cause of empowering girls and women in tech.
"I love bringing a comedic lens to anything that's hard to talk about," Millie Debenedet, Killing My Lobster executive director and director of Night of the Living Data, told the Observer. "It sparks change and helps people see things differently. So I immediately raised my hand to direct the show. These projects are vital to change. There's a gender gap everywhere. I'm a female director and producer in a comedy company, and I do not feel like society has bred me to be a leader."
She said that the show was "a smash hit" and that people were "incapacitated with laughter." "I think we got a few more fans out of it," she added.
The head writer of the show was Mike Ottum, who was previously an engineer before switching to a career of comedy writing.
"We spent a lot of time and effort trying to understand our audience and make sure that we were speaking their language," he said. "The last thing we wanted to do was come off as a bunch of outsiders preaching down to the audience. We strove to find universal truths in the tech industry and workplace that everyone could relate to, and then heighten them to a ridiculous place."
He said the show was extremely rewarding to work on.
"We were able to reach a new audience, and many of the gender issues we attempted to highlight felt very important and of-the-moment. Plus, the audience laughed," he said.