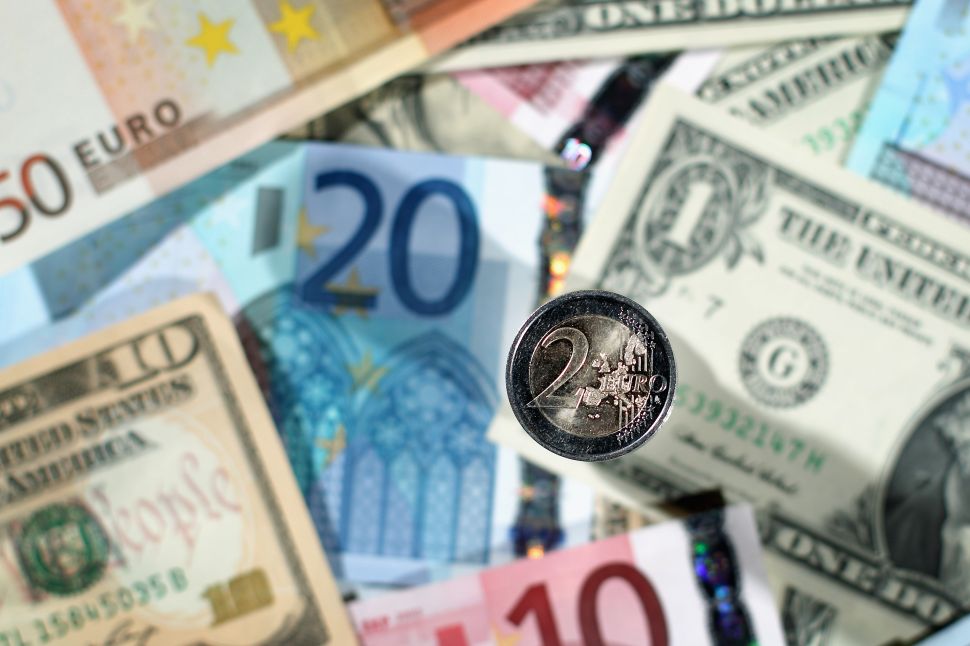 A lot of time at the end of conference talks, the moderator vaguely looks around the room and hopes that attendees will raise their hands, but no one does. It's painful. This was not an issue today at the end of the fireside chat between American Banker editor Marc Hochstein and Abra founder and CEO Bill Barhydt, at the Blockchains+Digital Currencies event today in Manhattan. As soon as their conversation ended, the room full of financial professionals was eager to ask questions.
Abra allows two people to exchange money without someone in the middle by connecting people's bitcoin wallets. "I've been working on some variant of this problem for 10 to 15 years," Barhydt said during his introduction. Consumers don't even realize they have bitcoin wallets, though. From their perspective, they have local money.
From the consumer perspective, Abra is a way to put money in an app on your phone and use it to pay people or businesses all over the world, for free or very cheap. It makes the transactions fast by using bitcoin, under the hood. What excited the bankers and financial entrepreneurs in the room so much was this: Barhydt claimed that his company had solved the problem of bitcoin volatility as consumers move currencies like dollars, euros and yen, in and out of the digital currency.
Bitcoin oldheads can skip this paragraph: Right now, $100 equals 0.1522 bitcoin. If I put $100 into a bitcoin wallet today, that number could move. If I tried to turn it into euros in a week, I might have more or less than $100. That's fine if I want to speculate in bitcoin, but it stinks if I just wanted to know I had $100 when I needed $100.
Abra solves the volatility problem by entering into smart contracts with people who are long on bitcoin. It does it by facilitating arrangements between bitcoin holders and consumers such that people who hold bitcoin will make sure that the consumer continues to hold exactly $100 in bitcoin, until the day she decides to use that money. That means that if the price of bitcoin goes up, she gets more bitcoin. If it goes down, she loses some. The consumer doesn't actually see these trades unless they want to look, though. On the front page of their user interface, the $100 stays $100 until she spends it.
"I don't have to expose the underlying bitcoin mumbo jumbo to consumers," he said. That's a description of one of the futures that the Winklevoss brothers, founders of bitcoin startup Gemini, articulated this Spring at SXSW—that bitcoin could lubricate transactions without consumers even noticing. That said, the private key remains on the consumers phone. Abra never touches the bitcoin.
Abra does it by paying people with large amounts of bitcoin a very small percentage on their money for the service of adding and subtracting bitcoin to keep the consumer whole. The analogy, he said, is to what's known as a contract for difference, of CFD. In a CFD, a person gives someone a commodity, such as gold, and takes out a contract that says that commodity will be worth a fixed amount until the person receiving it sells it.
"There's no counterparty risk," Bill Barhydt said, repeatedly, thoughout the talk. We don't quite understand what happens for the person holding bitcoin if the price of the asset drops a lot, but Barhydt is confident it all works. We're going to follow up. "It took me a year to figure this out," he told the room. Here's some more detail on the Abra blog.
For the privacy conscious, Abra works for the unbanked as well as the banked. The unbanked can put money into the system by visiting an Abra teller. The company will soon announce a national master teller partner in the United States. In other parts of the world, tellers will work in much the same way as the people who cell airtime on pay-as-you-go cellular phones (also known as airtime resellers).
Abra makes money on international transactions. By using blockchain, Abra is able to settle moving money into and out of different currencies at almost no cost, so it can add a few basis points charge to international transactions and it still works out to far less than a consumer would pay to a Western Union for the same service.
"We forego revenue on any domestic transfer, knowing that any basis points we sacrifice is worth it from a marketing perspective," he explained. 
In short, Abra effectively has the ease of Venmo, with the added benefit of extremely cheap international transfers. It closed a $12 million series A round in September.
But there has to be risk somewhere, right?