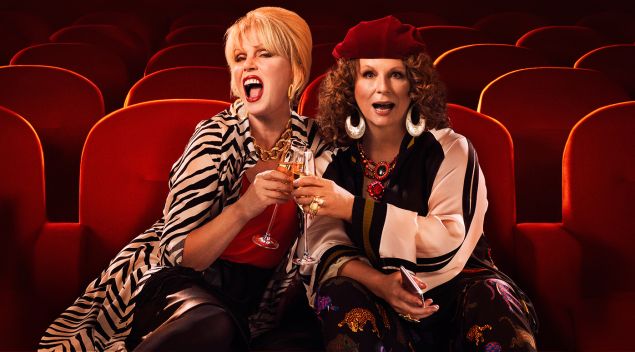 Oh, Sweetie, I absolutely adored Absolutely Fabulous: the Movie, snorting big ugly grunts of laughter. Edina Monsoon (Jennifer Saunders) and Patsy Stone (Joanna Lumley) return to humiliate themselves—and every prig around them—in one ridiculous set-piece after the next, skewering our celebrity culture of desperation and mammon worship. These chuckle-fucks of narcissistic nonsense aren't role models, which makes me deliriously happy on my married-working-mother, Hillary-or-hellfire-and-damnation hamster wheel.
No one had to guilt me into seeing the outrageous female-driven comedy directed byMandie Fletcher and written by Saunders as if it were my feminist duty to buy overpriced movie tickets to overturn the Hollywood status quo. Frankly, if you don't want to see this movie, fine with me because it's not a language tape or a series from The Great Courses: The World's Greatest Professors at your Fingertips (now 80 percent off, sale ends August 11).
While I'm a die-hard fan of AbFab, the cult British BBC TV series, I couldn't tell you what happened in Season 3 Episode 7. That's why God created Wikipedia. I didn't approach the film like a sacred vessel of pop culture in the way some Ghostbusters purists viewed that movie. I just wanted to laugh—and AbFab delivered with a romping Richard Lester (Help!) comic abandon.
Fletcher's feature-length caper finds London PR hot mess Edina attempting a career revival by snagging Kate Moss (playing herself) as a client. In classic slapstick, Edina botches the pitch by pushing the supermodel soufflé off a ledge and into the Thames at a posh London party. Fearing manslaughter charges, Edina lams it with her feral fashionista best friend Patsy to the Cote d'Azur. It's a pairing fit for Bing Crosby and Bob Hope or Jack Lemmon and Tony Curtis. The ending (no spoilers here) winks at Some Like it Hot's famed finale with its gender-bending screwball sweetness (Joe E. Brown's last line to Jack Lemmon upon the latter's revelation that he's a man in drag and they can't marry: "Well, nobody's perfect").
Nobody is perfect—and least of all Edina and Patsy, perpetually the butts of the screenplay's jokes, no pratfall too low. The cruelty of female aging—as if eating a cookie and gaining two pounds isn't enough of a mind fuck—is just one recurrent theme. Being forced to act one's age is so unfair (insert foot stamp here), and doubly so for besties Edina and Patsy who struggle to remain relevant long past their if-it-feels-good-do-it sell-by date.
In one sequence, the botoxed, perpetually swoozled Patsy cozies up to a filthy rich ex-lover (Barry Humphries) at a swanky French Riviera bacchanal. She intends to rekindle their flame and cash in. But the system's rigged: Patsy's prey and the other fat-bellied satyrs still cavort shamelessly with nubile young gold-diggers by the hot tub. Meanwhile inside, the single elderly females dance with each other in comfortable shoes, exiled to the shores of unfuckability.
Aging is a bitch – but for Saunders and crew the upside's an absolutely glorious video archive of fantastic entertainment combining slapstick and clever wordplay that stretches back three and a half decades since the comedienne wrote her first short in 1981.
Where to begin?
I recommend jumping in with 1999's Let Them Eat Cake, a one-season, lesser-known period sitcom co-written with Dawn French (who has a cameo in the movie as a chat-show host and a producer credit). Set in the court of Versailles in 1782 under Louis XVI and Marie Antoinette, Saunders plays the Comtesse de Vache, a shameless gossip and Marie Antoinette intimate who snoops on her fellow aristocrats' dangerous liaisons aided by her lusty maid Lisette (French) and gay manservant Bouffant (Adrian Scarborough).
This period mayhem, in Black Adder's anachronistic tradition, plays endlessly off the Comtesse's upper-class privilege, odious narcissism and absence of self-knowledge. There is physical comedy – she is so accustomed to her inferiors holding doors open for her that when challenged to open one herself the helpless ninny simply cannot figure out what a knob is or how to turn it. Or the nocturnal visits of a sadistic prowler (Richard E. Grant) that leave her trussed up with not one but two bananas stuffed in her mouth and unable to sit without the aid of cushions once she's cut loose.
And then there's the endlessly quotable dialog. A female portraitist comes to paint the Comtesse who Bouffant has dressed in an ornately upholstered frock that Bouffant describes as "Start with the Taj Mahal and work up." The artist, her hands permanently stained green, attempts to bond with the lowly Lisette by describing her own unhappy childhood: "I am also from the gutter, father was a prostitute; mother ran off before I was born. I've eaten horse-droppings, dear, and you don't forget that in a week." The Comtesse describes her marital bed with the poxy codger Comte de Vache: "It's always been like sleeping with an elephant's scrotum."
The sitcom teases that Downton Abbey, Merchant-Ivory posh-and-poor trope that we adore, but puts a pulsing (and possibly poxy) vagina right at its core. I am woman here me whinge. Let Them Eat Cake will only lead you to The Life and Times of Vivian Vyle, a six-episode 2007 series with Saunders as an uptight British spat-show host, a low-rent Oprah, with the great Miranda Richardson as her producer. And then there's Saunders' stiff-upper-lipped performance as Timothy Spall's killjoy sister, Connie, Lady Keeble, in the woefully short-lived P. G. Wodehouse adaptation Blandings.
Which leads us back to the French and Saunders TV series—if you haven't seen the pair spoof Harry Potter, click here. And, then, ground zero: the 39 episodes in five seasons of the sacred and profane Absolutely Fabulous sitcom: the font of Absolutely Fabulous: the Movie.
Oh, Sweeties: the female funny shortage has been greatly exaggerated. Screw Hollywood. The educated consumer only needs to know where to click.