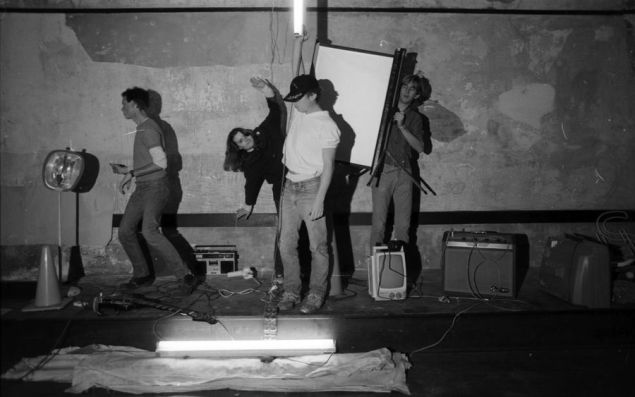 Today marks a bittersweet, yet celebratory day for one of the first trailblazers who put the Athens, Ga., house party college-rock scene on the American underground map in the 1980s: fiercely independent, art school-bred post-punks, Pylon.
July 25 would have been the 61st birthday of Randy Bewley, Pylon's guitarist and co-founder who passed away in 2009 after suffering a heart attack. His bandmates—bassist Michael Lachowski, singer Vanessa Briscoe Hay and drummer Curtis Crowe—are now paying homage to their beloved friend with the release of Pylon Live, a 20-song double LP that captures these hometown heroes' final show in 1983 before disbanding for what would be the first of three times.
But they didn't pull it off alone.
Thanks to the tenacious quest of Pylon superfan and Chunklet Industries chief Henry Owings to unearth the tapes from obscurity, Bewley's no wave-inspired, string-bending, hooky shards live on in this glorious document of Pylon's forward-thinking genius, a singular talent celebrated by Athens pals R.E.M. who went on to sing their praises, covering several of their songs.
R.E.M's championing of Pylon was crucial to the band's legacy even as they remained broken up.
In 1987 when Rolling Stone bestowed the pre-clickbait clickbait title of "America's Best Band" on R.E.M., drummer Bill Berry, echoing his band's trademark community-supporting ethos, deferred to Pylon, calling them the better band.
Despite such high praise, Pylon tended to shirk mainstream success. They were art students who banged out bass-rumbling, jangle-punk anthems like "Cool," "Stop It" and "Beep" for their friends to lose their shit to at house parties while shrugging off big-time opening slots for the likes of up-and-comers U2. Regardless if they were playing packed basements or arenas, Pylon were taking their cues from minimalism: the legendary No New York compilation, the Eraserhead soundtrack, Cabaret Voltaire, and Suicide, a band Lachowski says—in light of the recent passing of Alan Vega—was a huge influence on Pylon.
"We had the confidence to say, 'This is all a song needs to be. This is enough. This is our art.' "
"Of all the albums I've loved in my life, side A of Suicide's first album is easily in my top 10 or maybe in the top five," he says. "I just completely loved the simplicity. That cheesy sound from their keyboards and their synthesizers already sounded cheesy when it came out. Nobody was thinking it was sophisticated and that was part of the genius of it. It was just bold enough to be what it was and that's the way Pylon felt about songs like 'Dub.' We had the confidence to say, 'This is all a song needs to be. This is enough. This is our art.' "
Pylon's minimalist proto-disco-punk thump, anchored equally by the punchy and relentlessly groove-heavy combo of Lachowski and Crowe, Bewley's wiry, fragmented guitar spurts and Hay's Lydia Lunch-esque delivery that both growled and murmured, was crystallized by their college-rock scene defining output of Gyrate ('80), Chomp ('83) and Chain ('90), the first two fittingly reissued by James Murphy (an avowed Pylon devotee known to include their songs in his DJ sets) and DFA Records several years back.
To promote Pylon Live, Hay is making a return to the hustle and bustle of the tour circuit, at least temporarily. As part of Pylon Reenactment Society, a Pylon tribute band of sorts, Hay, along with some local Athens musicians, are revisiting Pylon's music.
The Observer recently caught up with Hay and Lachowski over the phone to talk Pylon Live, the early dance-party days, their disastrous stint opening for U2 in '83, the triumphant opening slot for R.E.M. in '89 and their dearly missed bandmate, Randy Bewley.
[youtube https://www.youtube.com/watch?v=WTklRMQ5utQ&w=420&h=315]
How did Pylon actually start?
Michael Lachowski: Randy wanted to start a band and I was really against the idea. I was expressing it like, "Oh, no, man. That's been done. Look at all the bands—Talking Heads and Suicide and the Ramones. There's so many bands. It would just be so obvious!" But he said, "There's no bands in Athens anymore. The B-52's are gone. Come on. There's an emptiness there. We need to play in our scene."
Vanessa Briscoe Hay: I was friends with Michael and Randy in art school. I was at the UGA art school and I had no inkling about music stuff. I was a big fan of the B-52's and I went to the parties where people would bring singles and we'd play them like seven times. I already graduated and I was hanging around town waiting for my first husband to graduate from school. I was enjoying going out, going to the parties and seeing the B's. It was a lot of fun. It was Randy's idea, really. He decided after looking through New York Rocker that as his art project, he wanted to start Pylon.
Were you into the idea of fronting a band?
Hay: No! I had no clue. Randy saw something in me that I didn't know was there. He came and asked me. I was working at J.C. Penney at the time and he said, "Come over here tonight and audition for this band that Michael and I are putting together." I think they had run through some guys, including Randy trying to sing and they were about to give up. So I came in, they saw I honestly tried and I was a friend of theirs so they invited to be in the band.
How did you decide on playing bass?
Lachowski: Randy said, "Come on, think of what instrument you would play. Just look into a bunch of songs or albums you like and just try to pick out an instrument and think about what you would wanna play." So I had to go through this exercise. It didn't take me long to be like, "Oh wait, yeah, it's the bass that's the thing I think I relate to the most." Also, I thought that it might be easiest.

When you met Randy and Michael to audition for Pylon, did they know how to play their instruments at that point?
Hay: They pretty much self-taught themselves. Randy had some experience playing drums and Michael had a bass book. It was the only instruction he ever had. But at that point playing together just involved them coming up with some kind musical phrase and they would repeat it over and over until it morphed into something or settled into something. That's kind of where it came from.
Let's talk about Pylon Live. How did it come about that this particular show was recorded?
Hay: We decided, at the end of 1983 after Chomp was released, that we were going to call it quits. We worked ourselves through playing some of our favorite cities near the end of 1983 and our last show was in Athens at a club called The Mad Hatter.
These guys in town, John Fuller and Bob Gentile, had it in their minds that they were going to try to do a pilot for a music show based in Athens called Athens Shows. They asked us and Love Tractor, who were also playing the same night, to be in the pilot for it. They would try to promote that and see if they could do something with it. It was going to be, what we thought at the time, a final kind of record of our last performance so we were like, "Sure!"
[youtube https://www.youtube.com/watch?v=bOSARRZiC2g&w=420&h=315]
How was the recording unearthed?
Hay: Well, this whole Athens Shows thing got shelved and forgotten about. What happened is Henry Owings had borrowed the cover of Chomp when we were doing the DFA Chomp More release because the aesthetic of it was Michael had wanted it to look like it was an older record from someone's collection. So we had to borrow one that had some wear to it. All of us either didn't have them or our records were in too good of condition. [Laughing]
He borrowed that from him and he had it for a long time and Henry contacted Michael and said, "I need to get my cover back." He came to Athens and picked it up and they started talking about how there should have been more outtake material on that reissue. They brought me in and we agreed, "Well, let's look for a full-length performance from that era."
I had a box of tapes that belonged to Randy that were given to me after he passed away and I gave them to Henry to listen to. He found this one CD in there that had four songs that were mixed down from the show and he said, "The quality is really good. We've got to find these tapes."
Wow. That was a great find.
Hay: So Henry began a quest, basically a mini-chase that took him through Athens and Atlanta to look for them. He went and talked to one of the investors [John Fuller] and he said, "Yeah, yeah. It's fine with us if you release it."
Where did the rest of the tapes turn up?
Hay: It turns out Jeff Calder from The Swimming Pool Q's, who had also been on DB Recs, worked for a studio in Atlanta and had kept them [the tapes]. We were theorizing why he had them, but it could be because one song of ours ["Party Zone"] from those tapes ended up on a DB Recs compilation called Squares Blot Out The Sun.
After he found it, we realized it had the whole show from beginning to the bloody end—it had it all. Henry's quest turned out some things. It's nice to know where all the stuff is. Of course, everything is always in the last place you look. That's the big joke there.
What are your thoughts on listening to the recording all these years later?
Hay: Listening to it now, it's not like we all got drunk and blew it out and it wasn't a good performance. It was a good performance—probably one of our better ones. I'm very happy with it. You can't have every song we've ever performed on there but this is a good representation of a Pylon show.
What I was amazed by, and I think some of the others were listening to it now, was we went out at the top of our game there, that first time. That jumps out. Everybody's right on the money: Randy's guitar is incredible, Curtis and Michael, one of the best rhythm sections, to me, that I've ever heard and you could hear all that on there.
"It wasn't a lot of fun, but [U2] asked us to open the rest of the whole tour with them and we turned them down."
Lachowski: When we played that show we were in pretty good form. I was surprised listening to the recording by how tight and professional it was because in my mind I just had this assumption that if you've been in a rock band and you're playing for your hardcore fans in your own town and it's a scene where you kind of ruled the roost in a way for four years or something, it seems like we would have gone out in a blaze of messy, good energy, you know?
Instead, I wouldn't call it restrained or overly tight but instead it's surprisingly a professional-sounding performance [laughing]. It represents the band at the top of their form and what we sounded like live. That was our favorite thing: to perform live.
Why did you decide to break up after that show then?
Hay: What was the genesis of all of that was when we opened for U2. It was a painful experience in some ways being the opening band. They weren't quite the monster they are now but they were pretty big and their audience didn't like Pylon at all. Most of the experience was the audience yelling "Get off the stage!" and things like that.
I remember Bono telling Curtis that when they toured behind somebody that "you just gotta own the stage." It wasn't a lot of fun, but they asked us to open the rest of the whole tour with them and we turned them down.
[youtube https://www.youtube.com/watch?v=fZ1W4Er2MHE&w=420&h=315]
That's pretty awesome you did that.
Hay: Our booking agent was like, "Why are you doing this if you're not going to do things like this?" For whatever reason it was our decision. We were like, "Let's just quit while we're having fun." That was kind of the idea in the first place. We were just going to perform as long as it was fun. So we broke up and it was a decision we all made together.
We enjoyed everywhere we played, really. We had a lot of favorite places to play and they came to see us and they came to see that type of music. It's not dissing U2 at all. I think our booking agent thought we were crazy. Whatever [laughing].
Lachowski: We really weren't into the idea at all; that was more of a music industry move if you were going to really try to work your way up in the music industry. That might have been a really strategic thing to do but we just weren't thinking that way. We didn't want to think that way and we never really had.
That was sort of the culminating, clearest example to us that we were engaged and dabbling in something that we weren't really into it. We didn't necessarily want to do what a lot of people suggested we had to do. Everybody had these notions of a prescribed pathway for us and we were like, "O.K., we'll just show you guys that we were serious about doing it on our terms." So we quit.
[youtube https://www.youtube.com/watch?v=EyCWgGhG00o&w=420&h=315]
Did you ever think about it like R.E.M. and the B-52's were right on the verge and Pylon could ultimately sign with a major label and attract a bigger audience like they were?
Hay: We didn't think about that in those terms. We were artists who kind of fell into the music business and it was just something that wasn't crossing our minds. We did find out later on there were labels looking at us. The music business, at that point, was almost in as much flux as it is now.
The business part of it never interested us. We liked performing live, traveling, hanging out with our friends, making art, going to parties, thrift stores and museums. We were into it for the fun. We joked, at that point, that we were tourists in the world of rock and roll [laughing].
There was also the Athens, GA: Inside/Out film. Were there any regrets that you called it quits and all of a sudden the spotlight is on your town?
Lachowski: They went around interviewing everybody and they got footage of all the bands that were active. We weren't active but they included us in the movie. They were interviewing us, asking, "Why did you break up" and talking about the end of Pylon. By then the energy was coming to Athens and it was like, "Oh, wow. Look at this town now." It had been going on for not even 10 years, let's say seven, eight years.
It was that environment that made us thinking later on that "Maybe we quit too early or maybe we arrived too early and also quit too early?" [Laughing]
[youtube https://www.youtube.com/watch?v=CbbNN0aMl3A&w=420&h=315]
Was that show in '83 and early Pylon shows just big dance parties?
Hay: Oh, yeah! In Athens back then almost every band that played was a big dance party. Everybody was dancing. It was not like people were standing around—not to disrespect anybody—but they were not standing around talking. They were paying attention to the bands and dancing. They weren't looking at their iPhones. They were totally in the moment.
Lachowski: That [the dancing] just happened organically somewhere around the fifth or sixth show we did in Athens and those were house parties. Something just clicked. After our first show, people would come up to us and tell what us we should do differently. They were like, "You guys, you're just standing there like you're wooden figures. You guys need to move around some more," and we're like, "Well, we barely know our songs. We're just holding on tight and get trying to get it out."
But we loosened up and tried to figure out which of our songs really worked for people because a lot of people at the time were calling us "experimental." We were influenced by a lot of No Wave music and stuff like Cabaret Voltaire.
Everybody knows about R.E.M. and the B-52's. Who else, in your mind, was making radical music like Pylon was?
Hay: In Athens, There wasn't anybody that was really like us. I have to say all the bands, at that point, to me, had their own sound and their own thing. You think of Love Tractor as opposed to Oh-Ok as opposed to The Side Effects as opposed to The Method Actors and Limbo District, and over in Atlanta, The Swimming Pool Q's and The Brains. I wouldn't say that any of those bands were like Pylon; we were all different from each other.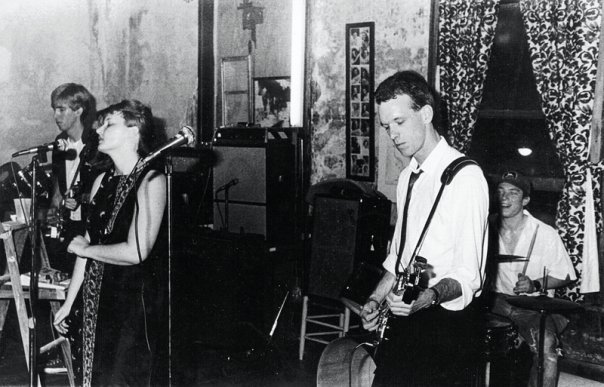 What about the first time Pylon reunited in '89? What was the impetus behind getting back together?
Hay: That was more business-like. R.E.M. and B-52's were huge and they were tremendous supporters so we were like, "Let's try to get back together and do it like a business." We went out there and opened some big shows for them. The audience at that point were ready for us and liked us. That was a good time. R.E.M. were always great about bringing bands on tour and introducing them to a bigger audience like Love Tractor and Mission of Burma and others.
Lachowski: It was kinda like the other way: let's do it where we really are trying to make sound business decisions, let's treat writing songs like a job, do it really diligently, have lots of practice sessions and not just wing it. We tried it that way in the sense that by then Randy, Curtis and Vanessa were parents. We patched together employment during that period so in a way we were putting more pressure on the entire Pylon enterprise because it needed to deliver.
R.E.M. finally just had a smash with the Green album. That album came out and just grew and grew and grew. They had already done an American tour and the album was so successful that they engaged a second round of touring so that's what we were on. They invited us to open for them and we did about 15 dates. It was fun because we were opening for our friends.
Can you recall how R.E.M. wound up covering Pylon's "Crazy?"
Hay: I remember the first night that we played that song in Athens. Michael Stipe was sitting outside the club—this is back when we were all just playing small clubs and going to see each other's shows. I came out, it was really hot and he was sitting on the sidewalk. I think he was talking to Linda Hopper. He's got this really incredible gaze and he just looked at me and he said, "I really like that new song. What is it called?" And I told him. It's an honor they covered us, to be remembered and supported like that.
[bandcamp width=100% height=120 album=2008627674 size=large bgcol=ffffff linkcol=0687f5 tracklist=false artwork=small track=4272184869]
That's so great R.E.M. championed Pylon and so many other bands.
Lachowski: That was very cool but that was them just being gracious and honoring the scene that they came out of and the scene that they obviously contributed to. R.E.M. became so successful and successful in a different way. They were true musicians and had all kinds of historical knowledge about musical forms and different kinds of music. They were just very adept and confident and had so much more range. We were truly just art students assembling things with sound and instruments.
For us, it was a weird little building exercise of constructing our songs with limited or basically no musical knowledge. But with those guys, they could just do so much stuff. They were able to get in and get in front of audiences that were starting to become aware of this new music thing.
For so many people from that time period, R.E.M. was their first exposure to that kind of new music. They just won over those people and those people became just such loyal fans. R.E.M. turned around and made the world safe for bands even like Pylon because after that we could go play in Charlotte or Pensacola, towns that before that we just knew better than to just skip over. R.E.M. gave back a lot and they stayed in Athens and made it part of their identity.
Vanessa, you sing for Pylon Reenactment Society, a Pylon tribute band of sorts, and Michael, you and Curtis have dropped in to play a couple of songs. What can you tell us about that project?
Lachowski: They are kind of free to just be a band. I think they are more comfortable now, too, like "You know what? These are our renderings of these songs." They are just doing it a little differently. There's no way they are going to be capable of playing it just like Randy and Curtis and I did. It needs to be its own project; I don't want to confuse people and have them think this is the second best thing to having Pylon because without Randy it never really is going to be Pylon.
Hay: That grew out of being asked by Jason NeSmith to perform Pylon material. He was in charge of booking this show and I said, "O.K., I'll do it but you have to help me get a band together." I've worked with Jason and his wife Kay in Supercluster so we put some Pylon songs together for this project and people just went bananas over it.
So the next year Jason said, "Will you do it again? We'll expand the set and it'll be you and Fred Schneider is going to also play." I was like, "Sure!" because it was a blast. So we expanded it and people just loved it. The way they approach it is they know that they aren't Pylon but they are playing in the spirit of Pylon and that makes it sound like Pylon and it helps promote this record.
We did win an award here in Athens as the "best cover tribute band!" But Jason joked saying, "Well, we were cheating because we have the lead singer!" [Laughing]
Michael and Curtis both have come in and played a song or two but we have their blessing. It's done in the spirit. We have an original member but it is certainly isn't Pylon. Pylon died when Randy died.
[youtube https://www.youtube.com/watch?v=xQ4UW6_M-lY&w=420&h=315]
What was so special about Randy's guitar playing?
Lachowski: I'm not nimble enough to know how to describe what he did, but I just feel like he was masterful. I never understood, and I still don't, how you put a few fingers on a fret and make so many fast changes and there's just these chimes and overtones.
The stuff that he arranged on the instrument for those songs and the things he conceived of, I know a lot of other guitar players do amazing stuff, but I was always just very, very amazed what Randy produced and very pleased to have him as a bandmate and have his respect that we could work together and jam around and come up with basically the musical part of the songs.
Pylon Live is being released on Randy's birthday. That's a nice tribute to him.
Lachowski: It's wonderful. He's not around but the project still exists and it sounds about the same if he was here helping with it. It's awesome that his contributions are in there as solidly as ours. He's definitely all over the record.
The only thing that's a drag in a way is that the other day we did an interview for a radio station here in town and Joe Silva, the host of the show, brought one of the Pylon live records for us to sign and a silver sharpie because the photo on the cover is all black or mostly black. Each of us were signing on top of our bodies. Then it [the record] was just sitting there and Randy's silhouette is all empty. He didn't get to write on it. That's just the way it is, this part of our lives.
Hay: It's a tribute to him and a way to remember him because I don't want anybody to forget what a great guitarist Randy was.
Pylon Live is out today via Chunklet. Click here for Pylon Reenactment Society info and tour dates.