When seeking out a trusted hairdressers, the décor of the space is far less important than the quality of the cut you receive. But once you've stepped foot into Salon Ruggeri, that notion goes out the window. When the elevators open into the space, located on the fourth floor of a nondescript NoMad building, you automatically feel as if you'd like to move in.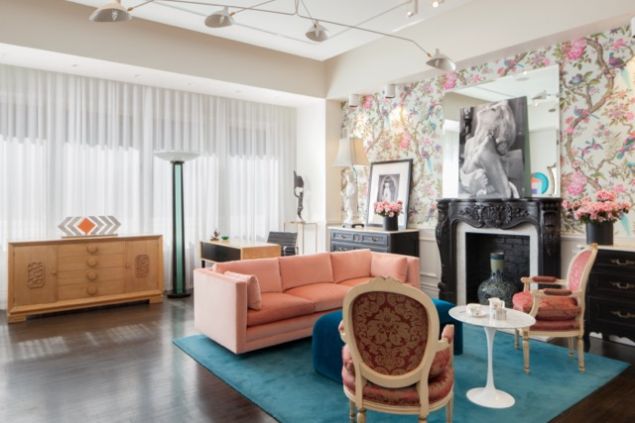 Here, there are no average salon desks or those black leather barber chairs that go up, down and all around. Instead, proper chairs are placed in front of lucite desks, above which an ornate, scalloped mirror hangs. There's a pink velvet couch to lust over (and lounge on) and even the lighting is absolute perfection, washing you in a flattering light while your hair gets trimmed or colored. Salon Ruggeri is even equipped with a chic restroom, wallpapered with a dark, but delicate, butterfly print. Plus, there are plenty of Fornasetti candles to drool over.
This creation is the brainchild of Greg Ruggeri, hairstylist, and his husband Craig Longhurst, an interior decorator. Okay, so Longhurst was technically the creative genius behind all of the decorating in this space, as his job title might explain. But still, Ruggeri is the one who helms the scissors in this space.
After seeing their incredible salon, the walls of which are dotted with various photographs and paintings, the Observer was curious about what the home of these two Australian creatives looked like. They happily obliged, opening the door to their NoMad studio, located just around the corner from the aforementioned salon.
Before opening up shop on Fifth Avenue in 2015, Salon Ruggeri was also home to Ruggeri and Longhurst, quite literally. The duo opened their first location in Chelsea in 2010 and they lived next door. When they relocated to Murray Hill in 2012, they lived just downstairs. Now, they've separated work and life, and their décor proves it. "We always lived in these spaces that were designed for our clients, very frou frou and over the top; our apartment was the salon," explained Ruggeri. "Everything you see now is very much what Craig and I really love. We love the less is best, more masculine feel."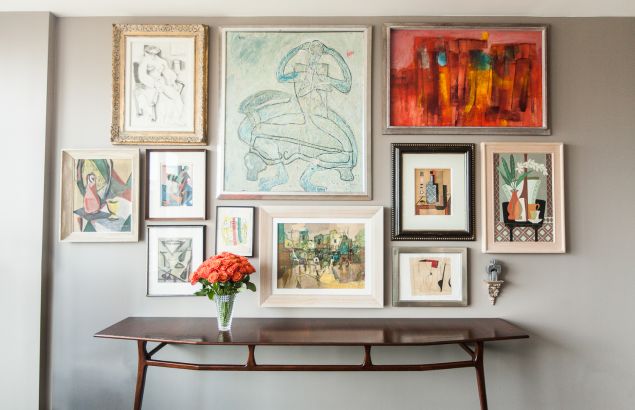 At home, that masculinity translated to simple wood furniture, anchoring the bright splash of artwork plastered along the walls. An orange couch is the centerpiece of the studio, a great perching spot from which you can ogle the Empire State Building. Longhurst found the couch as part of a pair from an antiques dealer; they were originally covered in a floral and grey '70s fabric. When they both started fraying, he had them reupholstered, leaving the orange one at home and putting the pink one in the salon.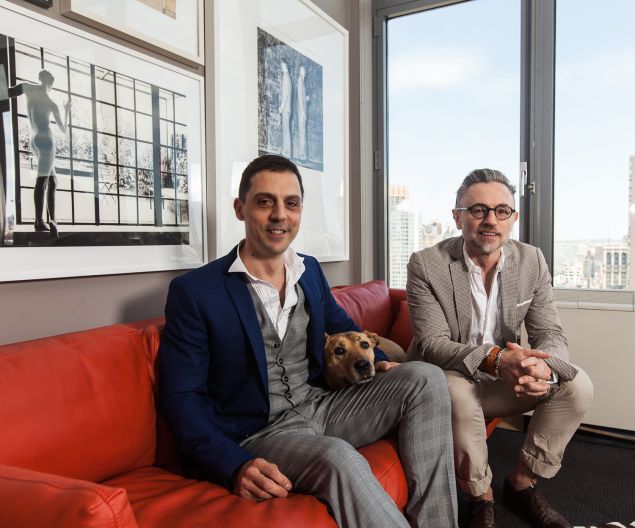 As it turns out, Longhurst has a knack for uncovering priceless and charming pieces of furniture and artwork, scattering them between the salon, their chic city abode and their country home in Falls Village, Connecticut. "Craig's ability to throw anything together, from a cheap piece to a very expensive piece is just phenomenal. When you see it all together, it just sits perfectly," bragged Ruggeri.
For example, their walls at home boast a limited edition Gilbert and George print (given to them by the man who brought the duo's work out of Australia in the '70s) at least two paintings found in flea markets and a Madonna photograph that was given to them as a wedding present. They even have a sculpture, titled Three Sisters, which a prototype of a larger work from Gordon Andrews. For those unfamiliar with Australian trivia, Andrews is the bloke responsible for designing the country's bright currency.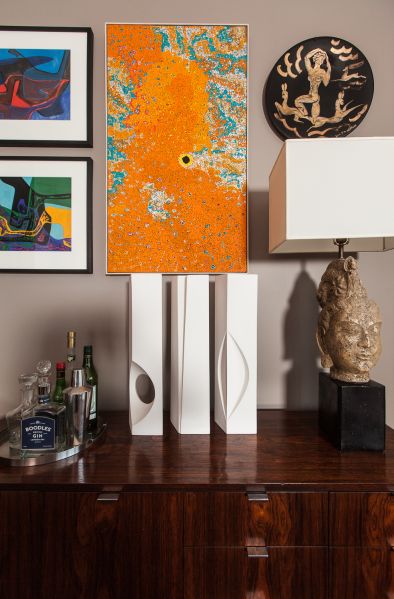 Have you developed a bit of décor envy? Don't fret, as Longhurst has shared his favorite spots to stock up on vintage furniture, both online and IRL.
Favorites online:
Chairish: I love this site, as you can save your liked items and they notify you if the price is discounted or someone else makes an offer. I bought four Saporiti chairs for the salon recently.
Live Auctioneers: This site is dangerous as you have access to hundreds of auction rooms across America and even some in Europe. We have bought many items from this site, even bidding on my mobile while driving! My most recent purchase was an emerald green Artifort F598 armchair for $500 that is now in our Connecticut house.
Favorites in NYC:
Décor NYC: This consignment store on West 25th Street gets some gems now and then. Best buys from there were the 10 foot and seven foot Saporiti leather sofas that are now in our country house, plus an Artifort globe lounge chair and ottoman.
Fred Silberman: This is my favorite store in NYC, as he has such beautiful and rare Italian pieces. We have bought a few fine pieces from here. Almost opposite this store is one of the last flea markets in the city on the weekends. You have to be diligent, but there are still good items to find, the latest being a Murano glass fish.
Favorites in Connecticut:
Elephant's Trunk: This large flea market in New Milford is well worth the drive from either NYC or our place in Connecticut on a Sunday. Take lots of cash and be prepared to barter.
The Bargain Barn: The Bargain Barn in Sharon is just pot luck. Our best buy this year was a Sottsass desk lamp for $16 that sell on 1stdibs for $1,600.