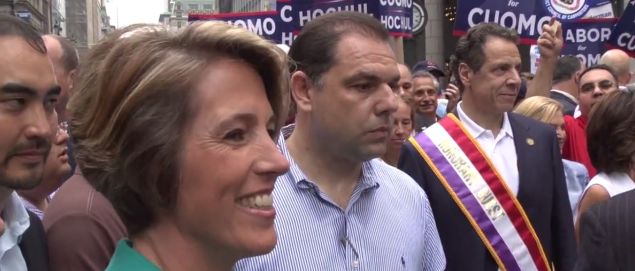 Gov. Andrew Cuomo today said he would support the congressional campaign of Fordham University law professor Zephyr Teachout—who mounted a surprisingly strong Democratic primary challenge against him in 2014, and labeled him "the most corrupt governor in New York history."
Addressing the press after an unrelated event in the Bronx, Cuomo told the Observer he supported Teachout's bid to capture the upstate 19th Congressional District, a bid that advanced substantially when the Vermont-born academic dispatched her Democratic rival in last month's primary. The governor would not mention his former opponent by name, and seemed to indicate that party loyalty compelled his endorsement.
"I support, I support the Democratic nominee, the Democratic nominee, and, for Congress in that district," Cuomo said, his face twitching in apparent discomfort. "So the short answer is yes."
Teachout shocked observers two years ago by snagging more than a third of the vote in her upstart attempt to unseat the well-funded and widely-known Cuomo. She initially challenged him for the ballot line of the left-leaning Working Families Party, which ultimately endorsed the governor under pressure from Mayor Bill de Blasio and top labor unions.
She carried on her quixotic bid in the Democratic primary race, appealing to liberals exasperated with the governor's fiscal conservatism and his coziness with  State Senate Republicans and with Wall Street firms. In particular, she blamed Cuomo's political machinations for the failure of campaign finance and ethics reform efforts, and for New York not outlawing natural gas extraction through the controversial method of hydraulic fracturing.
During the 2014 campaign, Cuomo publicly avoided acknowledging Teachout's existence—even when she was only feet away from him at the Labor Day parade in Manhattan—but made several blundering, unsuccessful attempts to remove her from the ballot.
Cuomo banned so-called "hydro-fracking" shortly after his re-election. In January of last year, Teachout penned an op-ed for the Observer blaming the governor for a "culture of corruption" in Albany that cultivated the crimes of disgraced Assembly Speaker Sheldon Silver.
The 19th Congressional District covers several exurbs and rural towns outside Albany, and stretches down to include the city of Kingston in Ulster County. It tipped toward President Barack Obama in 2012, but most recently belonged to Congressman Chris Gibson, a retiring Republican.
Ironically, Gibson weighed but ultimately ruled against challenging the governor in the 2018 election.
Teachout will face Republican former Assembly Minority Leader John Faso in November. Both enjoy flush campaign coffers, and the turf consists largely of areas where Teachout bested Cuomo among Democrats two years ago. It's unclear whether the governor's support will help the crusading liberal Teachout there, however, since the district is home to many firearm owners hostile to Cuomo's gun control initiatives.
In backing Teachout, Cuomo joins Sen. Charles Schumer, Sen. Kirsten Gillibrand, Vermont Sen. Bernie Sanders and much of the upstate Democratic Party apparatus.
The candidate thanked the governor for his endorsement, even as she acknowledged their fraught past.
"While the governor and I obviously have had our differences, I appreciate his support. I look forward to working with him in advocating nationally for economic growth in the Hudson Valley and Catskills," she said in a statement to the Observer.
Updated to include comment from Teachout.