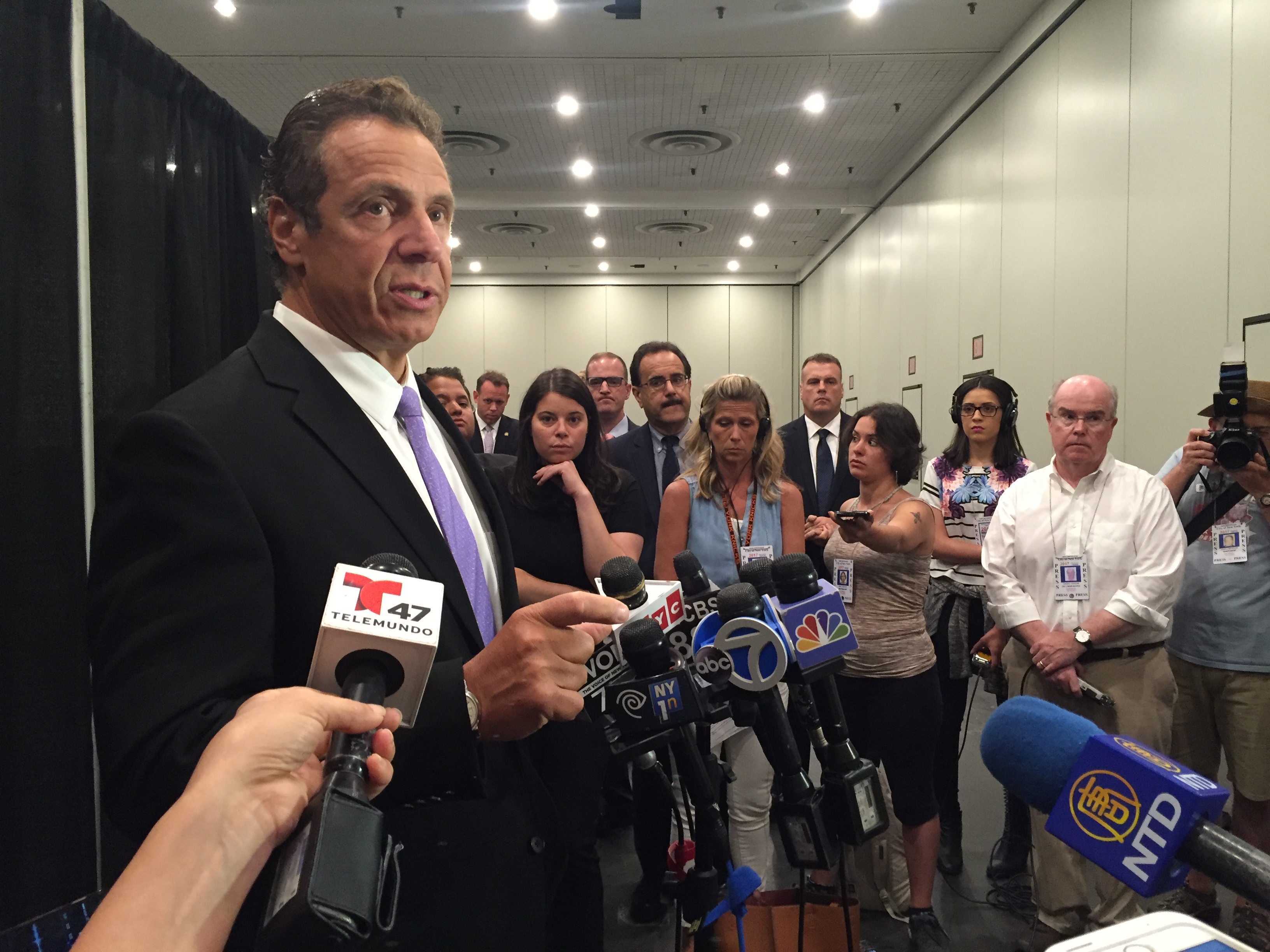 New York Gov. Andrew Cuomo is a Hillary Clinton surrogate who hopes to get a speaking slot at the Democratic National Convention next week—but he doesn't have much to say about his cross-Hudson counterpart putting the candidate on mock trial in Cleveland last night.
"I didn't hear the speech itself," Cuomo insisted when the Observer asked about the speech. "It does not shock me that the RNC would be hostile to Hillary Clinton, however."
Cuomo, a Democrat, and New Jersey Gov. Chris Christie, a Republican, share custody of the Port Authority and have generally had a warm relationship, despite their party differences. And it seems that Cuomo wasn't about to let Christie's speech accusing a former New York senator and Cuomo's pick to lead the free world of treason—to joyous shouts of "Lock her up!"—come between them.
"I did not hear the speech," Cuomo said again about the widely watched spectacle, when asked a second reporter pressed him on Christie's rhetoric. "So I couldn't, I can't comment."
Christie, a former prosecutor, is of course himself at the center of a massive scandal, Bridgegate, that has seen two of his top employees face charges—most recently former Port Authority chief David Samson. But despite the fact that Christie's administration is accused of causing traffic on a bridge that links his state with Cuomo's, Cuomo has been conspicuously quiet about his New Jersey counterpart's behavior in that case.
Asked by yet another reporter whether Christie was in a position to question Clinton's ethics, Cuomo punted once again.
"He is a Republican governor, and the Republicans will determine who their spokespeople are," Cuomo said. "Obviously, he's close to the Trump campaign. So that's their decision."
Cuomo was speaking to reporters after an event announcing that employers would pay back wages of nearly $4 million to exploited workers—many of them undocumented immigrants—and that he would award grants to improve worker health across the state. In his remarks during the event, Cuomo offered a full-throated defense of immigrants, recalling the cruel way employers treated his own Italian grandfather, and said today's rhetoric had made "scapegoats" of immigrants.
But despite Republican presidential candidate Donald Trump's frequent calls to build a wall with Mexico to save American jobs and comments calling Mexican immigrants "rapists," Cuomo said he was not referring to Trump.
"No. This is the generic dialogue. That is the current generic dialogue," Cuomo said. "My side of the dialogue is: immigration is positive and we are a city of immigrants and a state of immigrants and I am an immigrant, and by the way, who isn't an immigrant?"
Asked how Democrats ought to push back against the attacks on Clinton at their own convention next week, Cuomo said he expected they'd lay out their case for "why Hillary Clinton has the experience and the credentials and is on the right side of the issues to lead the country."
"I do believe the rhetoric should not get overheated, ever, in any political year," Cuomo continued, "but especially in this political year. Because this is a highly sensitive time for the body politic. People are on edge. People are anxious. There has been a series of crises that have rocked this country, so I think we have to be very careful on how hot the rhetoric gets."