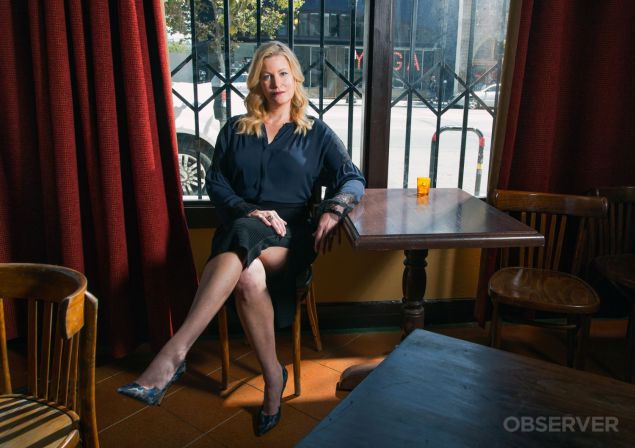 It was around the year 2000, and Anna Gunn was taking a walk in sunbaked New Mexico. She wasn't in Albuquerque, the setting for the show Breaking Bad, on which she would embody one of the more singular and divisive characters of television's new golden age as Skyler White, but Santa Fe, where she was born and raised. At the time, she was 6 months pregnant with her first daughter, so she was moving a touch slower than usual. It wasn't difficult for a local—an acquaintance of her parents—to catch up with her and start a conversation. The guy's name eludes her, but she remembers all too well what he had to say.
"He told me, 'Wow, you're pregnant—there goes your career,'" recalls Gunn, sitting 16 years later in a meticulously restored 1930s bowling alley in the Highland Park neighborhood of Los Angeles. "I was so shocked and then so angry. I went, 'Well, thank you for telling me that; that was very nice to you.' I had thought to myself that I was going to be one of those women who has kids and keeps her career, but now all of a sudden I was really scared. I thought, 'Is what he's saying true? Is this really going to impede me?' "
Gunn had already achieved modest success by then—a girlfriend of the week on Seinfeld; a memorable and, as it would turn out, consequential couple of episodes of NYPD Blue; an ongoing stint on The Practice—but she was still building toward the career she had wanted since the acting bug first bit her at age 15. After internalizing the man's comment for a moment, Gunn dipped into the playbook that she would later repeatedly when she encountered this sort of potentially destructive commentary. She leaned on a support system, including her parents and a few close friends, before eventually summoning an inner resolve to slough the guy off.     
"I just said to myself, 'You know what? That's that guy,' " says Gunn, who turns 48 in August. "That is his thing. It was to me a very chauvinistic and old-fashioned thing to say. So I thought to myself, 'You keep your point of view. I'm going to keep mine.'"
Gunn is recalling the incident now not simply for the irony. (Not only was her career not over, but Gunn also would win the role on Breaking Bad shortly after having her second child—and would win two Emmys over the course of the show's five groundbreaking seasons.) She brings it up now because she puzzles over this sort of thing quite often: What is the nature of this gap between societal expectations for women and their expectations for themselves? Why do men find any sort of contradiction to those expectations so threatening?
The issue came up in an explosive way during the height of Breaking Bad, when online vitriol directed toward her character ("an annoying bitch wife" was a favorite moniker of many commenters) morphed into personal attacks and physical threats against her. ("Could somebody tell me where I can find Anna Gunn so I can kill her?" read one particularly disturbing post.) When she wrote about the experience for The New York Times in the summer of 2013—in a piece aptly titled "I Have A Character Issue" —she was among the first to shine a light on the internet-based harassment leveled at women in pop culture, as well as female journalists and politicians. As evidenced in the recent treatment of Ghostbusters star Leslie Jones on Twitter, the problem has only gotten worse in the three years since.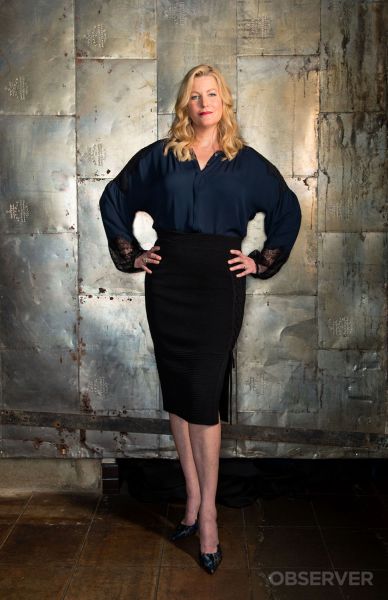 Now Gunn has made a movie, Equity, which addresses the issue in the context of high finance. The film—written by a woman (Amy Fox), directed by a woman (Meera Menon), produced by two women (Alysia Reiner and Sarah Megan Thomas, also Gunn's co-stars in the film) and largely financed by women investors—is purported to be the first to take a female perspective on the ever-increasing genre of Wall Street corruption thrillers. Gunn plays Naomi Bishop, a no-nonsense investment banker taking a high-profile tech company public while under the scrutiny of the U.S. attorney's office.
The kind of rebuffs Naomi hears from her boss—"This is not your year" and "There is a perception that you rub people the wrong way"—will sound familiar to too many woman in too many workplaces. But it is sort of thing that is especially pronounced in the testosterone-laden world of investment banking.
"When I talked to a lot of women who work on Wall Street, that likability thing came up quite a bit," explains Gunn about the subject of her new film, Equity.
"When I talked to a lot of women who work on Wall Street, that likability thing came up quite a bit," explains Gunn, who has spent most of the past week shooting Shades of Blue, NBC's Jennifer Lopez-and-Ray Liotta-starring cop drama that will be adding Gunn as a series regular when it returns for its second season. "On one hand you have got to be tough, you've got to be confident, you've got to be sure, you've got to command the room. At the same time. you can't be perceived as being abrasive or too tough. But then if you are too soft or too meek, they think they can run over you. It is that constant walking of the line that I don't know that men have to deal with in the same way."
The Equity role seems tailor-made for Gunn, who is able to switch from vulnerability to cower-inducing fierceness with the speed of one of the combinations she throws during the film's boxing scenes—being in the ring is her character's preferred method of working off steam. It is a part that recalls her Breaking Bad husband in her desire to be respected and feared rather than liked. In a moment as meme-worthy as any from Walter White, she berates a male colleague for the temerity of giving her a cookie with a less than adequate allocation of chocolate. ("Three mother f—king chips!" she bellows, looking him straight in the eye.) If Equity is any indication, one can expect that Gunn will be the one doing the knocking throughout her film career.
"It wasn't a filmmaker that made me want to make movies; it was an actor: Marlon Brando in A Street Car Named Desire," says Equity director Meera Menon. "Anna has that same sort of thing—a simmering kind of explosive energy—that I was responding to when I first saw him in that movie. That may sound like a big statement, but I really feel that way when I see her. That slow-simmer-to-a-boil quality that informs every moment she does on screen. Her moments of silence are packed with tension and emotion. She can flicker between vulnerability and strength and fierceness and toughness in such an instant that it almost feels like she is doing it all simultaneously.
Adds Menon, who, if you haven't guessed it, is a big Breaking Bad fan, "She is one of the most interesting screen presences I have ever borne witness to."
One might say that there is a dollop of that Brando swagger to Gunn offscreen as well. She scans the room as she enters and has a toughness that she projects even through her easy and somewhat regular laugh. If you ask her, she would say it is less toughness than a comfort with her own professional drive. As with most every positive in her life, it is a quality she credits her parents, to whom she is still very close, for instilling in her.
"I feel blessed that my parents made me feel that ambition was a good thing for a woman just as much as a man," says Gunn, whose father sold real estate and whose mother was an interior designer. "My mom and dad always gave me the feeling that you should put your mind to whatever it is you want to do and go after it hard."
Following that "aha" moment in a sophomore year acting class, she said those words every parent dreads ("I want to be an actor"). They did not panic. "At least not overtly," says Gunn. "They said, 'Okay. You are still going to work hard in school, and we would really like it if you went to college because we think it is important.' I agreed with them. They were fine if I went to a conservancy, but I know that they hoped I would go to a liberal arts school."
She did, choosing Northwestern primarily because of its theater department. Gunn, who hops between theater, film and television with the ease and consistency of a triathlete switching events, regularly rejoins her fellow alumni onstage. In 2014, she starred Off-Broadway in the Second Stage Theatre performance of Sex with Strangers, a two-person play written by Laura Eason and directed by David Schwimmer, both Northwestern alums.
Interesting theater work—she made her Broadway debut alongside Roger Rees in The Rehearsal at the Roundabout in 1997 and played Isabella in Measure for Measure at the Ahmanson in 1999—sustained Gunn during a period when her television parts were starting to get less and less so. Around 2004, she was starting to think that maybe it was time to try something else.
Was it that perhaps, four years after he made his comment, the words of the stranger in Santa Fe had finally gotten to her? Not so much, explains Gunn. "It was more that I loved this thing that I do, and I have loved it for many years, and it was important to me that I not get to a point where I don't love it," she says.
The same week that she started looking into graduate programs in psychology, she got a call from an old friend, David Milch, who had remembered her from the NYPD Blue stint nine years earlier and had a part that he thought he would be a good fit for Gunn on his new HBO series, Deadwood. 
"That was it, that was my break," says Gunn. "It came much later for me. It came in my mid-30s after I had had a kid. It used to be, and it is not quite this way anymore, that when women reach 35 or 40, the parts start to dry up. So I was a little panicky. I think that has changed tremendously, especially in television. There are such rich characters available for women now."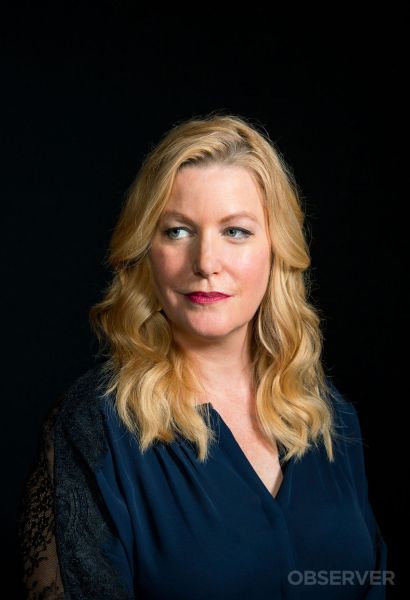 The second big break happened a couple of months after the birth of her second daughter. Sharon Bialy, the casting director for Breaking Bad, was an old friend of Gunn's and kept pestering her to come in for the audition.
"I was just exhausted," recalls Gunn. "There were colds being passed around. I had to cancel a couple of times. But she kept after me. She called me at home finally and told me to get my butt down there. She asked me if I had read it yet, and I said, 'I am so busy.' She was like, 'Ah, you!' She told me to read it and then call her back. So I read it, and of course I called her back and said, 'I am still not feeling great, but I will be in tomorrow.' "
Harried with a new daughter, worried about the future and unsure of her place in it—Gunn hadn't realized it, but she was in the perfect place in both her life and her mindset to commit fully to Skyler White.
"It's funny how roles come to you at a time in life when you are ready to look at things in a different way," she says. "Perhaps something is going on in your life that strangely parallels what is happening with the character or with the story. That has happened to me a few times now; I am fortunate."
Gunn knew it was mistake to start reading the online comments people, pretty much all of them men, were posting about Skyler. It was "opening Pandora's box," as she puts it. But once she started, she couldn't stop. The depth of the hatred and the many colors of rage people expressed towards Skyler confused her, as did her own response.
"I started feeling like it was my fault," says Gunn about the Internet's response to Skyler White. "I thought I was doing something wrong in my portrayal of who she was. Why was she upsetting so many people and making them so mad?"
"I started feeling like it was my fault," says Gunn. "I thought I was doing something wrong in my portrayal of who she was. Why was she upsetting so many people and making them so mad? At first I went to talk to the writers about it. They were as confused as I was. They said, 'No, this is who she is.' I think it was largely a product of Bryan [Cranston]'s character being the hero, the anti-hero, where you could see everything that was going on inside of him, all his doubts and fears and ambitions. You knew him so intimately. Skyler was much more shrouded. She was somebody who, by the nature of her character, held her cards close to the vest. For all intents and purposes, she was the antagonist standing in the way of the protagonist and people didn't like that."
The viciousness of the threats, not to mention their specificity, compelled Gunn to do something about it, starting with her Times piece.
"I was proud that I said something," says Gunn, who marked another one off her bucket list when she acted with Tom Hanks in Clint Eastwood's Sully, coming out September 9. "I have two daughters, and I want them to know that, as they go along their way and they have something to say that they feel is very important, that they say it, that they stand up and talk about it. It is important to talk about it because if we don't, we will never have any change.  So I don't want to carry this around like it is some mantle, but I am pleased that I did say something about this."
Pleased enough, it seems, to keep the conversation going with Equity—a movie where once again she plays the head ruffle-of-feathers, especially when it comes to men's expectations of how women should behave in the workplace and beyond. But the single mother—Gunn and Scottish actor Alistair Duncan divorced in 2009—is just as happy to turn that conversation and all other noise off altogether when she gets home. She may have internalized a cruel offhanded comment for a hot minute 16 years ago, but now, frankly, she doesn't have the time.
"When I go home, I have to be present for my kids so I turn all of that off," says Gunn, whose eldest spent the summer in Catalina, learning how to dive, sail and otherwise cut her own path in the world. "Honestly, I think I got much better after I started to turn all that off. For me, it was better for not to worry about it so much."