PHILADELPHIA — The uproar from supporters of Senator Bernie Sanders (D-VT) continued on Tuesday as demonstrators took to the streets in Center City. Though the crowds had thinned after Monday's mob outside of City Hall, the heat was still scorching and some protestors were still holding out for Sanders delegates at the Democratic National Convention to walk out in support of Green Party candidate Jill Stein rather than vote for Hillary Clinton.
Members of the nationwide "Journey for Bernie" were there in force, with some coming from as far as Washington state.
David Tudor, a 60 year-old veteran of the Army 82nd Airborne Division from Olympia, said he came to Philadelphia because he believes moneyed interests have taken over American politics.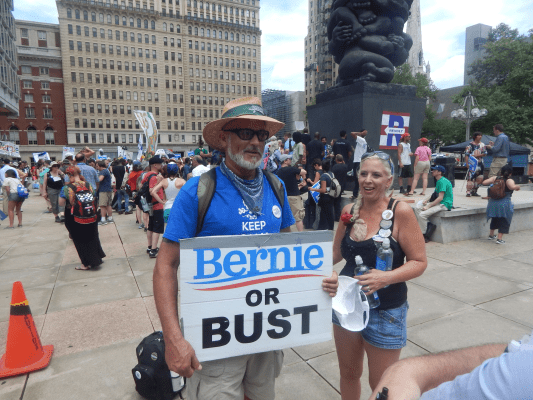 "We're not talking about the little things that we already know to be true," he said of the contents of leaked DNC emails corroborating reports that the DNC's fundraising apparatus afforded the bulk of the contributions to Clinton's campaign. "To us those are little side notes."
"The Democratic party is basically like the Republican party," Tudor said. "They're both two different wings attached to the same bird. We're not controlled by a democracy any more, we're controlled by an oligarchy."
Speakers on the outdoor stage stumped for Stein to crowd wielding signs calling for "Bernie or Bust" and a "#DemExit."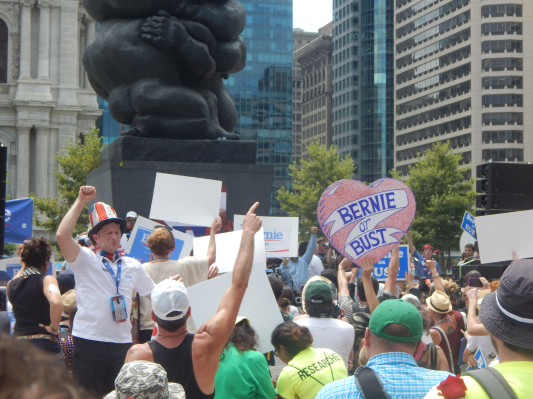 Elsewhere in the city, trucks equipped with video monitors circulated through traffic playing anti-Clinton ads sponsored by conspiracy site Infowars and other right-leaning groups. Smaller pockets of Clinton supporters stuck to the sidewalks outside the Pennsylvania Convention Center, where party caucuses were taking place.