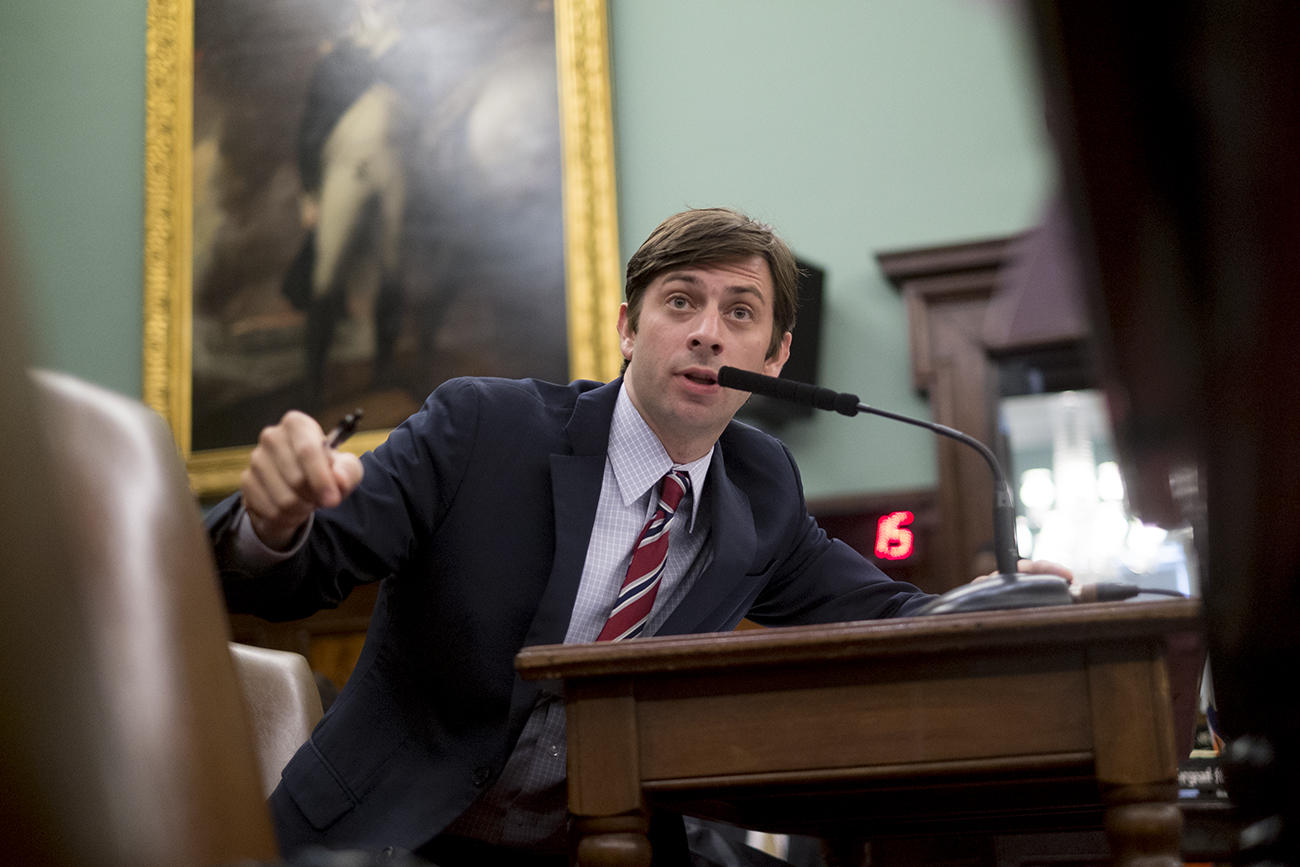 It turns out that divesting from companies involved in fracking hasn't been as easy as Councilman Stephen Levin expected.
Two years after the Observer reported that Levin's Conflict of Interest Board filings showed he had earned royalties from two energy companies invested in fracking—leading the anti-fracking pol to say he'd look into divesting from the old family investment—filings released this year showed he's still receiving the cash.
"I'm not really excited to be receiving royalties form oil and gas—it's really just trying to figure out how to divest from the asset," Levin, a Democrat, said in a telephone interview. "It's just a little bit more tricky and has required a little bit more time than I have been able to dedicate."
The Brooklyn councilman has been one of many voices in the state who opposed fracking on the grounds it pollutes the environment and is hazardous to people's health, —leading Gov. Andrew Cuomo to issue a ban on it—and once held a screening of Gasland, a documentary critical of the practice. Just this year, Levin introduced legislation that would go beyond the ban to make it illegal to discharge, dispose, sell or use waste produced by fracking within the city.
But in 2015, the most recent year for which COIB forms are available, Levin received between $1,000 and $4,999 each from two natural gas drilling companies, Breitburn Operating and Linn Energy—the same two he received money from in 2013. This year he also received two sums from another two fracking companies—$8,315.78 from Enervest Operating LLC, and $11,709.31 from HRF Exploration.
"It's a somewhat complicated backstory here," Levin said, which turned out to be an understatement. 
At issue is a piece of property in Michigan, which lies in the state's natural gas shale and was purchased by Levin's grandfather and his grandfather's brothers in the 1940s. After skipping a generation, his grandfather's share in the property was eventually left to Levin and five cousins in what Levin called "a fairly large, complicated ownership structure."
For several years, drilling rights to the land have been leased to three companies: Linn, Breitburn and Muskegon, which Levin noted paid so little it was not reportable on the COIB form. And Levin expects royalties from Linn and Breitburn to dwindle, too—both have filed for Chapter 11 in recent months, as natural gas struggles amid lower oil prices.
But this year, it got "even more weird and complicated," Levin said, when he got a call from HRF Exploration. He said the company had purchased some of the cousins' interest in the land in the 1990s for a nominal amount, and told him that while going through records, the company realized they had not paid Levin or his brother. In the years since, that nominal amount had grown to the $11,709.31 payment from HRF Exploration, and another $8,315.78 from Enervest Operating LLC, who he said purchased the interest from HRF.
While it explains where they money came from, none of that quite answers the question of why Levin hasn't gotten rid of his share of the land yet.
"It requires an appraisal, it's in Michigan and it's a little bit more complicated than I thought it was. I've inquired, it's become a little bit more complicated than I realized," he said, noting he even needs to track down his late grandmother's will in Sarasota, Fla. "I want to do it. I have personally committed to myself that I will try to sell these rights. But I will have to get it appraised, probably find a relative to sell it to. I would have to hire a lawyer—in Michigan… That's kind of the short version of it."