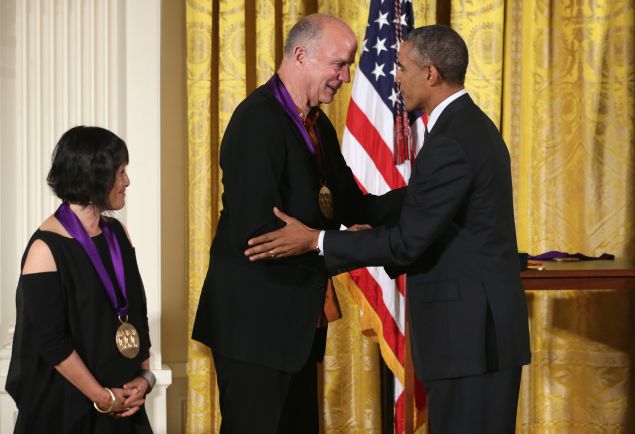 Architects for Obama presidential library chosen. Tod Williams and Billie Tsien, the husband and wife team behind New York's divisive American Folk Art Museum and Philadelphia's new Barnes Foundation building, will design the Obama Presidential Center in Chicago slated to open in 2021.
Top auctioneer remains confident in London art market. Sotheby's co-head of Impressionist and Modern art Helena Newman—who the Times points out is the first woman to helm a major evening sale in the British capital since the '90s—reflects on last week's record-breaking sale, which brought in $63.7 million for the most expensive Cubist painting ever sold on the open market, Picasso's Femme Assise. "There's no reason why London shouldn't continue to be—alongside New York—the great hub of the global art market," she told the Times.
Alexander Hamilton takes the stage in four concurrent museum exhibitions this summer. The many sides of the founding father are on view at the New-York Historical Society, the New York Public Library, the Museum of the City of New York and Columbia University.
There's simply too much art for even the most dedicated art worlders to see. Artists Rachel Harrison and Kevin Beasley along with dealers Claudia Altman-Siegel and Rhona Hoffman share the shows they most regret missing this past year.
Michelangelo comes to London's National Gallery for the first time in 20 years. The Renaissance sculptor's statue of a Jesus Christ will be shown in the UK for the first time next year.
Serpentine director Julia Peyton-Jones reflects on 25 years on the job. The director spearheaded the institution's pavilion program, which invites leading artists and architects to create temporary structures each year on the Serpentine's grounds. "The temporary structures we commission are quick and light and that speediness sits very well with my DNA, although you need nerves of steel to do it," she told the Telegraph.
When did performance art become a "catchall" phrase for bizarre behavior? The Awl examines why performance art has come to have such a bad rap in pop culture, and is often used loosely to describe both bad art and outlandish politicians.